Description
Join the famous Trail Guy Malcolm MacGregor and WLT Land Protection Director Scott MacFaden for an ambitious 10-mile trek that will begin at the Plymouth Town Forest, pass through Wildlands Trust's recently acquired Luigi and Teotista Cortelli Preserve, and traverse down through the wilds of Myles Standish State Forest, concluding at the Forest's headquarters.
This hike is the first of a series designed in part to highlight one of largest greenbelt corridors in Eastern Massachusetts, the 18,600+ acre contiguous corridor connecting Plymouth Town Forest with Myles Standish S.F. and other large publicly owned open space tracts to the south. Meet at PCIS- Plymouth Community Intermediate School- 117 Long Pond Rd., Plymouth, no later than 9 am to begin hike. Shuttles will be waiting at end point. End time is flexible.
This event is for experienced and ambitious hikers only. You MUST register in advance. Participants must be 18+. Registration closes the Saturday prior to the hike at 6:00 pm. This trip limited to 11 participants. No dogs please. Participants should possess the "ten essentials" for hiking, and must at a minimum be equipped with a backpack, water, lunch, and a rain shell. For the safety of all, we reserve the right to refuse any participants who arrive unprepared.
• What the group will expect of you: Humanity, humility and cooperation. This is a social experience. We hike together/stick together as a group at the pace of the slowest member. Positive/cooperative attitudes are welcome.
• Medical issues/ disclosures: You are responsible to disclose to the event organizer any medical issues, allergies, medications, specific politics, or other issues that could complicate your ability to safely participate in this event or affect any 1st aid treatment in the event of an emergency. You must also include an emergency contact and phone number as part of this information. This form will be available when you arrive at Wildlands Trust on the morning of the hike.

• Inclement weather may cancel and/or modify the event. We will notify registered participants of any changes to the plan.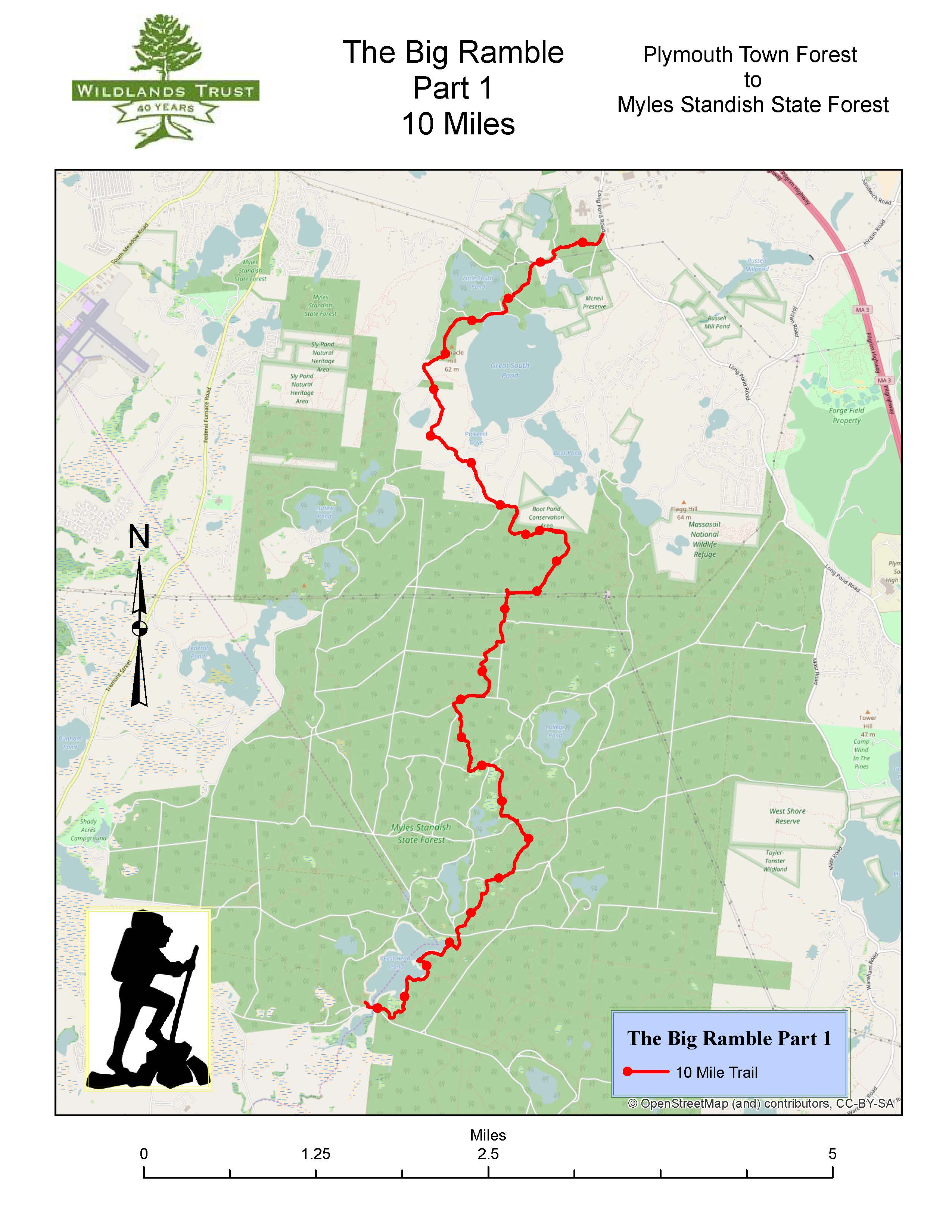 Big Ramble Part 2 will be on June 11. We will start at the Myles Standish headquarters and finish in Wareham at the Mass. Fish and Game Maple Springs Wildlife Management Area.