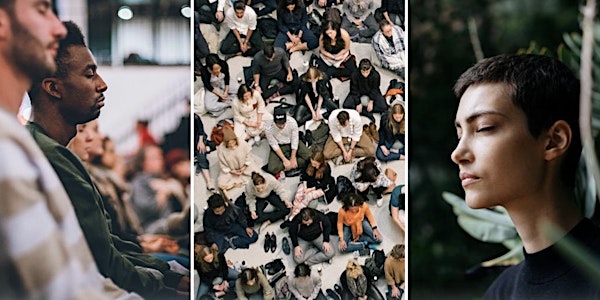 The Big Quiet 101: A Virtual Meditation Course - April Session
Learn to meditate with real people, real convos & real community
About this event
Taught by Jesse Israel, founder of the mass meditation movement The Big Quiet, this 3-session live course (4/18, 4/19 & 4/20 at 7:30p-9p EST each night) will provide you with the complete know-how to have a legit and daily meditation practice for life.
*If you are interested in taking this course, but unable to attend the live sessions, please reach out to us - hi@thebigquiet.com - about a recorded course option*
In this course you'll learn a style of meditation that is not about "clearing the mind of thoughts." It's easy to learn, deeply restful and taught in an intimate-group learning format.
Jesse teaches the certified 1 Giant Mind Being Technique - it's ideal for reducing toxic stress & anxiety, enhancing your leadership capabilities and getting clear about how you can meaningful impact the world around you.
You'll learn:
The impact that stress and anxiety have on your body, and how this style of meditation can reverse and prevent those symptoms
How to live with a deeper connection to yourself, to your sense of purpose and to your personal power
How an effortless daily meditation practice can greatly improve your sleep, your sex life and your ability to feel comfortable in social settings
How to become more rested, look and feel healthier and increase your productivity and creative output
How to master a form of meditation that you can easily do on your own, anywhere and anytime -- without relying on meditation apps or guided classes
Together we'll create a sense of community as we practice the technique, explore questions, dive into knowledge and share about our experiences.
Participants of this course will receive a mantra - a gentle and effortless tool used to allow the mind to settle - similar to styles of meditation like TM or Vedic.
The course investment is $195, with pricing for BIPOC at $125 via the promo code "BIPOC"
We never want money to be the reason why you don't learn meditation. If you're experiencing financial hardship, please email us at hi@thebigquiet.com to explore financial assistance.
Included in tuition:
3x 1hr 30min session live virtual course
Ongoing 1:1 support from Jesse
The ability to retake the course free of charge
Access to group meditations hosted specifically for course graduates
The Big Quiet 101 Meditation Course ($125-$195)
Mon, April 18: 7:30pm - 9:00pm EST
Mon, April 19: 7:30pm - 9:00pm EST
Mon, April 20: 7:30pm - 9:00pm EST
*If you're not able to make all three nights, a recording of each session will be accessible for 1 week
____________________________________________________________________________________
**Please note: This course will be recorded for distribution through various Big Quiet channels. By purchasing a ticket to the 3-day course, all participants acknowledge, understand and consent to the recording & potential distribution of the recorded material.
ABOUT JESSE ISRAEL
Jesse is a social entrepreneur, meditation leader and former record label owner known for founding the mass meditation movement The Big Quiet. Jesse has signed multi-platinum bands like MGMT, has led some of the largest meditations in the world, teaches meditation to next-generation leaders and speaks at Fortune 500s and colleges. At the start of 2020, Jesse was invited to go on tour with Oprah Winfrey and WW to speak at and lead mass meditations at sold-out arenas throughout the US. Jesse's work has been featured in the New York Times, Vice, Vogue, Fast Company, GQ and the Wall Street Journal.