About this Event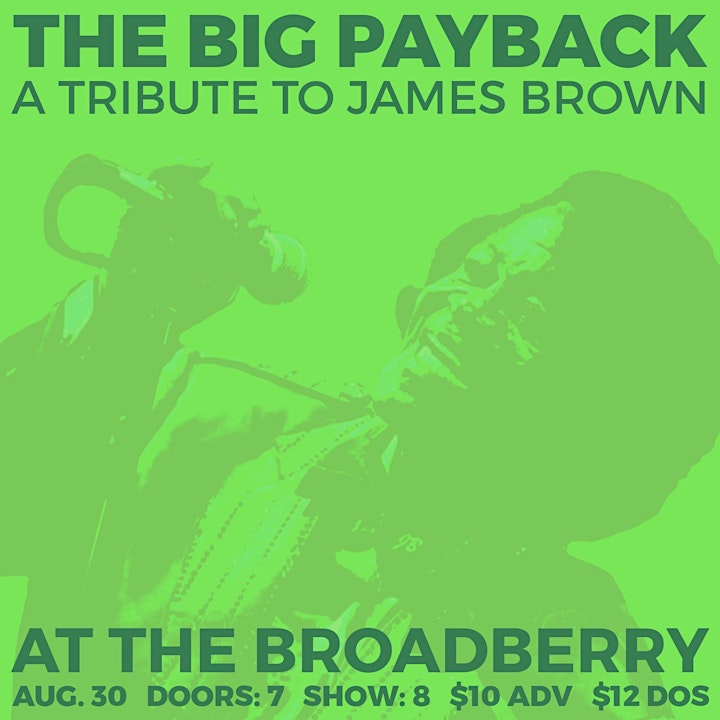 The Big Payback is a musical powerhouse, dedicated to recreating the music of James Brown as accurately and as passionately as possible.
No stone is left unturned! Their repertoire is filled with all the classic hits you know and love, as well as tons of J.B.'s rarities and B sides.
Splits, hits, turns, and segues, it's all here! With so much emphasis on authenticity, even the Godfather would have to jump back and kiss himself. The most cynical of cynics will have their minds blown and their hearts warmed from the second the beat drops until they're left exhausted, sweaty, and smiling hours later.
This is truly something to behold, people! It's exactly what you would and should expect from a top notch tribute band.
The Big Payback ain't messin' around. Mother Popcorn, Super Bad, Soul Power, I Feel Good, Pass the Peas, Papa's Got a Brand New Bag, Sex Machine!!!! You name it, you got it!! All of 'em, live and in your face, with as much energy as you can possibly stand.
Some of the most talented musicians from the Mid-Atlantic region, bringing you the closest thing to the real thing, The Big Payback.
No wigs, no gimmicks, no clichés. An honest, painstakingly researched, representation of the Godfather of Soul, James Brown and his band, at their musical peak. Can you stand it?
**Super high energy stage show!**
**Covers the 64' – '76 period.**
"Voted Best Virginia Live Performance by Peter McElhinney."- Style Weekly Year in Review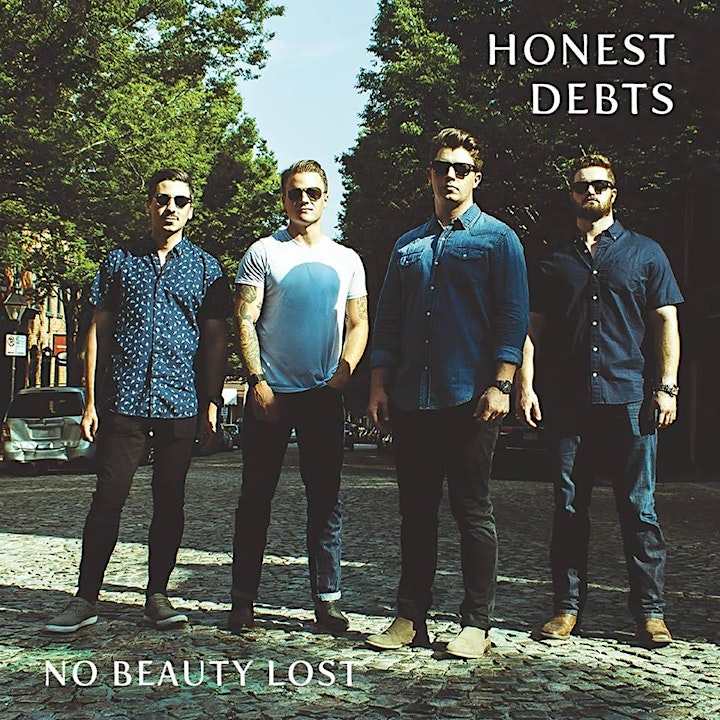 Honest Debts
Honest Debts is a four-piece band based in Richmond, VA. Melding elements of rock, blues, Americana, and soul, they present a sound that's just as classic as it is fresh and exciting. The band - Sam Valentine (vocals/guitar), Matt Elgin (guitar/vocals), Alex Roberson (bass/vocals), and Blake Hurt (drums) - formed in early 2017 through a haphazard string of hometown and school connections. The group quickly began writing, self-producing a demo, and booking shows.
Adapting their name from a Springsteen lyric, the foursome aims to create music that balances timeless influences with modern authenticity while paying homage to the city that brought them together. Their debut release, No Beauty Lost, showcases balance between pop sensibility, contemplative songwriting, and performance-honed instrumentation.
Venue Information:
Parking is available in side lot (by Exxon)
No Smoking/Vaping permitted anywhere inside venue
Bags/purses will be checked at the door.
Must have ID for entry
If you do not have access to a printer, we can scan ticket from your cell phone. Be sure to have your brightness turned all the way up at the door.
Children under 3 years old are Free.
Kitchen is open during all hours of operation.
Appropriate clothing required at all times (tops and bottoms covered).