Description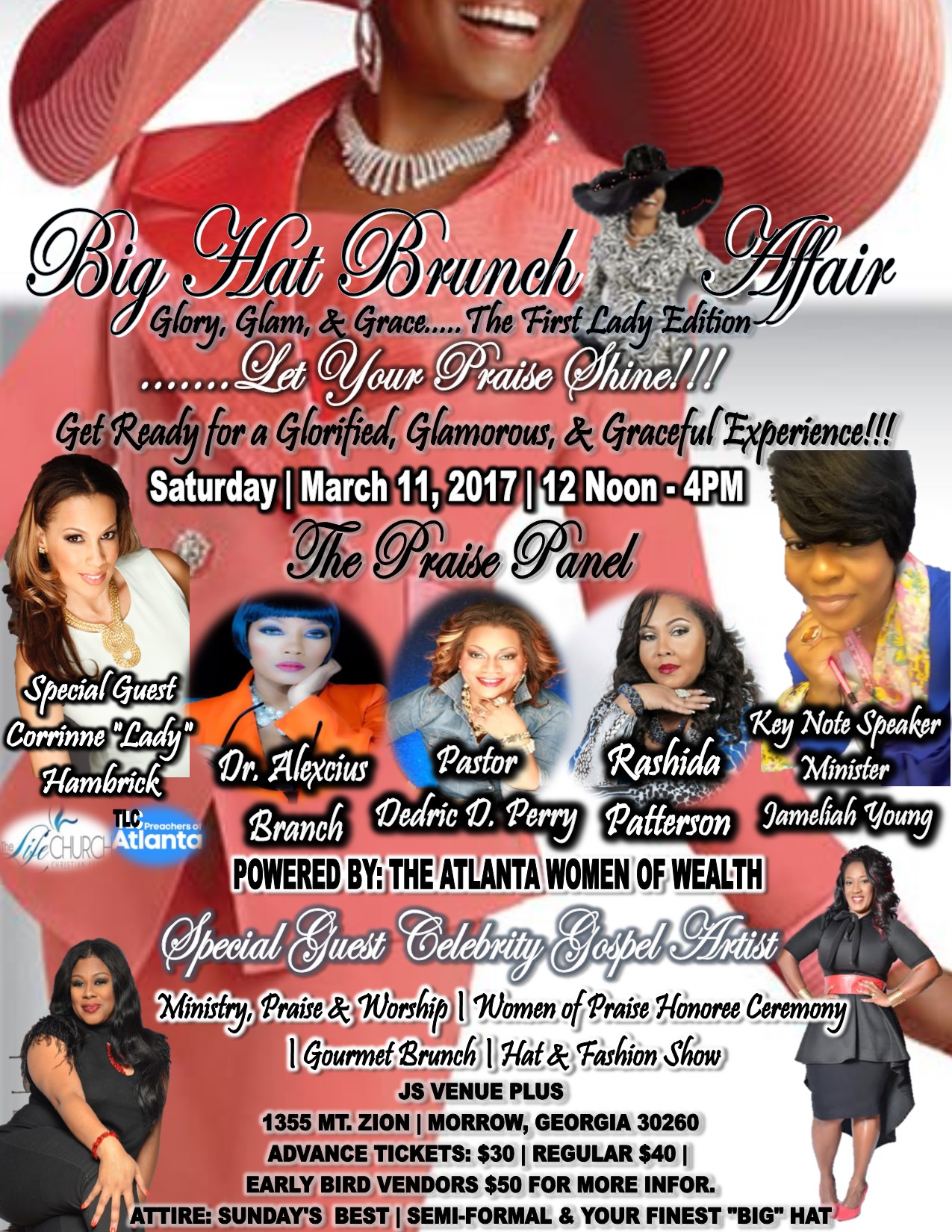 This event will give ladies an opportunity for us to come together and share our God given talents and spiritual gifts to one another as well as to the body of Christ. These ladies are also a network of progressive women who are passionate about making great contribution to their world, thereby leading in the spheres of influence.
The hats, the dresses, the demure demeanor, and the gentle rah rah of praise as her husband declares the Word of God are a few things that comes to minds of most when the words First Lady are said. However, anyone who really understands the position she holds understands it is not as mild as it may seem. She is more than a cheerleader; she is the confidant of Kings, the epitome of grace, mother of the flocks, but with faith as her vehicle she leads the church in agreement with her husband.
Modern day First Ladies are known to run their own ministries as well as works as Pastors in their own right. They are leaders; their voices are heard loud and clear. The Atlanta Women of Wealth & The Power of Pink Women's Network have came in contact with several First Ladies and Women in Ministry that holds all of these qualities and so much more. Today, we would like to shine light on an illustrious panel of women for their Glory, Glam, & Grace. We thank you for your walk and your sacrifice.
These Women of God are brimming with wisdom, has tasteful humor, seasoned advice, and the anointing. Their comments and interjections are REAL, awe-inspiring, profound, and worthy to be praised for their walk, their talk, and their stance as a Women of Godin today's world.
Our Objective is to help women discover and harness their potential and innate strength and abilities, so they can rise out of mediocrity, odds and limiting factors, to become leaders, mentors and role models in their sphere of influence.
We want to reach women of all ages and from all walks of life, from college to working class level, giving them platform to develop and harness their leadership gifts and be equipped to give back to society, in the process, transforming the next generation and making an indelible mark within our communities.
PARTNER WITH US!!!!

SLAY WHILE YOUR PRAY!!! LET YOUR PRAISE SHINE!!! ORDER YOUR SHIRT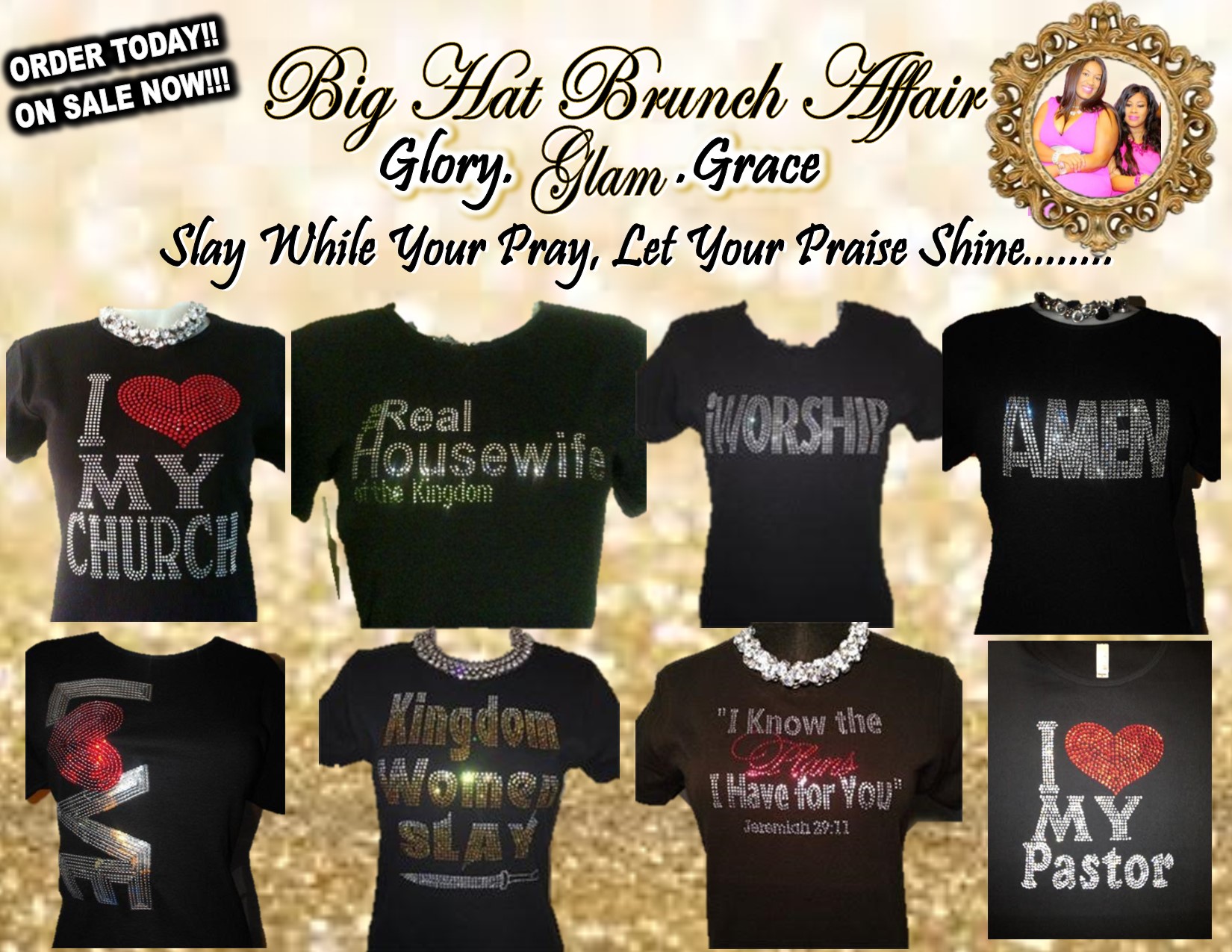 ORDER YOUR TEE TODAY!! CLICK THE LINK BELOW TO PROCESS YOUR ORDER!!
https://www.cognitoforms.com/TheAtlantaWomenOfWealth1/SLAYWHILEYOURPRAYFIRSTLADYEDITIONBLINGWEAR
SLAY WHILE YOU PRAY....... GET YOU A GLORY, GLAM, AND GRACE 3 TIER TRAY JEWELRY/MAKEUP CASE!!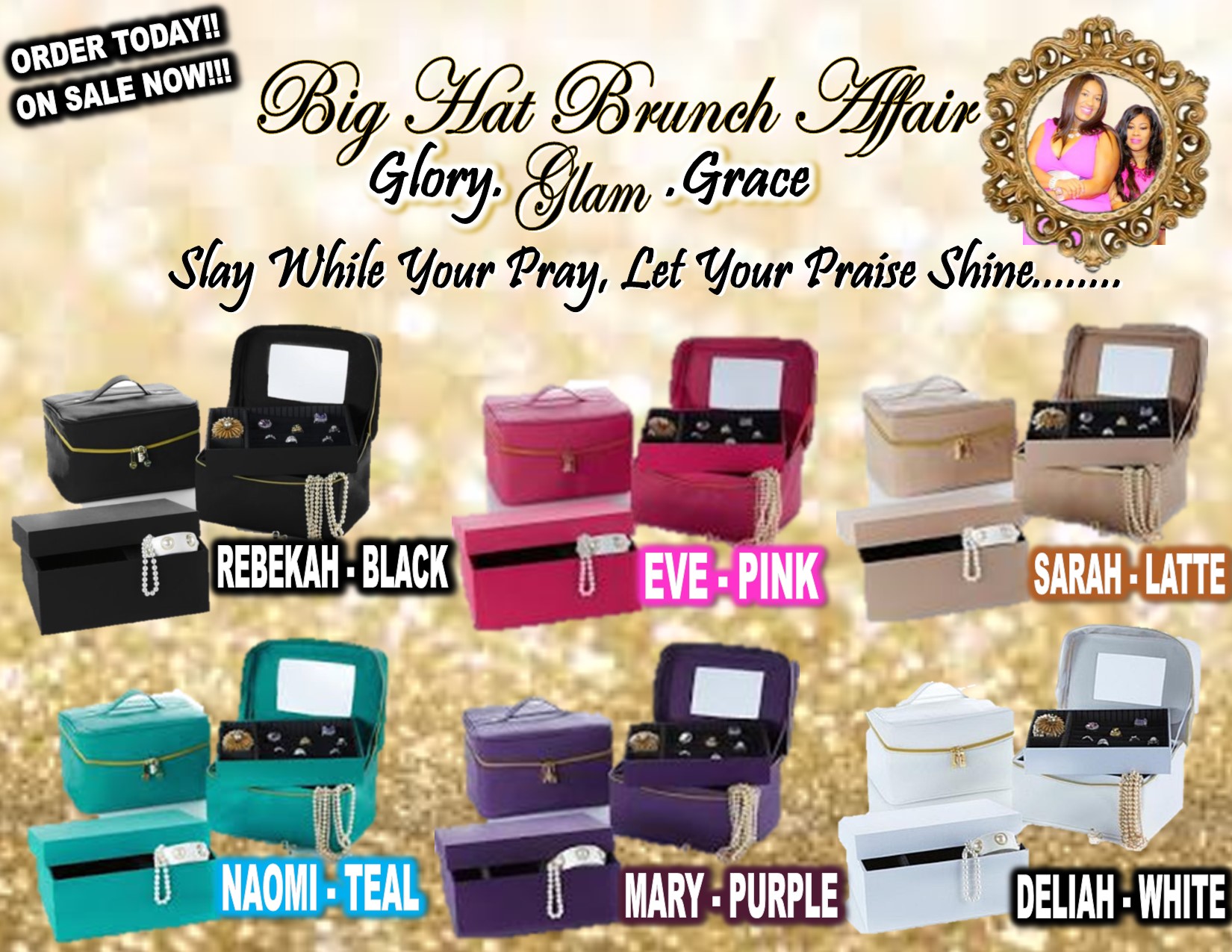 CLICK HERE TO PROCESS YOUR ORDER TODAY!!!
https://www.cognitoforms.com/TheAtlantaWomenOfWealth1/TheGloryGlamGraceJewelMakeUpTrio28
BECOME AN "ATLANTA WOMEN OF WEALTH BUSINESS BRUNCH SERIES" VENDOR CLICK THE LINK BELOW!!!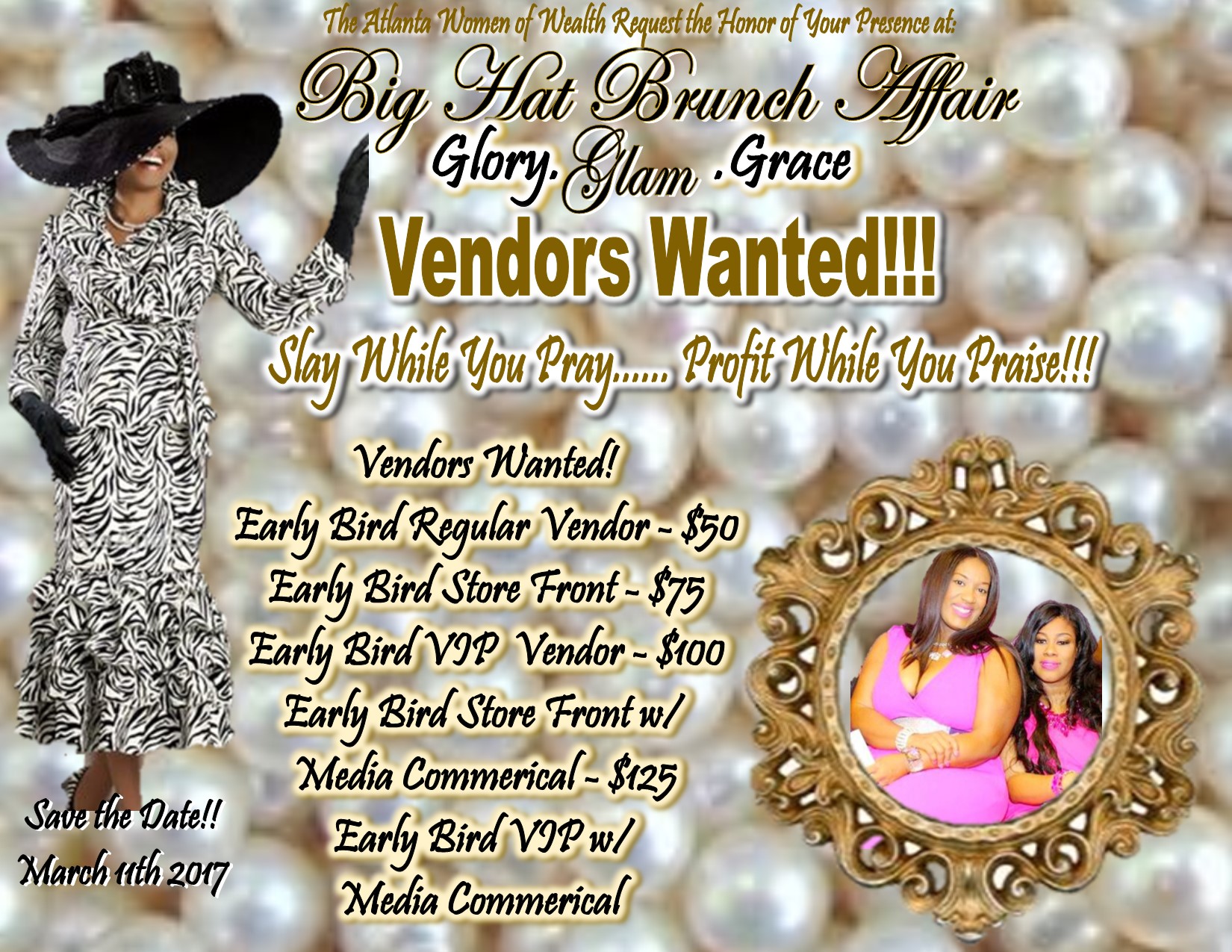 https://www.cognitoforms.com/TheAtlantaWomenOfWealth1/BECOMEANATLANTAWOMENOFWEALTHBRUNCHSERIESVENDOR
BECOME AN "ATLANTA WOMEN OF WEALTH BUSINESS BRUNCH SERIES" SPONSOR CLICK THE LINK BELOW!!!
https://www.cognitoforms.com/TheAtlantaWomenOfWealth1/BECOMEANATLANTAWOMENOFWEALTHBRUNCHSERIESSPONSOR
HONOR YOUR CHURCH'S 1ST LADY OR WOMAN OF GOD OF YOUR CHOICE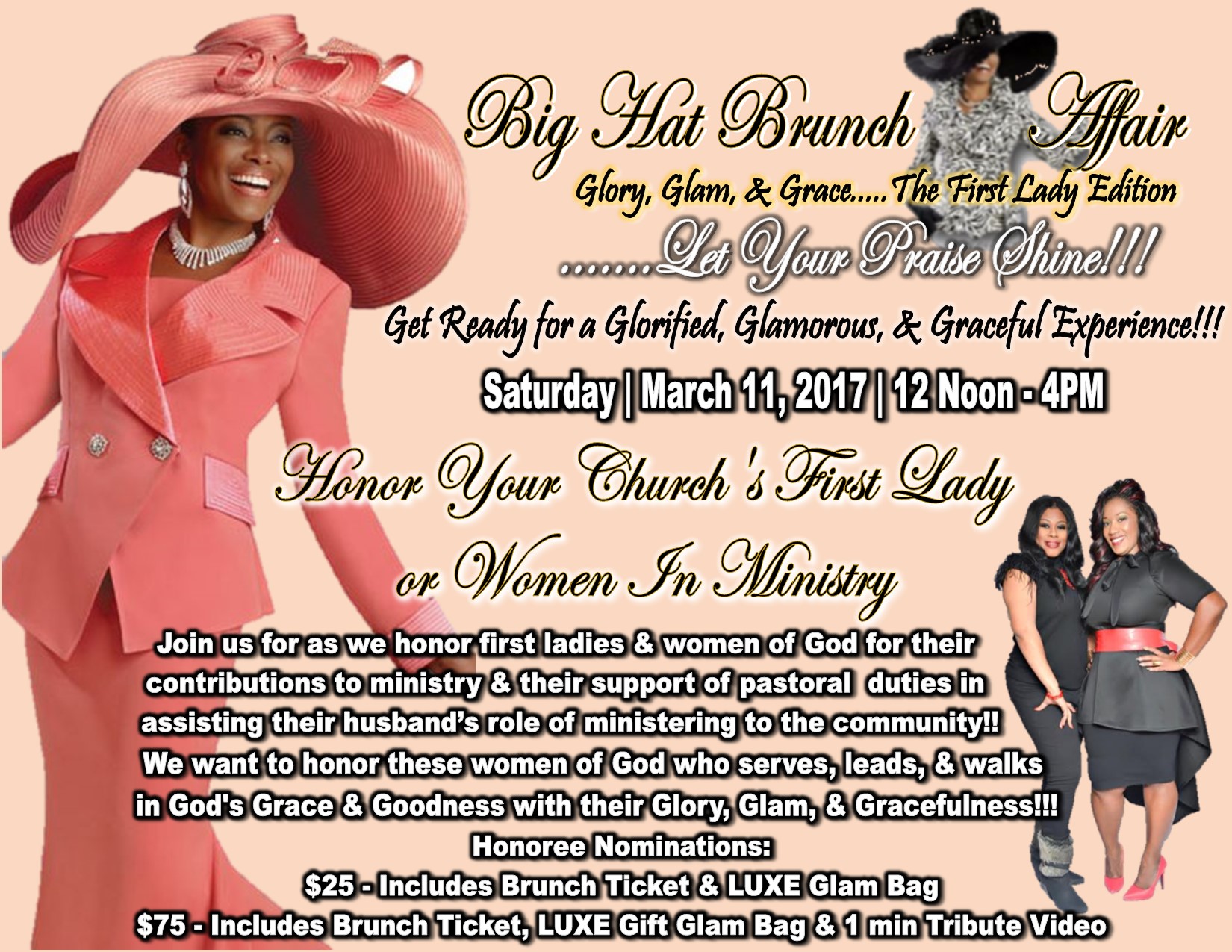 We want to recognize and honor first ladies as well as women of God and women in ministry for their outstanding work in the church and community. The best part is that you will get the chance to nominate your choice of your very own first lady and woman of god. If you think your pastor's wife is loving, hardworking, supportive, charitable, reputable, charismatic, full of Glory, Glam, & Grace then submitt and dedicate a very special and personal tribute that matches her style and grace. This special keepsake tribute will be created by 1-3 mins video footage, photos, and special wording with a musical background. Once you've submitted her we encourage you to invite members of her family, friends, organization and the congregation to participate in her honor of support. The tribute will be played during the program during recognition. The submission for recognization is $25 and include a LUXE Glory, Glam, & Grace Special Gift Bag. Please submit photo with your submission. Your nominee will be picture will be displayed before and during the event for promotional purposes.
The fee for submission for commerical tribute is $75.00 which includes a LUXE Glory, Glam, & Grace Special Gift Bag and must include clear photos and video footage speaking, participating in community serivice, etc. Click the link below and fill out submission form and upload bio and headshot. Click link below for submission!!
https://www.cognitoforms.com/TheAtlantaWomenOfWealth1/HonorYour1stLadyOrWomanOfGod
BE APART OF OUR "FIRST LADY COLLECTION" RUNWAY FASHION & HAT SHOW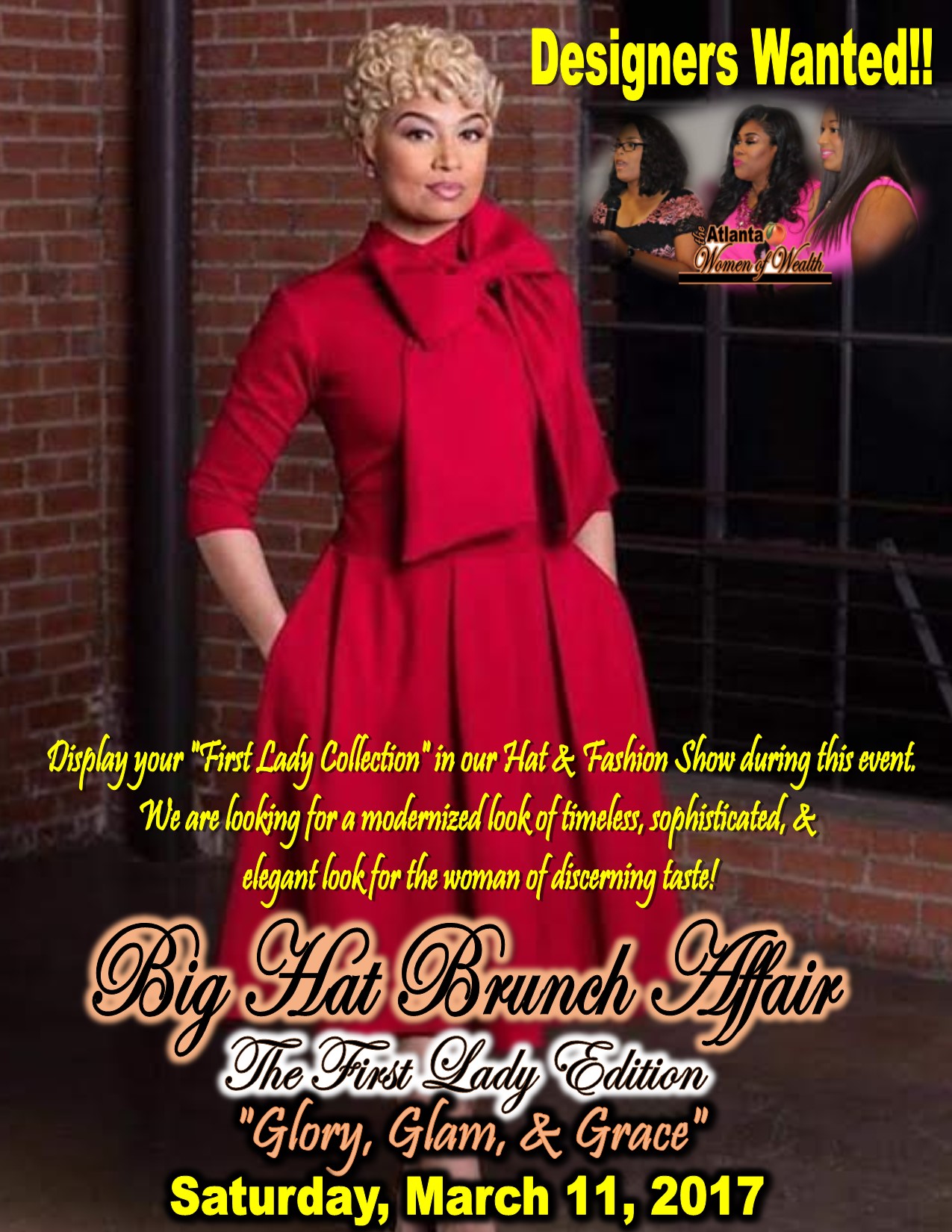 Display your very own "First Lady Collection" in our Fashion and hat show during the event. We are looking for designers and stylists to showcase their very own thought process of a sophisticated and elegant look for the discerning taste of a moderized traditional first lady. You will be given the opportunity to display your own collection of (3) different looks that showcases sleek, straight lines, bold prints, and elegant, form-fitted designs that characterize the unique and graceful look of Glory, Glam, and Grace. We are looking for the "WOW" factor of the newest leading edge and remarkably chic fashion for church. This opportunity will give you a chance to have your own mini runway fashion show for your own personal collection. You will also have the opportunity to set up a veding booth for retailing before and after the program. Trust and believe once our audience of ladies have a chance to see your collection they will want to purchase it. Each outfit must include a hat or fascinator to go with their look. (Example: Ruffled detailed collar and cuff along with a high waisted band that adds emphasis to the narrowest part of the body highlighting a gorgeous bubble dress.) Vintage Box Pleat Dresses, Ruffle Shawls, Oxford Bow Dresses, Swing Bow Dresses, Bow Blouses, Bow Dresses, High Waisted Skirts, Pleated Evening Skirts, Clergy Blouse, High Waisted Mermaid Skirts, High Collar Peplum Jackets, Big Ruffled Blouses, etc.)
To enter your "First Lady Collection" into our fashion and hat show the fee is $75.00 and vendor booth is $75.00. You will also have the option of purchasing a 1-3 min promo commercial that can be used on any media outlet and played before your mini show starts for $100.00.
PLEASE NOTE******YOUR MODELS WILL NEED TO PURCHASE AN ADMISSION TICKET SEPARTELY TO BE APART OF THE SHOW THAT INCLUDES THEIR BRUNCH AND SEATING FOR HEADCOUNT. DEADLINE FOR SUBMISSION IS February 15TH. CLICK THE LINK BELOW FOR SUBMISSION!!!

https://www.cognitoforms.com/TheAtlantaWomenOfWealth1/FASHIONHATSHOWSUBMISSION