About this Event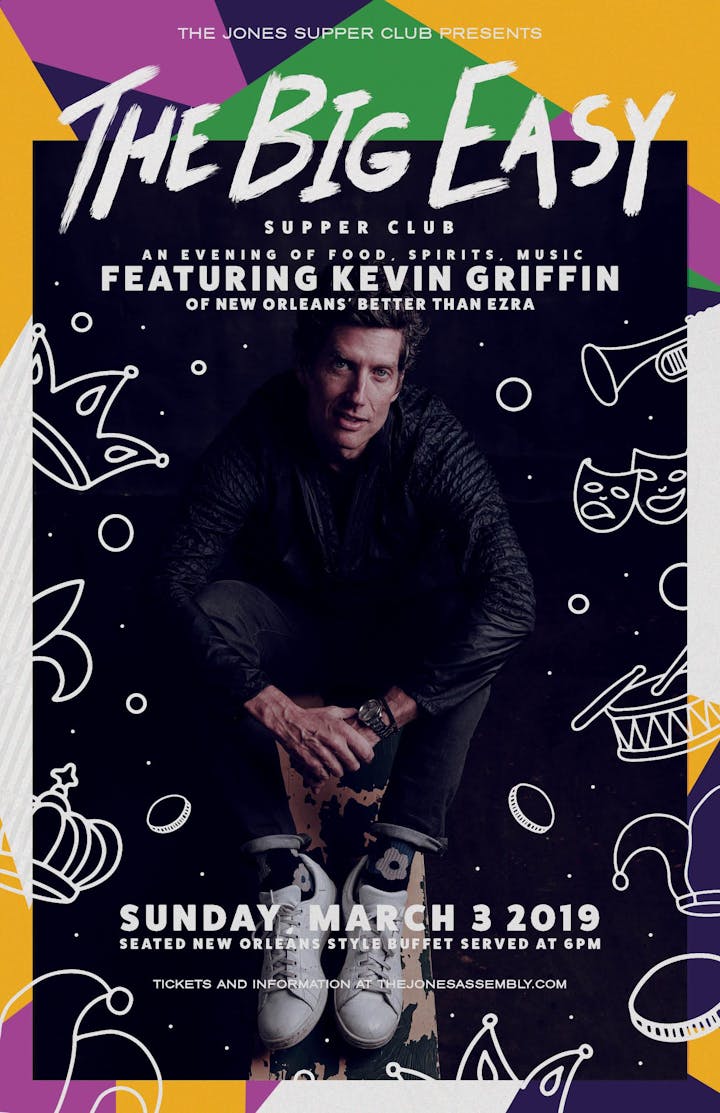 Doors 6:00 with New Orleans style buffet dinner service beginning at 6:00.
Buffet dinner is included in ticket prices. Alcohol is not included in ticket prices.
GA tickets include first come, first serve community style table seating on main floor. Reserved booth and table packages include private booth or table seating with buffet dinner and drink service. Booth packages include 6 at private booth, round table packages include 6 or 10 at private round table.
More questions? Visit our website HERE
Kevin Griffin
To date, Kevin Griffin has produced, written, and co - written albums and songs that have sold in excess of 30 million copies.
Griffin has produced and written songs performed by artists such as Taylor Swift, Train, Sugarland, Barenaked Ladies, Christina Perri and James Blunt among others . He scored a #1 hit in 2005 with Howie Day's "Collide." In 2010, Griffin had Sugarland's #1 Country hit, "Stuck Like Glue" which became the 11 th most downloaded country music song of all time. Recently, Kevin teamed up with fellow song writer Sam Hollander to form Band of Merrymakers, a rotating - cast Yuletide super group featuring today's biggest artists such as Fitz and the Tantrums, Natasha Bedingfield, and Neon Trees. In 2015 the group released their Sony debut album "Welcome to Our Christmas Party" with a portion of the proceeds going to benefit the Grammy's MusiCares Foundation®. Christmas 2015 saw them performing on the Today Show, Jimmy Kimmel LIVE! and the NBC 's Christmas in Rockefeller Center for the tree lighting ceremony . Christmas 2016 will see the band live in performing arts centers around the country.
Griffin made his professional debut in 1995 as the singer and songwriter for New Orleans based band Bet ter Than Ezra. Their debut record, Deluxe , went double - platinum fueled in part by the success of the #1 Modern Rock track "Good." The band's follow up record, Friction Baby , went Gold and contained two Top 10 Modern Rock tracks followed by another Top 10 H it in 2001 with the single "Extra Ordinary." In 2005, Bette r Than Ezra had a Top 10 hit with "Juicy" . In 2010, their song, "Breathless," was covered by Taylor Swift at the Hope for Haiti telethon and during her worldwide tour. In 2014 BTE released their eight studio album All Together Now which secured a T op 30 song with lead single "Crazy Lucky." Better Than Ezra continue to tour around the world.
In addition to songwriting and performing, Gri ffin is involved in artist management , lectures on the subject of creativity to groups and companies such as Novation and YPO/WPO, and this f all will be an adjunct professor and writer - in - residence at NYU's Clive D avis School of Music. He i s a co - founder and partner in Pilgrimage Music & Cultural Festival which is a two - d ay event located in Franklin, TN. After its inaugural year, Rolling Stone commented that Pilgrimage had " an A - list lineup (arguably the best curated of the year)" and "established itself as a festival to watch. " The festival has featured memorable performances from Justin Timberlake, Willie Nelson, Chris Stapleton, Beck, Sheryl Crow, Kacey Musgraves , Steven Tyler, Eddie Vedder, Ryan Adams , Cage the Elephant and more in Franklin, TN. www.pilgrimagefest ival.com .
Griffin currently lives and works in Franklin, TN .