About this Event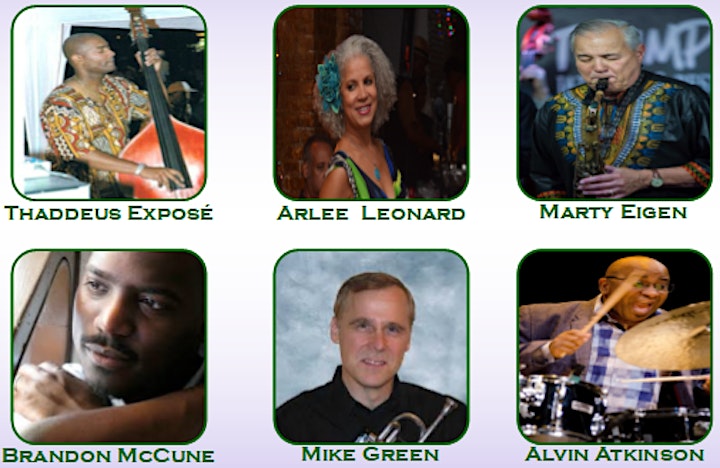 " Laissez Les Bon Temps Rouler!" Let the good times roll at The Watchung Arts Center's Mardi Gras celebration on Saturday, February 22 at 8PM. The Mardi Gras Band returns following the success of last year's sell-out performance. Come ready to groove and dance to the New Orleans beat with beads, feather boas, and parasols! Band leader, bassist Thaddeus Exposé, New Orleans native will be joined by vocalist Arlee Leonard, pianist Brandon McCune, drummer Alvin Atkinson Jr., Michael Green on the trumpet and Marty Eigen on the clarinet. Meet the musicians at the dessert reception and enjoy King Cake, Beignets and more.
Thaddeus Exposé was fascinated by the bass lines in music and first began practicing them on his father's guitar. His formal bass training began at age 18, under the instruction of bassist, Walter Payton. In 1985, Thaddeus moved to Chicago, Illinois where he earned a Bachelor of Liberal Arts Degree in Music Education from Northeastern University becoming one of Chicago's top bassists. In early 1999, he moved to New York City, working as the house bassist for the Jazz Standard Club. He has had a career as a free-lance musician throughout the USA and internationally. Thaddeus has shared the stage with Stanley Turrentine, Marcus Roberts, Wynton Marsalis, Jennifer Holiday and many other great jazz artists.
Vocalist and recording artist Arlee Leonard began performing at age six in coffee houses in Detroit with her parents, blues/folk icons David & Roselyn. Raised in California, Michigan, Montreal and New Orleans, Arlee earned a BA in Sociology with Honors from the University of California, Santa Cruz while she sang, acted and danced through her four years there. In 1991, Arlee's multi-racial family toured Germany, France, Holland and Switzerland, where she sang, led her own groups, and became a guest vocalist for a variety of events and occasions. Ms. Leonard has since performed throughout Asia, across Europe and Russia, in South Africa, Central and South America, and across the USA.
A Chicago native, pianist Brandon McCune, makes his home in Newark, New Jersey. For the past twenty-five years he has been serving as a principal music instructor, composer, counselor, arranger, and performer with a special concentration in the jazz, classical, and gospel genres. Brandon was selected as a U.S. Jazz Ambassador to Africa in 1998-1999. He has worked as a band leader, music director, and as a sideman for artists such as Abbey Lincoln, Terence Blanchard, Nneena Freelon among other great musicians. Brandon has written music for choreographer Camille A. Brown's "Matchstick" and "Groove to Nobody's Business".
Alvin Atkinson Jr., has traveled the globe as a drummer, bandleader, Jazz educator and a six-time Jazz Ambassador. Atkinson formed Alvin Atkinson and the Sound Merchants and was selected in 2006 to feature in The Rhythm Road: American Music Abroad Program (sponsored by Jazz at Lincoln Center). In 2002 he performed at the White House for President George W. Bush. As an ambassador of Jazz, Atkinson performed in Saudi Arabia, Jordan, and Russia. Alvin has been featured in concert and has recorded with various artists such as Freddy Redd, Benny Powell, Benny Green, Ellis Marsalis, Jimmy Heath, Barry Harris among others.
Michael Green is active in the tristate area of New Jersey, New York, and Pennsylvania as a pianist, trumpeter, composer and arranger. He has composed and performed the scores for documentary films, orchestrated a Broadway musical ("Lucky Stiff") and has served as both a performer and composer-in-residence for The Princeton Brass Band. In the 1970s he worked in Los Angeles recording studios as a music arranger and also performed in area rock/pop bands. Currently Michael Green is on the faculty of Westminster Conservatory, Princeton NJ, where for 12 years he has been teaching while maintaining an active freelance career, performing in both jazz and classical ensembles and orchestras.
Marty Eigen is the founder of AMANI and the leader of Beacon Hill Musicians. He usually plays tenor sax and flute, but has been known to play the baritone sax and clarinet on occasion. He has appeared many times at the Watchung Arts Center, Bickford Theatre, Shanghai Jazz, and Trumpets in New Jersey. He recently appeared at the world famous Birdland in NYC with Carrie Jackson and Rio Clemente. Since 2015 Marty has produced four annual benefit concerts to raise money for The Seeing Eye.