Description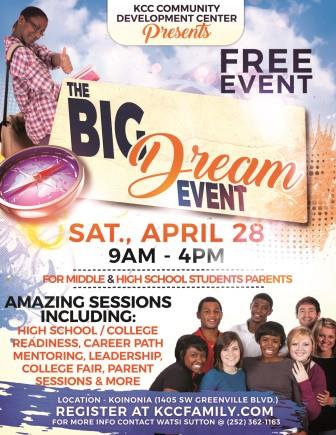 The KCC Community Development Center presents "The Big Dream Event!" academic conference and college fair for middle and high school students and parents on April 28, 2018, from 9am to 4pm.
During this free event, co-hosted by Koinonia Christian Center Church, middle and high school teens and parents will be exposed to high school and college prep sessions, leadership concepts, financial literacy, interviewing skills and much more in a safe, engaging and fun environment. Representatives from North Carolina universities and colleges will be on site to engage with our student and parent attendees.
Teens are brimming with all kinds of gifts, talents, creative ideas and boundless energy. Let us provide your teens with the motivation and tools to identify and follow their "BIG DREAMS!" Don't let your teen miss this FREE and FUN opportunity to identify and pursue their "BIG DREAMS!"