Description
Tickets available at the door!!
It's the coolest event in the hot Texas summer: the Big Chill!
Dress up and cool down with the Austin Food Blogger Alliance and Austin's top chefs in the beautiful Bullock Texas State History Museum. Top Austin restaurants are creating special menu items for the event, which will be paired with chilly cocktails and live music.
Drinks
Chameleon Cold-Brew The Dude- Orange White Russian
Good Pop "Pop"tails featuring Strawberry Lemonade and Hibiscus Mint
Bites
The Carillon Chilled Cucumber-Avocado Soup with Jumbo Lump Crab, Crisp Wonton and Yuzu-Koshu
Celtic Seafare Irish Soda Bread with Traditional Smoked Salmon, Dill Butter and Pickled Mustard Seed
Dolce Neve Fromage Blanc and Peaches Gelato
Auguste Escoffier School of Culinary Arts Shrimp Ceviche with Coconut Lime
Finn & Porter Basil Parmesan Cannoli
NadaMoo! Bananas for PB & Chocolate and Vanilla Cha-Cha-Chai
Noble Sandwich Co. Bierchiken- German style sausage with ground beef, pork and studded with chunks of ham
No Va Kitchen & Bar Grilled & Chilled Watermelon Salad with lemon, pistachios, and basil
Pleasant Storage Room Snapper Ceviche with Lime Mayo and Tostones
The Soup Peddler Real Food & Juice Bar Green Gazpacho with Local Cucumbers
St. Philip Savory- Cherry Tomato Salad - yogurt, cucumber, herb dressing, lavash
Sweet- S'mores Chocolate mousse, torched meringue, graham cracker
Swift's Attic Silver Fox Snowcone- Caramelized white chocolate, almond granita, vanilla bean sherbet, and caramelized peaches
Thai Fresh Green Curry w/ Bastrop Cattle Company Grassfed Beef and Thai Eggplants (Simmons Family Farm)
Trace Coffee Custard Mandarin Creme with Streusel Crunch
Nutty Passion Fruit Cake
Citrus and Berry Mousse Shot
Proceeds from the event benefit Meals on Wheels and More, an Austin area nonprofit nourishing and enriching the lives of people in need through meal delivery and other programs that promote independent living.
Follow allong with the Big Chill on Twitter: #AFBABigChill
Silent Auction sponsors include:
Austin Food Blogger Alliance
Alamo Drafthouse Cinema
Arro
Austin Eats Food Tours
BeeHive
Benjamin Beau Salon
Benold's Jewelers
Calvin's Fine Jewelers
East Side Cafe
Esty Skin Studio
Fail
Finn & Porter
Froyoyo Frozen Yogurt
Let's Gel, Inc., Makers of GelPro
Greenling
Hotel St. Cecilia
Lick
Posh Foodie
T1 Tequila
Ranch Road Design & Printing, Inc.
Ritual Salon + Spa
Savory Spice - North Austin
Serve Gourmet
Skorpil Photography
Smudge Publishing
Solid Gold
Tecolote Farm
Twin Liquors
Uncle Julio's
Uncommon Objects
Urban Betty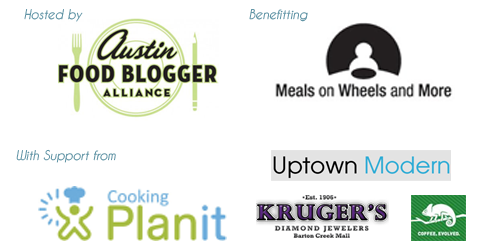 Organizer of The Big Chill