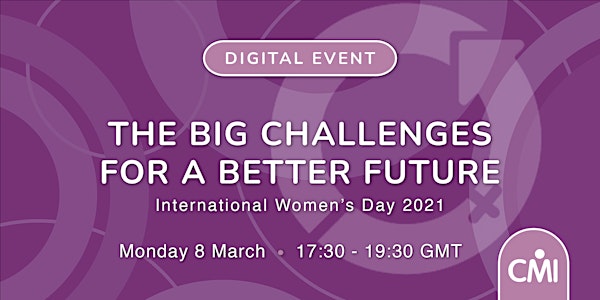 The Big Challenges for a Better Future
CMI invites you to celebrate International Women's Day with us this year!
About this event
CMI invites you to celebrate International Women's Day with us this year as we 'choose to challenge' the way things currently work to create a better future.
Hear from top leaders on how it feels to be in their position and what they believe employers must do to support women impacted by this marathon crisis. Our panel, featuring Ann Francke OBE, Chief Executive of the Chartered Management Institute, will discuss how it will require a collective effort to overcome the challenges we face as a result of the pandemic.
To achieve CMI's vision of better led and managed organisations, gender balance and diversity is required throughout management and leadership. The crisis has brought into sharp focus the challenge of ensuring women progress in their careers to higher-paid managerial roles and leadership positions. By closely following the money through pay gap reporting and ensuring organisations commit to action plans, we can collaborate with courage to challenge the way things stand.
Samantha Allen MBA CMgr CCMI, Chief Executive, Sussex Partnership NHS Foundation Trust, will inspire the #EverydayCourage we all need to achieve an equal future. As co-chair of the Health & Care Women Leaders Network, Samantha will pay tribute to the courage being demonstrated by women in health and care during these extraordinary times, and outline what she has learned from their own innovative International Women's Day celebration.
If you are not yet part of our community please sign up here to receive these updates and other key insights for managers and leaders.
The panel session will be followed by virtual networking through an innovative platform, where you will be able to connect in a supportive environment with other professionals to share your own experiences and how you will be challenging the way things stand.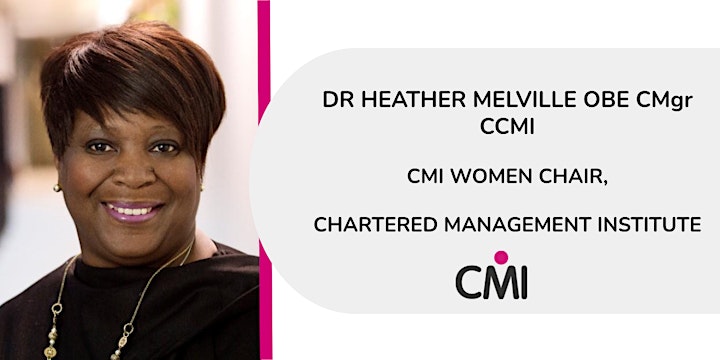 Dr. Heather Melville, OBE is a thought-leader on leadership, an innovator in business and has a notable track record of delivering strong financial performance and building high performing inclusive teams across both financial and professional services. Heather also holds a number of Trustee positions: Chair of Chartered Management Institute Women, Board Trustee CMI and Enfield Enterprise, Patron of Women In Banking and Finance and, most recently, a member of the PwC Colour Brave Charity Committee.
Having held a number of senior positions across a range of high profile organisations (RBS/NatWest, IBM, Daiwa Europe Bank and, most recently PwC), Heather has established a purpose values driven reputation, together with a gentle, focused yet persuasive style that is known for supporting both individuals and businesses to be successful. Her most recent appointment as Director of Client Relationship Programmes (a programme specifically designed for C Suite clients) and Head of People Business Networks, has provided the firm with a strong foundation to continue to engage with our 65,000 clients, 22,00 alumni and 22,000 employees through a clear vision and strategy that brings them together to solve critical business problems. Heather is also very passionate about the progression of both female and BAME talent from the early entrance into the education system, right through to that very first role they may have secured in the corporate workplace.
In 2017 Heather was awarded an OBE for her services to female entrepreneurs, diversity in business and gender equality. In July 2019 she was awarded with an Honorary Doctorate by the University of Portsmouth for her contribution to Diversity in Business. She is the Chair of CMI Women, Trustee and board member of Enfield Enterprise, Patron of Women In Banking & Finance and in a personal capacity has contributed to ongoing independent reviews for the Labour Government recreating an inclusive culture. In 2020 Heather became a member of the PwC Colour Brave Charity Committee.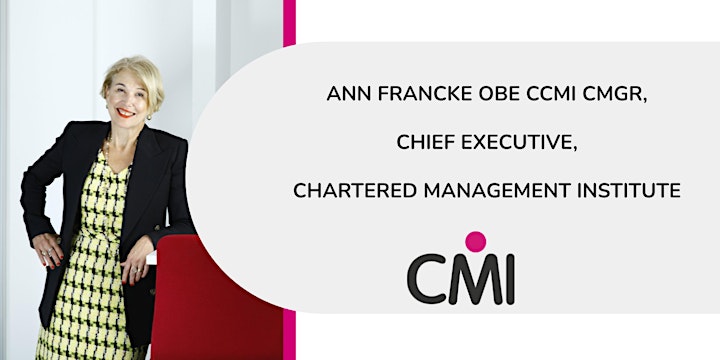 Ann Francke is Chief Executive of the Chartered Management Institute. She started her career at Procter & Gamble and has held senior executive positions at Mars, Boots, Yell and BSI. In 2020, Ann was awarded an OBE for services to workplace equality.
Ann is an expert on gender balance in the workplace and speaks frequently in the media and conferences on this and other management topics. Her book on gender balance - Create a Gender-balanced Workplace, published in September 2019. Ann also authored the 'Financial Times Guide to Management' and has been named in the top 100 women to watch in the 2015 Female FTSE Cranfield report. She was awarded the MemCom award for outstanding leadership of a UK professional body in 2016.
Ann holds several Board positions and five Honorary Doctorates for her work in management and leadership.
Ann and her husband live in West London; she has one daughter.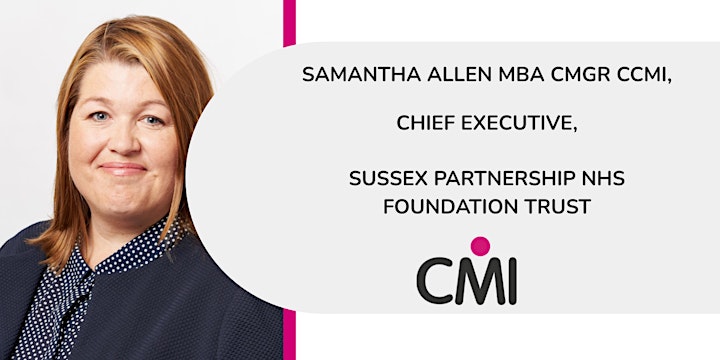 Sam Allen became Chief Executive of Sussex Partnership NHS Foundation Trust in March 2017.
Sam started work in the NHS in 1996 and has a background in the operational management and leadership of mental health services and health and social care commissioning. Sam has also gained valuable experience working with an international healthcare organisation in the independent sector.
Sam is a Chartered Manager and Companion of the Chartered Management Institute and Chair of the Health and Care Women Leaders Network delivered by the NHS Confederation. Sam has a keen interest in all aspects of leadership and is a Leadership Fellow at St. George's House, Windsor Castle and member of The Kings Fund General Advisory Council.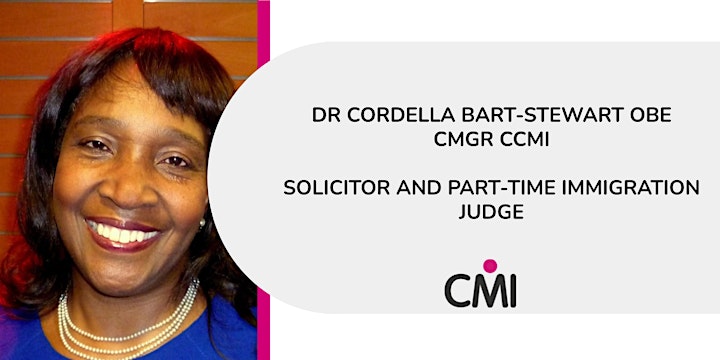 Cordella Bart-Stewart OBE is a practising solicitor who established her own firm in 1990. She is a former governor of Staffordshire University, which awarded her an honorary degree. She is a part time Immigration Judge, Chartered Manager and Companion of the CMI, external examiner for BPP Law School and director and co-founder of the Black Solicitors Network which promotes equality in the legal profession. She is also a Council member of the Law Society of England & Wales and board member of IMPRESS, the independent monitor for the press. She holds the OBE for services to the legal profession and voluntary service to diversity and education.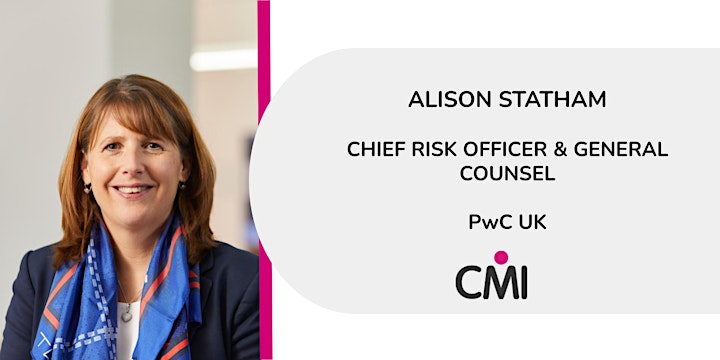 Alison is the UK firm's Chief Risk Officer and General Counsel. Before joining the Executive Board, she was the firm's Deputy General Counsel overseeing a wide range of commercial, risk, regulatory, governance and other practice issues. Prior to joining PwC, Alison qualified as a solicitor at Linklaters and worked in private practice specialising in commercial litigation with an emphasis on professional services. She graduated from King's College London with a degree in law and holds a Masters in International Business Law.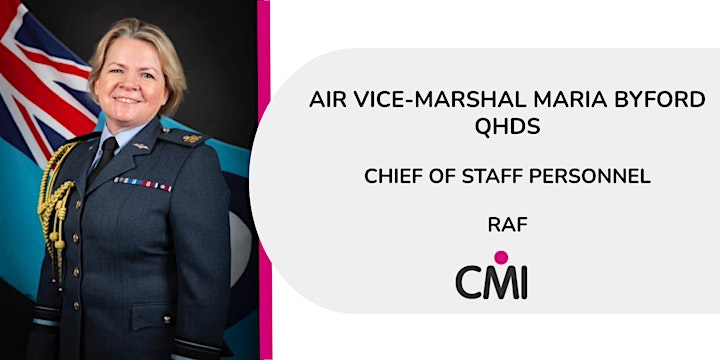 Air Vice-Marshal Maria Byford was appointed COS Personnel and Air Secretary in February 2020. She joined the Royal Air Force in 1991, following graduation from Kings College London with a Bachelor in Dental Surgery and for the first half of her career looked after her patients in dental centres and military hospitals across the globe. She was appointed Queen's Honorary Dental Surgeon in December 2016.
Leaving clinical delivery behind, Air Vice-Marshal Byford has since served in a wide variety of command and staff appointments across Defence, always with a strong focus on people. After a year on Advanced Command and Staff Course and a 3* Military Assistant role, she was promoted to Group Captain in 2011 and became Head of Personnel Division for the Surgeon General. In 2014 Air Vice-Marshal Byford deployed as the final Commander Medical on Op HERRICK, responsible for the closure of the Bastion Role 3 Trauma Field Hospital and the safe recovery of the UK Medical Group from Afghanistan. On her return and after a short spell as Commander Medical (RAF), she was selected for promotion to Air Commodore and appointed Head Future Healthcare, a post she held for 4 years before becoming Head of RAF Medical Services in February 2019.
Air Vice-Marshal Byford is the RAF's Deputy Diversity and Inclusion Champion and is passionate about fair, transparent and inclusive treatment of the Whole Force. She is very proud to be Honorary President for Staffordshire Wing RAF Air Cadets, and in January 2020 she received the President's invitation to become a Fellow of the Royal Aeronautical Society.
She is married to Alistair, a retired Air Commodore, and they have 2 almost independent children, Will and Charlotte. Together they enjoy skiing, sailing and spending time at their holiday home on the Suffolk coast.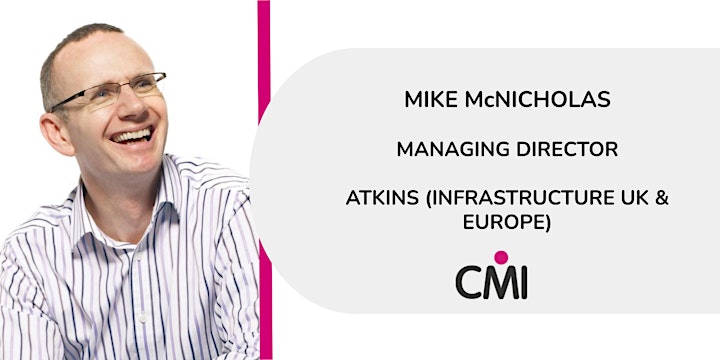 Mike McNicholas is Managing Director of Atkins' Infrastructure Division, a diverse business operating across numerous markets including Aviation, Defence, Energy, Transportation, Cities & Development, Education and Water.
A Chartered Civil Engineer by profession, Mike joined Atkins following graduation from Imperial College, London, 1982. Mike has worked on most of Atkins recent flagship projects, from the 7 Star Burj al Arab Hotel in Dubai, to leading the company's efforts on the London 2012 Olympic Games. Mike leads a team of 3,000 professionals covering professional services in Architecture, Civil Engineering, Environmental and Earth sciences, Planning, Project Management, Building Physics, Structural Engineering and Applied Science.
Mike's team is engaged on most of the UK's largest projects including HS2, Hinkley Point C Nuclear Power Station, Crossrail, Thames Tideway Tunnel, all the UK's Major Projects in the Defence Nuclear Sector.
Mike is passionate about helping young people forge careers in engineering, particularly at a time when the industry is adapting to the digital revolution. Mike is a keen cyclist.
In the meantime..
We are challenging all managers to meet the wellbeing needs of their workforce: our free Mental and Physical Wellbeing toolkit is packed full of useful resources, insights and tips designed to equip you with the skills you need to succeed.
And for all managers to focus on implementing flexible working well: our free guidance for senior leaders and line managers will help you to attract and retain talent, boost wellbeing and close the gender pay gap.
Our members overwhelmingly said it was important that we enable them to share best practices on how to support gender equality at work. Take a look at the CMI Women community and share best practice through our online Blueprint for Balance tool.