Description
Big Buck Music Fest will be a day filled with music, food & entertainment for all ages. featuring an array of live musical performances from local & global artists, great food from well-known restaurants + food trucks & an interactive Kid Zone. The festival will wrap with an unforgettable performance by 11-time Grammy Award nominee Busta Rhymes!

All are welcomed to experience this music festival at absolutely no cost.

In partnership with the Irie Foundation, Big Buck Music Fest will provide a Back to School Backpack Drive where local students in need can pick up a brand-new backpack filled with school supplies at no cost to them. (MUST BE 13 YEARS OLD AND YOUNGER)
PLEASE NOTE:
No Re-Entry

No outside food or beverages will be allowed inside the Event Grounds other than one (1) clear, soft-sided factory sealed bottle of unflavored water, 20-ounces in size or smaller per person (any beverage which has been opened or partially consumed prior to entry will NOT be permitted).

All bags will be checks upon entry into Event Grounds
BUSTA RHYMES TO HEADLINE THE BIG BUCK MUSIC FEST
The City of Deerfield Beach in partnership with Irie Weekend Management and the Irie Foundation is thrilled to announce that Hip-hop music artist, Busta Rhymes, will headline Deerfield Beach's newest music festival, The Big Buck, on August 18, 2018.
"We are so excited about having DJ Irie's Foundation and Busta Rhymes in our beautiful city. This will be a first-rate event like no one has ever seen in Deerfield Beach. So, you better get your tickets early," said Vice Mayor, Gloria Battle.
Busta Rhymes is an 11-time Grammy Award nominee, a Billboard Music Award winner, and most recently his voice was heard in the Broadway Hit, "Hamilton" in the song, "My Shot."
To get your free tickets, visit www.eventbrite.com and search events using keywords, "The Big Buck" or stop by any city recreation center where staff will be available to help assist with accessing tickets. It is important to note that this is a limited capacity event, so get your tickets now. If The Big Buck is not sold out, tickets will be available on-site, on the day of the event.
For more information, call the Community Events and Outreach Division at 954-480-4429.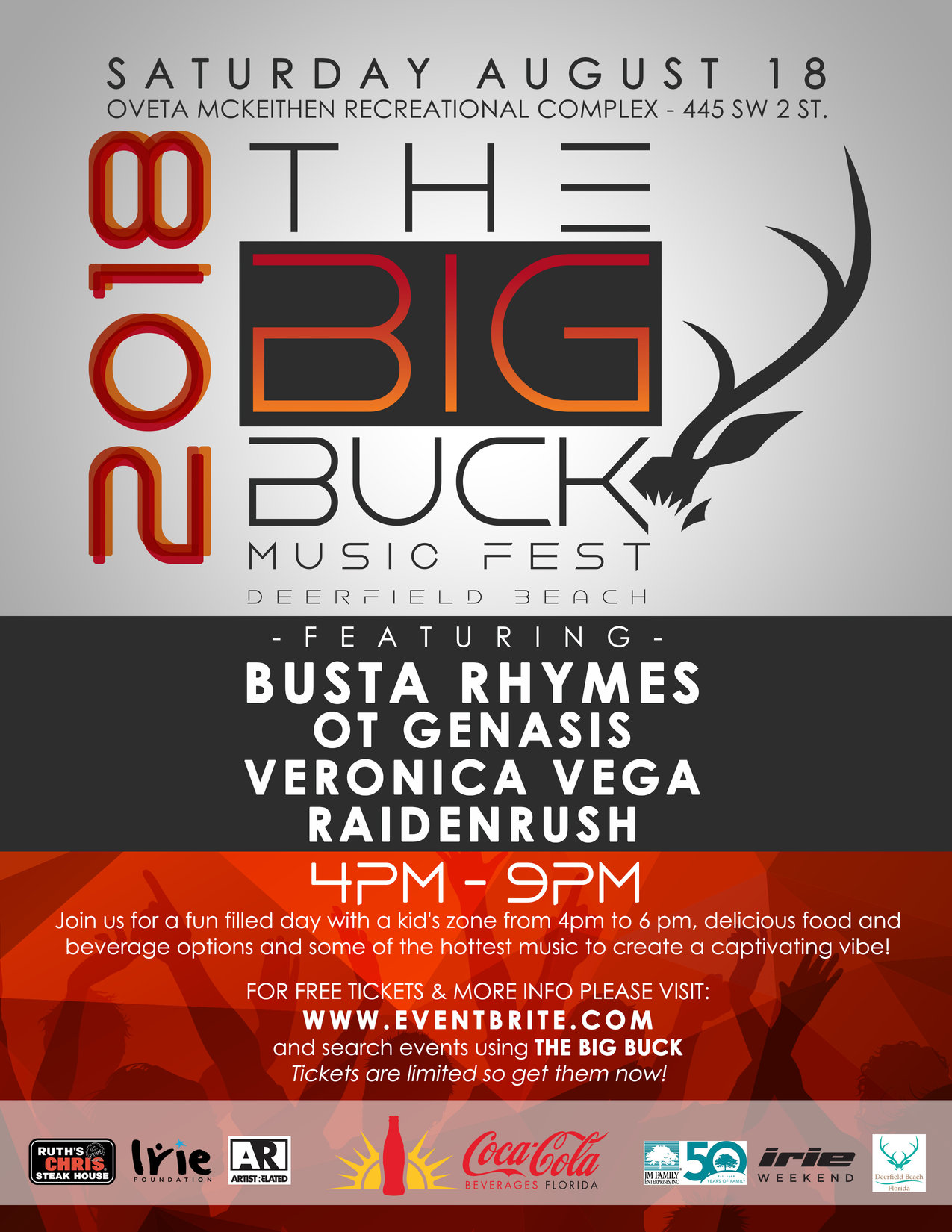 NO WEAPONS - no firearms, explosive and weapons of any kind (including pocket knives, pepper spray, fireworks, etc)
WARNING: While we at THE City of Deerfield Beach intend to promote a family-friendly environment, there may be mature content or explicit language included as a part of the show, there will be a disclaimer warning to that effect before starting. It will then be up to any adult supervisors of children to determine if they wish to stay and take part.