The Big Bass Allstar Variety Show with GRiZ, GoldRush, Nico Luminous, PlumbLyne and Hyena

Friday, November 11, 2011 at 9:00 PM

-

Saturday, November 12, 2011 at 4:00 AM (PST)
Event Details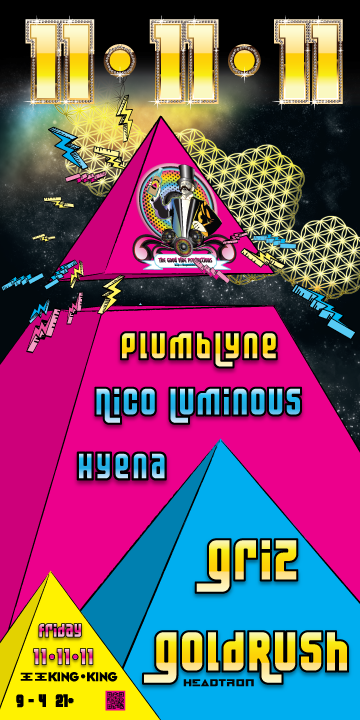 Online sales have ended... there will be tickets available at the door. See you soon!!!
The Good Vibe is pleased to present a very special show for 11•11•11!

GRiZ
http://soundcloud.com/griz_music
GRiZ is producing some of the freshest, most innovative new music we've heard.
GriZ stands head-and-shoulders above the competition in terms of the sheer variety of his ever-evolving technical prowess. A tremendously passionate and soulful producer, GriZ has a peerless knack for creating profoundly engaging melodies to offset the presence of his phenomenally designed bass. Where many artists become mired in a over-simplified and standardized method of production for the sake of creative efficiency; GriZ has no qualms sacrificing speed for the sake of quality, technical diversity, and an unrelenting devotion to progress and dynamism.


GoldRush
http://soundcloud.com/goldrush

GoldRush, absorbed in the current resonant energies and profound experience of dancing to/through/within/above/beyond bass heavy music, is on a humble quest to create and deliver music that inspires Romanticism through Dubstep influenced composition. GoldRush is sweating through molten sound and clarifying reflective intention in hopes to one day bring you what you want : the Gold.


Nico Luminous
http://soundcloud.com/nicoluminous
If you've been to Big Bass before it's likely you've seen Nico with his looper belt MC-ing and beat-boxing. Nico will be playing a full DJ set at this event and it's going to be AWESOME :)

West Coast musical artist Nicoluminous is on a mission...This unique multi-faceted artist takes a soulful approach to creating electronic music while fusing melodic progressions, futuristic sound design and organic elements into dirty bass drops."Sunrize in LA",his most recent release on Street Ritual records on March 21st 2011, went straight to #1 on Addictech.com.


PlumbLyne ( http://soundcloud.com/plumblyne )
PlumbLyne was our very favorite new DJ homie from Burning Man this year :) He camped with us and DJ'd a whole bunch on our art car and we LOVE him! Which is why we want to bring him down from Portland and introduce him to you guys.

PlumbLyne is the music, media and performance of Jeremy Plumb- a multi talented west coast golden age inspired producer, DJ, poet and graffiti artist. Crafting selections with heart that are designed to move the body, call in the spirits and set the imagination ablaze. He rolls deep with digital crates- loaded with soulful tones, intricate percussion, and bass heavy abstract hip hop dipped beats. His live sets bypass cliches and lead the dance floor in an encounter with the ancient and unknown regions of the psyche. He continuously works to harness healing frequencies and engages the live sound in many ways including visionary spoken word poetry- he is a true performer with a careful understanding of aesthetics.The authenticity and energy of his passion for sound and image is infectious.


Hyena ( http://www.youtube.com/wearehyena )
Galvanized by their combined experience in the studio and on the road, San Diego based musicians, Bryan Stratman and Michael Cooper are blowing up the indie-electro scene with their new project, Hyena. The buzz is amplifying quickly with comparisons to international sensations like Cut Copy, Phoenix and Does It Offend You, Yeah? Hyena's unique way of lacing dance beats with timeless pop melodies with have global dance floors needing more. Dark, electronic-fueled beats interwoven with Coop's organic drumming juxtaposes Strat's upbeat synths and driving bass lines seamlessly and the lush vocal interplay between the duo adds a depth which sets them apart from the rest. Currently, the R.A.W. remix of Hyena's 'Kill Kids' has become a staple on Bassnectar's world tour and easily the heaviest bass drop of his set. But, it's Hyena's own high-energy live performances that are most spectacular, including surreal visual projections that turn the whole experience into an electrifying ambush of the senses. Hyena has been nominated for Best Electronic Band of 2010 and 2011 by The San Diego Music Awards already, as well as opened up for The Bravery at Milwaukee's Summerfest.
Featuring live painting by John Park and Christina Angelina.

Have questions about The Big Bass Allstar Variety Show with GRiZ, GoldRush, Nico Luminous, PlumbLyne and Hyena?
Contact The Good Vibe
When
Friday, November 11, 2011 at 9:00 PM

-

Saturday, November 12, 2011 at 4:00 AM (PST)
Add to my calendar
Organizer
The Good Vibe
The Good Vibe is creating some of Los Angeles' freshest and most innovative electronic music events. Check out our new monthly at King King, The Big Bass Allstar Variety Show the 2nd Friday of every month. We've got a whole bunch of great stuff going on here in Los Angeles! Check out our site, join our email list, come n' getchu somma 'dat BASS!
The Big Bass Allstar Variety Show with GRiZ, GoldRush, Nico Luminous, PlumbLyne and Hyena