The Big Bass Allstar Variety Show W/ Sugarpill, R/D, Annunakii, Andrew The Pirate & Raushi

Friday, December 14, 2012 at 9:00 PM

-

Saturday, December 15, 2012 at 2:30 AM (PST)
Event Details
Online sales have ended. There will still be tickets available at the door for $20. See you soon!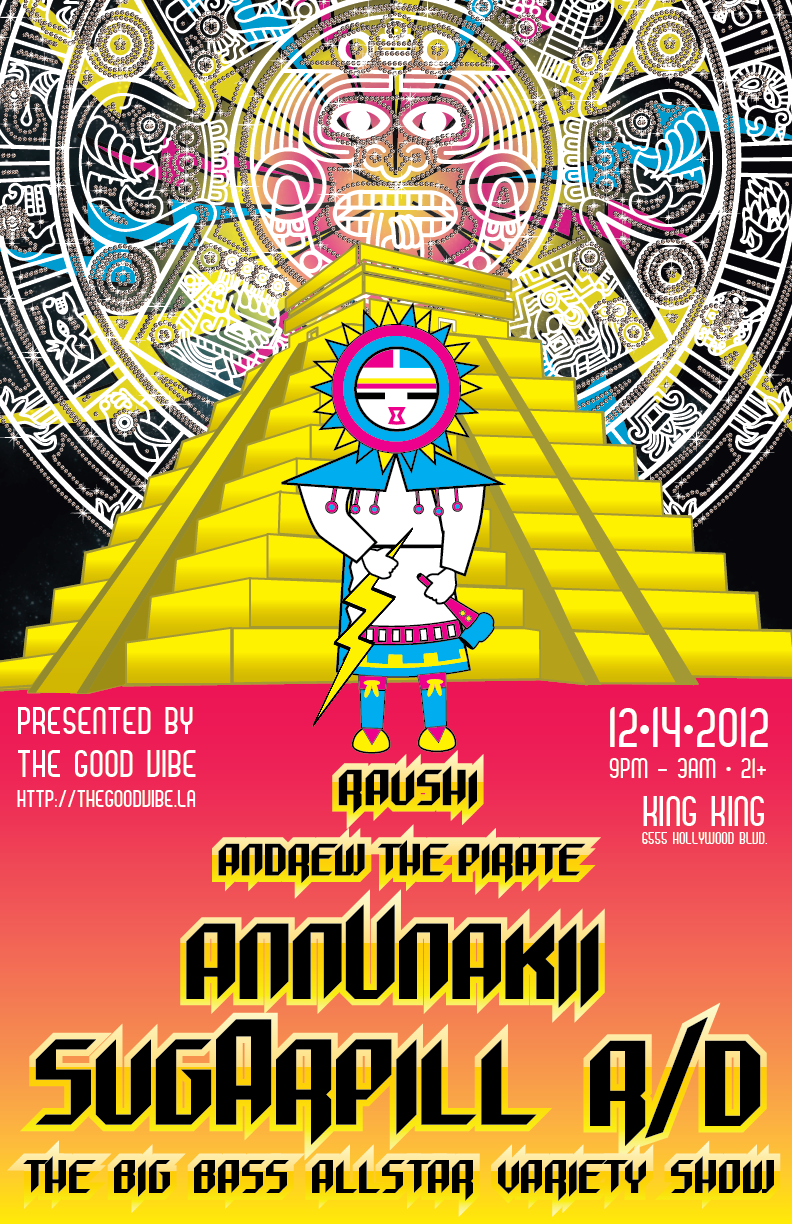 We're really excited to announce the 22nd installment of The Big Bass Allstar Variety Show!


R/D
http://soundcloud.com/r-d-1

Entranced, nearly basking in the radiance of R/D's sound, audiences are swallowed up in his vibrant melodies, pounding beats, and zealous dedication to the craft. Dripping with angst and desire, R/D's compositions can be at times dizzyingly beautiful, heartbreaking in their melancholy and dancefloor-crushing all at once. With artists clamoring to share bills and secure remixes, his edgy and experi
mental sound is finding new ears nationwide and beyond, elevating him from L.A. indie auteur to full-fledged underground sensation.
Sugarpill
http://soundcloud.com/sugarpill
Specializing in bouncing bass, sideways beats and sweet melodies, Sugarpill is a master of both the creation and delivery of polytemponic glitch bass. Residing in Los Angeles yet living in a twisted world of sound, this young artist stays dosed to the eyelids in chopped-up samples, meticulously tweaked beats and obese waves of bass.
Sugarpill seamlessly merges his techy sensibility and immaculate production skills without ever losing the inherent sexiness of the beats, and this multidimensional musical approach unites EDM fans across a vast spectrum of genres. His original tracks combined with explosive live sets confirm for the producer a powerful spot at the forefront of West Coast future sound. Crossing genres effortlessly and employing a rich variety of styles, his lively and intense sound is best described as a party- and that is exactly what Sugarpill brings to the dance floor.
ANNuNAKii
http://www.soundcloud.com/annunakii
ANNuNAKii, which transcribes as 'prince of the gods' in Sumerian is a Los Angeles based multi-instrumentalist bass music producer and composer specializing in what he describes his music as a 'Dramatic Cosmic Crunk', which are fueled by the infinite emotions and energy systems in the cosmos. His high-energy electrified live sets are described as a "dramatic cosmic lazer battle between good and evil". Whether it's the heavy melodic super crunk to the glitched out down tempo journeys through space. There is a balance of good and evil, love and hate, triumph and despair as ANNuNAKii sits on the border of both bringing you Dramatic Cosmic Crunk straight from the cosmos
Andrew The Pirate
http://soundcloud.com/pirateslaps
26 Year old Andrew Gruver, aka The Pirate, has etched out a solid place for himself in the highly saturated DJ real estate along the Coastline of California and beyond in just 5 years behind the turntables. Currently, he hosts a future bass monthly called Space Bass – alongside Little John of Raindance infamy – in downtown Santa Cruz, and rocks clubs and festivals up and down the west coast. His sets are fueled by an instinctive ability beyond his years, as he combines all styles of bass music, while staying grounded in his heart and soul – reggae and hip hop. His selections and mixes keep even the most pervasive dub spotter enthralled and will keep any dance floor packed. Be sure to catch The Pirate at festivals and events this summer- he'll probably be in the back of the crowd in a cloud of smoke.. OR up in front, behind the decks! baBOOM!
Raushi
http://soundcloud.com/raushi
RAUSHI (sounds like "RUSH-HIGH)" front woman, Dani Raushi, is living, breathing, singing proof that when fueled by the formidable flame of focused passion and an un forfeiting work ethic, a dream seed spark can and will erupt into a tangible reality.
For RAUSHI, music is a poetic tool with the capacity to take the negative energies that often surround life's mentally and emotionally challenging s
ituations, which in the case of the new album "HIGH TIDES COLLIDE", involve inescapable desire and overwhelming betrayal, and transform them into positive release. With a lyrical flow of clever puns, the album unapologetically exposes over-consumption driven by ones experiences when placed in the volatile frameworks of consuming love as a result of human nature.
21+
Have questions about The Big Bass Allstar Variety Show W/ Sugarpill, R/D, Annunakii, Andrew The Pirate & Raushi?
Contact The Good Vibe
When & Where

The King King
6555 Hollywood Blvd
Los Angeles, CA 90028


Friday, December 14, 2012 at 9:00 PM

-

Saturday, December 15, 2012 at 2:30 AM (PST)
Add to my calendar
Organizer
The Good Vibe
The Good Vibe is creating some of Los Angeles' freshest and most innovative electronic music events. Check out our new monthly at King King, The Big Bass Allstar Variety Show the 2nd Friday of every month. We've got a whole bunch of great stuff going on here in Los Angeles! Check out our site, join our email list, come n' getchu somma 'dat BASS!
The Big Bass Allstar Variety Show W/ Sugarpill, R/D, Annunakii, Andrew The Pirate & Raushi