The Big Bass Allstar Variety Show w/ Pumpkin, Nico Luminous, Black 22s +++
When and where
Location
King King 6555 Hollywood Boulevard Los Angeles, CA 90028
Refund Policy
Contact the organizer to request a refund.
Description
Pre-sales have ended. Still tix at the door, we suggest getting here as early as possible to ensure entry. <3 <3 <3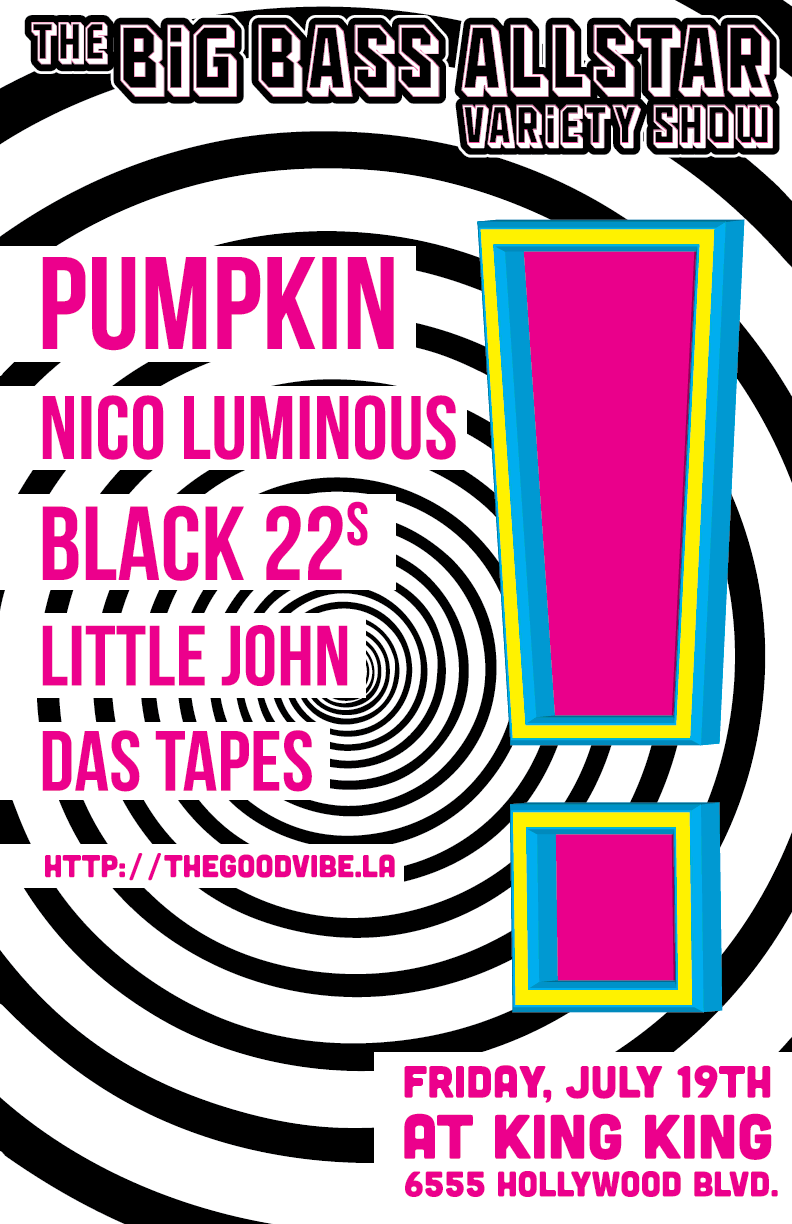 PUMPKIN | http://soundcloud.com/pumpkin
Nicholas "Pumpkin" Alvarado is your new favorite music producer/DJ. His spot-on song selections, special remixes and original productions have made for unforgettable live sets that seamlessly span every genre and eschew the latest trends in favor of timeless melodies that will leave a ginormous smile plastered across your face.
NICO LUMINOUS | http://soundcloud.com/nicoluminous
West Coast Bass maker from L.A Nico Luminous is a dynamic Electronic Music Producer, DJ, Singer/Songwriter/MC/Beatboxer, and Multi-instrumentalist. His sound is laid back and sensual yet very danceable. Having been touring nationally and internationally for over a year straight, he's been cutting his teeth as a mesmerizing performer and overall uplifting stage personality. His performances are always diverse and he integrates live looping, singing, MC'ing, as well as playing live keyboards and congas while dropping all original tracks. Check out his newest EP, "Music is My Spaceship" for a unique spin on Psychedelic Trap and 808's.
BLACK 22s | http://soundcloud.com/black22s
The Black 22's are are not just DJs, but Good Vibe creators. No two Black 22's sets are the same and endless hunting for new tracks keeps their sound fresh for them and their listeners. The two are connoisseurs of high energy, dance floor activating music. Both J*Labs and Lou E. Bagels have a deep passion for DJ-ing and each brings their own flavor into the mix. When combined they bring a bass heavy funky dirty party vibe that keeps the dance floor bouncing. Hitting the decks with a colorful, playful vibe Black 22's deliver every time.
LITTLE JOHN | http://soundcloud.com/djlittlejohn
One of the ubiquitous fixtures of the Northern California music scene, Little John is more than just a DJ or an icon, he is a force of nature.
Few dare to dive into multiple genres with such intensity, knowledge, and savviness. An extraordinary DJ, producer, remixer, and music historian, he is a creative talent who musically transcends limitations and genres. Whether he's playing Tech-House, Mid-tempo, Future Bass, or Booty Slap, this innovator unites factions and taps into new levels of creativity just for the art of it. His discerning ear, musically open mind, and the ability to read the crowd and mix the vibe is what sets him apart from the pack. It is a truly unique approach that must be experienced.
DAS TAPES | http://dastapes.com