Description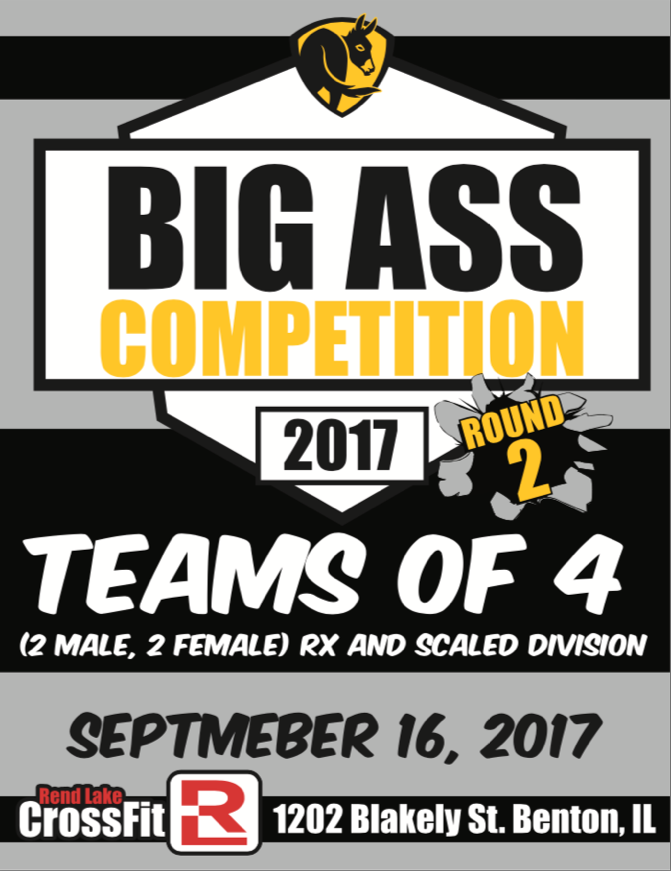 The Big Ass Competition Round 2 hosted by Rend Lake Crossfit and sponsored by Big Ass Solutions will take place on September 16, 2017.
This is a Four Person, 2 female/2 male, team event including Rx'd and Scaled divisions. Deadline for Sign-up is September 10th, or until spots fill up. There are a limited number of spots for each division so act fast to reserve your spot.
Each team is guarenteed four WoDs!
Below are standards for the competition(athletes should be able to perform working sets at weights)
RX'D
Weightlifting-
Clean & Jerk - 205/135
Snatch - 135/95
Deadlift - 275/180
Backsquat - 225/155
Thruster- 135/95
Overhead Squat- 135/95
Body Weight(For reps)-
C2B Pull-ups
Pistols
Double Unders
Ring Dips
Toes-2-Bar
Push-ups
Wall Ball(20,10ft/14,9ft)
Box Jumps (30"/24")
Scaled
Weightlifting-
Clean & Jerk - 155/105
Snatch - 95/65
Deadlift - 205/135
Backsquat - 155/105
Thruster- 95/65
Overhead Squat- 75/55

Body Weight-
Single or Double Under
Pull-ups
Knee Push-ups
Knees-up
Wall Ball(14,10ft/10,9ft)
Box Jumps (20"/24")
Contact Rend Lake Crossfit with any question at rendlakecrossfit@gmail.com
Date and Time
Location
Refund Policy