About this Event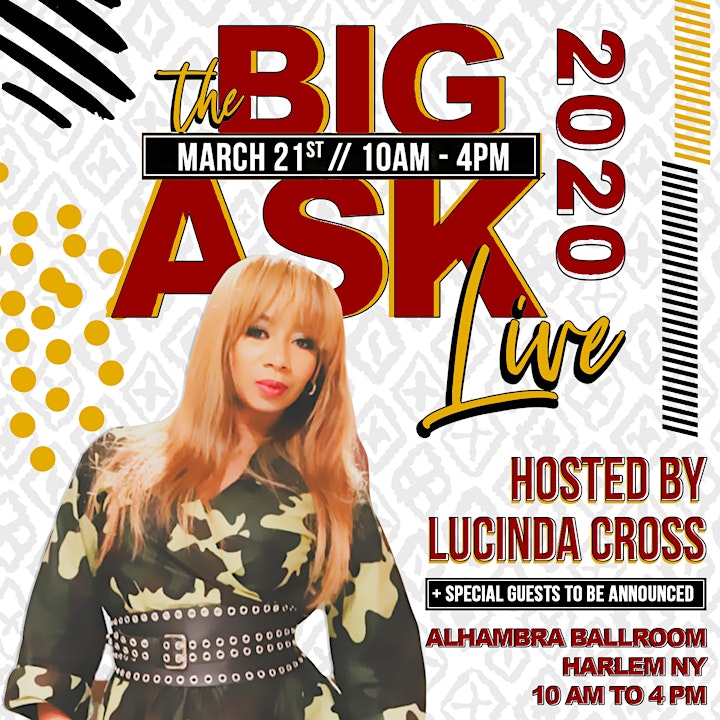 We are excited to announce Delta Air Lines has officially partnered with Activate Your Life and The Big ASK Live. Their commitment and dedication to entrepreneurs is admired and we are honored to partner with them for 2020.
Grab your tickets registration closes in 2 weeks. thebigasklive.com/
Imagine a room full of people all showing up to serve you. You walk in the door, and there is a seat at the table with your name on it. Everyone greets you and welcomes you to the table. They all begin to serve you. Some have gifts, and some have opportunities, some have answers to your prayers, and some are there to be of support. They are coming from all backgrounds, networks, and expertise waiting to fulfill your biggest ASK with no strings attached.
That is the energy and the atmosphere of The Big ASK Experience. A room surrounded by people who are the most influential minds. The Big ASK Experience is the place where you'll find tried and true answers to your questions. The attendees and participants at the Big ASK have already accomplished what you desire to do; and are there specifically to give you advice, support, and how-to and what-to-do insight.
Brief conference details:
The Big ASK conference is on March 21, 2020 starts at 10am
Special VIP breakfast with J Bolin on March 21, 2020 at 9am (VIP Big ASkers ONLY)
Networking Mixer on March 21, 2020 from 5 pm to 9pm (celebrating Lucinda's birthday)- Private Location - Open to all
Mastermind Members ONLY Brunch March 22, 2020 at 11am- Location TBA
VIP experience includes:
Early check-in
Swag Suite
Special VIP breakfast with J Bolin on March 21, 2020 at 9am (VIP Big ASkers ONLY)
Lunch served
White glove treatment throughout the day
Access to the Birthday and networking Soiree
Also to stay up to date and connected join us on Facebook: https://www.facebook.com/groups/activateinnercircle/Make sure you follow our Instagram event page as well for updates and announcements and giveaways: https://www.instagram.com/thebigasklive/
Who Will Be There: A group of leaders who have been through the fire, can't be outworked, addicted to success, too raw and real for TV group of power thinkers and doers.
What Is This All About: Masterminding, Networking, Collaborating and Creating new alliances. In a laid back business conference event format.
The Big ASK Experience will gather those action takers who don't make excuses and take the risk because their why is bigger than their why not.
When Is This Taking Place: Saturday, March 21, 2020
Where Is This Going To Be: Alhambra Ballroom, 2116 Adam Clayton Powell , NY NY
Who Should Attend: Those who have a big ASK. Those who keep praying for help. Those who have everything to gain and nothing to lose.
Features: Our Activate Experiences have been featured in ESSENCE, Black Enterprise, Daily News, NY 1, The TODAY Show, 103.9fm, WBLS, WLIB. We have been rated at the #8 Top event for Women for Entrepreneurs
Dress Code: Denim with a pop of color!
Production and Result Driven Years Hosting:
The Big ASK 2019 was a wild success
Five years of The Activate Conference
One year of Super Mom Entrepreneur Conference
Going on 2nd Year of WE Nation
Hosted over 300 workshops online and virtual classes under the Activate brand.
*Please note we have a 100 percent success/Sold Out rate