About this Event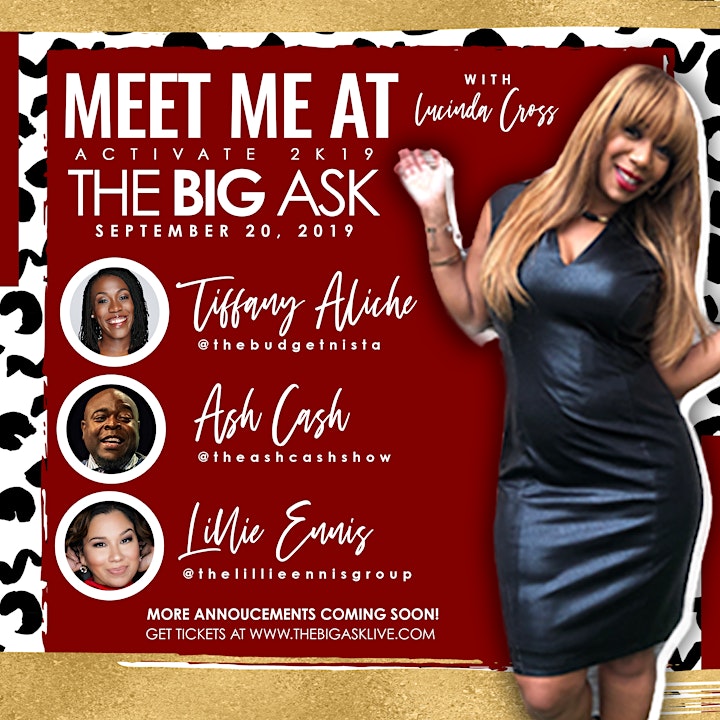 Imagine a room full of people all showing up to serve you. You walk in the door, and there is a seat at the table with your name on it. Everyone greets you and welcomes you to the table. They all begin to serve you. Some have gifts, and some have opportunities, some have answers to your prayers, and some are there to be of support. They are coming from all backgrounds, networks, and expertise waiting to fulfill your biggest ASK with no strings attached.
That is the energy and the atmosphere of The Big ASK Experience. A room surrounded by people who are the most influential minds. The Big ASK Experience is the place where you'll find tried and true answers to your questions. The attendees and participants at the Big ASK have already accomplished what you desire to do; and are there specifically to give you advice, support, and how-to and what-to-do insight.
Who Will Be There: A group of leaders who have been through the fire, can't be outworked, addicted to success, too raw and real for TV group of power thinkers and doers.
What Is This All About: Masterminding, Networking, Collaborating and Creating new alliances. In a laid back business conference event format.
The Big ASK Experience will gather those action takers who don't make excuses and take the risk because their why is bigger than their why not.
When Is This Taking Place: Friday, September 20, 2019
Where Is This Going To Be: Alhambra Ballroom, 2116 Adam Clayton Powell , NY NY
Who Should Attend: Those who have a big ASK. Those who keep praying for help. Those who have everything to gain and nothing to lose.
Features: Our Activate Experiences have been featured in ESSENCE, Black Enterprise, Daily News, NY 1, The TODAY Show, 103.9fm, WBLS, WLIB. We have been rated at the #8 Top event for Women for Entrepreneurs
Dress Code: Denim with a pop of color!
Production and Result Driven Years Hosting:
Five years of The Activate Conference
One year of Super Mom Entrepreneur Conference
Going on 2nd Year of WE Nation
Hosted over 300 workshops online and virtual classes under the Activate brand.
*Please note we have a 100 percent success/Sold Out rate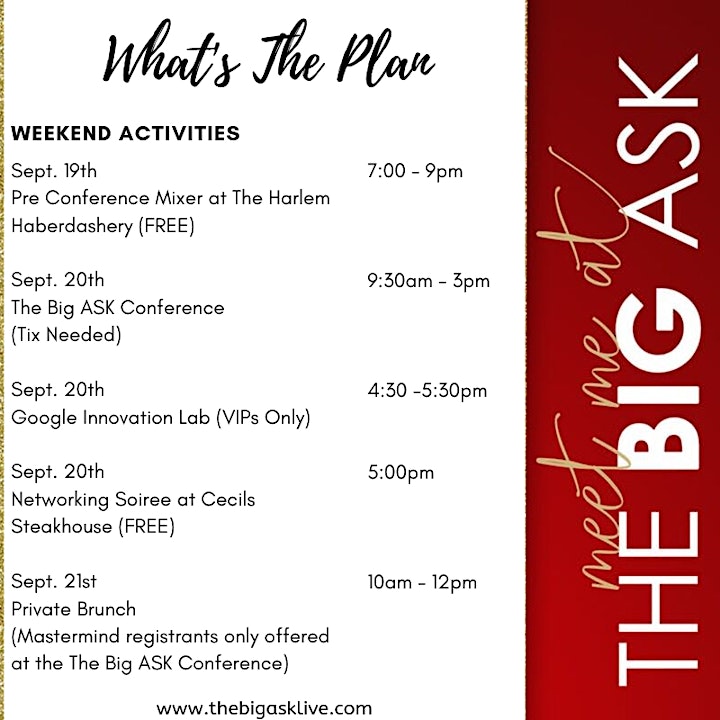 Thank you to our Sponsors and Partners