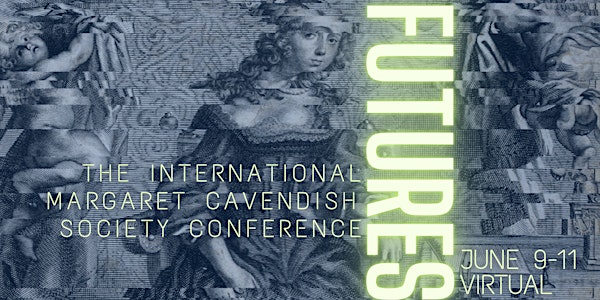 The Biennial International Margaret Cavendish Online Conference
The Biennial International Margaret Cavendish Conference
About this event
The International Margaret Cavendish Society is delighted to announce its 2022 Biannual Conference, which will be held virtually from Thursday June 9 to Sunday June 12.
The theme for this year's conference is "Futures." The theme applies not just to critical approaches to Cavendish's age- and genre-defying works, but also to the future of Cavendish studies.
Our program features new work from established and early career scholars as well as graduate students in a range of disciplines, reflecting the interdisciplinary nature of Cavendish studies at this moment. There are themed panels with traditional paper presentations, roundtables, a series of workshops on topics from editing to performance, and creative engagements with Cavendish's writings.
We are pleased to announce that this year's keynote speaker is Dr. Jonathan Shaheen, Guest Researcher at Stockholm University, whose talk is entitled "The Philosophical Fancy of Cavendish's Blazing World: An Allegorical Interpretation."
As you know, this year's conference will be virtual. It will run from Thursday June 9 to Sunday June 12, with Sunday dedicated to workshops and the business meeting. There is no registration fee. Instead, we hope you'll consider becoming a member of the International Margaret Cavendish Society. Membership fees are $25 for a regular membership; $15 for a student/independent scholar membership. You can become a member at this link: https://www.margaretcavendishsociety.org/membership. Members will be able to vote at all general meetings including the business meeting at the end of the conference on the 12th.
If you have any special accommodations or accessibility needs, please let us know.
We are very much looking forward to your participation in the conference. If you have any further questions, please feel free to contact Shawn Moore at Shawn.Moore@fsw.edu.