Location
Beverly Hills
Details at purchase
Beverly Hills, CA 90210
A blend of sexy sophistication, playful fun and - a touch of RAUNCHY - just how we like it!
About this event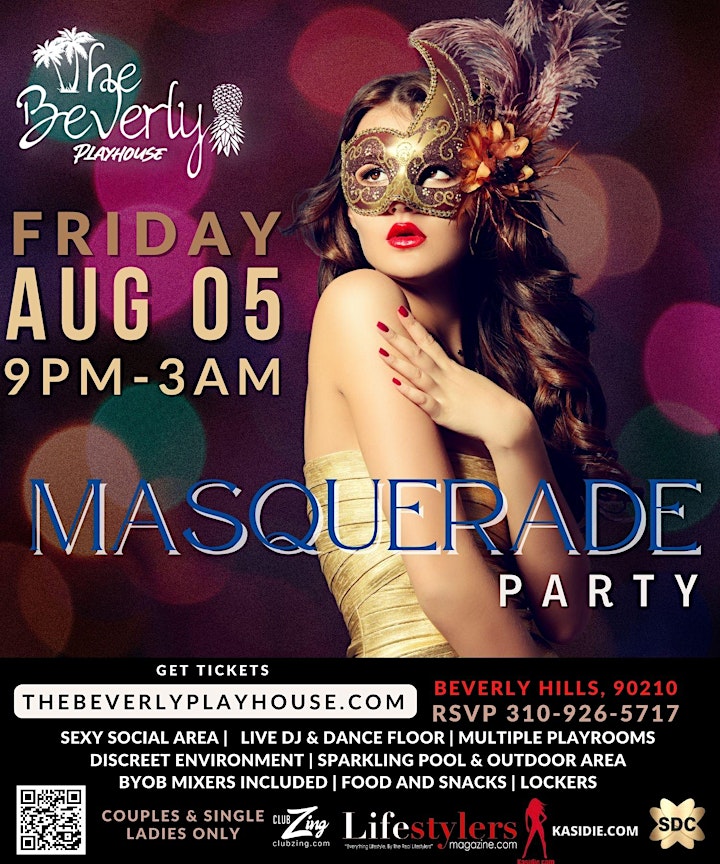 Enjoy a sexy evening with your partner , meet NEW open-minded friends and play to re-charge. Repeat.
THE BEVERLY PLAYHOUSE gives you the Sensual Playground to explore your most intimate naughty fantasies.
Who we are: A blend of Sexy Sophistication, Playful Fun and - a touch of RAUNCHY - just how we like it!
We give open minded, sexually enlightened couples and single ladies the ultimate playground to re-charge from the mundane. Our playhouse is private and tucked away in the lush upscale residential area of Beverly Hills, California. We're the newest "Members Only," LS swinger Playhouse in Los Angeles County and we host New Bad & Bouji Naught parties every week!
Why Join: Enhance your love life. Play. Recharge.
Members only - Our playhouse is truly one of-a-kind and it's important to us to keep it that way. We provide a discreet playhouse that brings out the BADDIE in the ladies and we keep safety is at the top of the list.
Amenities- LIVE DJ and Dance floor - Multiple Playrooms - Snacks and Beverages Offered - Lockers - Sparkling (swimsuit optional) Pool with Gorgeous Outdoor Setting - Byob
Multiple Playrooms - Playrooms are designed to exhilarate the senses on-premise allowing adventurous couples and single ladies in the swinging lifestyle to explore their most intimate naughty fantasies.
THE BEVERLY PLAYHOUSE | Discreet , Beverly Hills, 90210, Beverly Hills, CA 90210 ***We'll email the details to you after ticket purchase.****
CALL OR TEXT US WITH ANY QUESTIONS | 310-926-5717
Join our newsletter! Stay up to date with the latest events and special offers Subscribe Now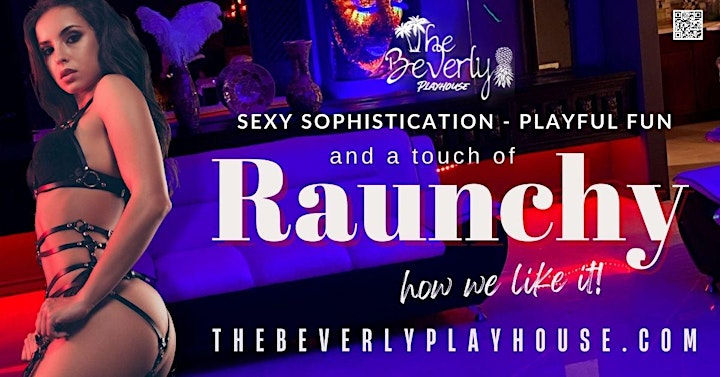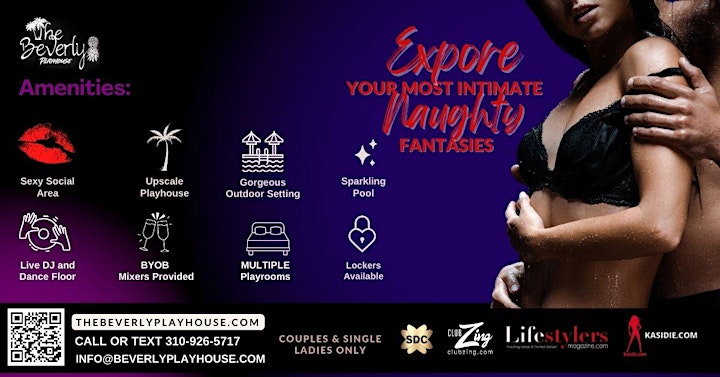 HOURS OF OPERATION:
Friday 9pm-3am
Saturday 9pm-4am
WHAT OUR GUESTS HAVE TO SAY...
⭐⭐⭐⭐⭐
"The Beverly Playhouse definitely knows how to turn on the sexy. The venue is lovely, lots of space to watch or play. The vibe was very laid back, low pressure but by the end of the night, everyone is sharing.The hosts made us feel welcome and safe and they showed us a good time personally too. What's not to like? We will definitely be back and bring more friends."
⭐⭐⭐⭐⭐
"We drove all the way up from San Diego to go to the Beverly Hills Playhouse and it was way worth it! We will definitely be back again and again. The hosts are so welcoming, friendly and don't forget sexy! The location is really nice, it's clean, and just all around a great place to be. If you haven't been here yet, you need to go and maybe we'll see you there! "
⭐⭐⭐⭐⭐
"We really don't get out to LS events much but wow this place was so much fun! Had a great time out on the dance floor. Had a better night in the many playrooms ;). We had an awesome time here definitely got hooked and will be planning to go back and keep the party going :) "
FAQ:
How will I receive the address to the event?
The address will be sent to your email and on your ticket at the time of purchase.
Do I have to be a swinger to come?
Absolutely not. We welcome all straight-male and straight/bi-female couples to join regardless of relationship status. No means no at any lifestyle event and there is no pressure.
House Rules:
No Cell Phone Use.
No weapons of any kind are allowed
Ask Before You Touch - Ask Once and Only Once
No Means NO
Do Not Stalk People
Treat Everyone with Dignity and Respect
Do Not Open Closed Doors or Curtains
Do Not Interrupt Others
Do Not Be Creepy or make other members uncomfortable by your actions
Clean Up Your Own Mess
No photography or video taping is allowed
Use Common Sense!
Do you sell Liquor or can we BYOB:
We will not be serving liquor at this time. please bring your own drink of choice.
What do I wear?: Be your BADD self! Dress to theme or follow our dress code.
DRESS CODE:
Men: No Hats of any type.
No sandals, work boots, or flip flops.
No T-shirts with logos, words, or advertisements on them.
Women: No Hats of any type.
No work boots, slippers, or flip flops.
No T-shirts with logos, words, or advertisements on them.
NO EXCEPTIONS
Theme Events will have their own special Dress Code according to the theme.
Can we attend any event if we are new to the club and the lifestyle?
Absolutely, you can attend any event. You do not need to be a part of the lifestyle. Come for the fun!
Event Admission
Couple Ticket - $100
Single Ladies Free!
(See specific event for fees.)
***Event Admission for each event is required in addition to membership.
HOURS OF OPERATION:
Friday 9pm-3am
Saturday 9pm-4am
Sunday Pool Party: 12pm-6pm (Summer only)
WWW.THEBEVERLYPLAYHOUSE.COM
CALL OR TEXT US FOR ANY QUESTIONS | 310-926-5717
Being respectful, considerate and playing safely while still being sexy are required for membership. We are a 21+ club. You must bring a valid ID each time you attend the club. The 21+ rule applies to all guests, when attending an event at The Beverly Playhouse.