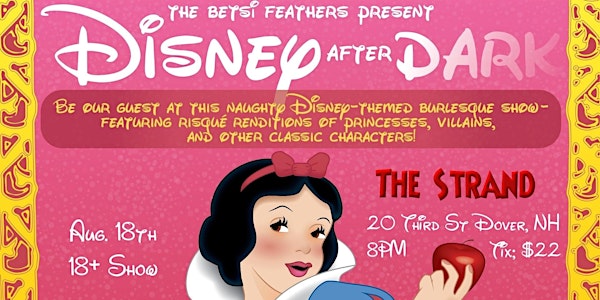 The Betsi Feathers present "Disney After Dark" Burlesque
When and where
Location
The Strand 20 Third Street Dover, NH 03820
Description
https://www.thebetsifeathers.com/info
18+ due to nature of the show
8PM-10PM
Doors open at 7:30PM, 7:15PM for VIP seating
You've seen burlesque shows at The Strand before....The Betsi Feathers are bringing your favorite Disney princess and villain fantasies to life!!
"Be Our Guest" and "Let us show you the world" of what would happen if Disney came to life in risque renditions of princesses, villains, and other classic characters.
The show promises to have your head spinning at light speed, and you may "need the force" to stay in your seats.
About the performers:
The Betsi Feathers are a sweet and sassy neo-burlesque troupe based just north of Boston. Established during the winter of 2010, they had their debut performance at the Lansdowne Pub in Boston February 2011 and haven't stopped shaking tail feathers & twirling tassels since.
Inspired by the glamour of the past but not held back by it, the Betsi Feathers take a fresh approach to burlesque.
They incorporate modern music with polished, choreographed dances to produce creative and high quality burlesque shows. Most of the Feathers have extensive experience in dance and theater. Each member provides a unique quality to ensure diversity in each show.
Featuring:
-Pointe dance
-Hula hooping
-Belly dance
-Hip-hop
-Aerial silk dancing
-Contortion
and a variety of talents certain to keep you on the edge of your seats!