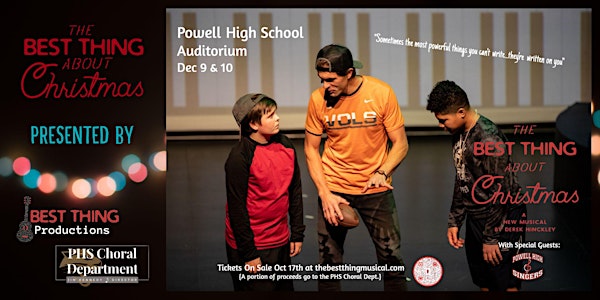 The Best Thing About Christmas
We are so excited to bring this brand new musical story home to the community of Powell in Knoxville, TN!
When and where
Location
Powell High School 2136 West Emory Road Powell, TN 37849
Refund Policy
Contact the organizer to request a refund.
Eventbrite's fee is nonrefundable.
About this event
"Dylan moves his family to Nashville with dreams of people singing his songs by heart but life takes a tragic turn one December destroying his love of Christmas. Needing a miracle to pull him from the brink he is inspired to try writing a musical script in a last-ditch effort to live his dream and matter to someone. Just when he needs it his talented daughter Sadie becomes a conduit towards healing and renewed faith. With wisdom beyond her years, and help from her special angel sister, Dylan re-discovers a love for Christmas and a peace about the past. With God's grace, support from an amazing wife and family, and a gritty never give-up attitude, he realizes that his most important dreams are right in his own living room."
"The Best Thing About Christmas" debuted in December 2021 in the mountain west and brought the music, characters, and "Christmas-in-Nashville" story to over 1600 people in 10 shows. It was truly a magical experience and one that we will never forget. It paved the way for us now to bring this story and music back home to Tennessee, back where this whole dream started.
This year is extra special because I get to work with one of my favorite people in the whole world, my friend and mentor Mr. Jim Kennedy and his Powell Singers. This group and Mr. Kennedy's mentorship have meant so much to my siblings and I and to literally thousands of others who have called the choir room at the end of the hall our sanctuary...the place that helped forge our character. Those lessons learned never quite leave us. This year we are thrilled to have the Singers joining us on stage to bring an extra energy and life to these songs.
The characters in this story mirror many of my own life experience. These songs come straight from my own life and some were even written as I pounded the pavement on Music Row. Many were written in hard to explain moments when I needed the right tone or message to accent the story and it seemed to drop right out of Heaven. Regardless, they represent who I am, who I want to be, and hopefully what we can all strive to become…the best versions of ourselves, because we too have found out the best thing about Christmas… that to find ourselves we must lose ourselves in doing good.
~D. Hinckley
{A portion of the proceeds from tickets sales will go to the PHS Choral Department}