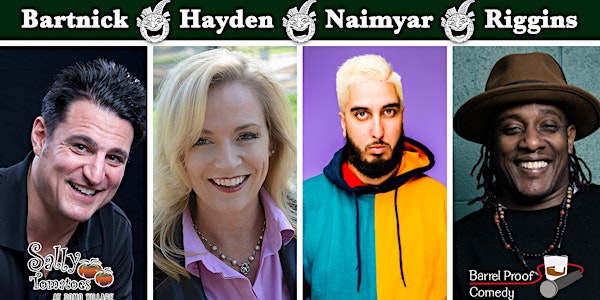 The Best of The San Francisco Comedy Competition
Joe Bartnick headlines this hilarious show featuring SFCC alumni, including 2022 champion, Chris Riggins!
When and where
Location
Sally Tomatoes 1100 Valley House Drive Rohnert Park, CA 94928
Refund Policy
Contact the organizer to request a refund.
About this event
Barrel Proof Comedy Brings The San Francisco Comedy Competition to Rohnert Park!
Don't miss this hilarious comedy show featuring past winners and finalists from this legendary stand-up competition.
Doors - 6:30 (for VIP guests, GA @ 7pm)
Dinner - 7:00 (purchase VIP in advance, LIMITED dinners available at the show)
Show - 8:00
Be sure to buy tickets for your whole party so we can seat you together.
VIP Tickets are closer to the stage and include dinner!
Menu:
Chicken Parmigiana
Penne Pesto
Garlic Bread
Caesar Salad
Chocolate Brownies
Headliner - Joe Bartnick
Joe Bartnick is a comic who has gone from performing in coffeeshops and bars to Madison Square Garden and The Forum. Joe can be seen doing standup on AXS-TVs Gotham Live, roasting Tommy Lee on A&E and acting on Playboy TVs King of Clubs. Joe wrote the bestselling book "You Might Be a Douchebag". He parlayed his love of hockey into the popular podcast Puck Off on the All Things Comedy Network. He toured for years with Lisa Lampanelli and now frequently appears with Bill Burr who nicknamed him "The Rose Bowl Legend".
In 2022 ATC/ Bill Burr Presents be releasing his 1st comedy special titled " Bartnick"
Feature - Laura Hayden
Laura is the mastermind behind the multimedia comedy show "I Didn't Mean To Be A Virgin In The 80s". Deemed 40 Year Old Virgin meets Hot Tub Time Machine meets Rocky Horror Picture Show. "I Didn't Mean To Be A Virgin In The 80s" takes a hilarious look at Laura's sad but true tale of being left at the altar and then chasing love all while the world partied like it was 1999. The show earned billing at the famed 2011 Edinburgh Festival Fringe as well as showing at venues across California.
Laura brings to the table a rare mix of professionalism, humor and experience both as a performer and producer of comedy shows. Known as a hard worker and easy going, Laura has skilled panache when dealing with the unpredictable nature of live entertainment. Laura has earned a reputation as a excellent host, feature and headliner. Laura has run a very successful weekly comedy show for over 4 years at Seal Beach Hennessey's. The show is so successful that she will be venturing into another weekly show at Manhattan Beach Hennessey's. And Laura's Comedy Cupcake Show at Bogey's in Redondo Beach is stepping in to its second year. Furthermore, Laura will be taking her skills back to Edinburgh to host "The Sweet Release" a cabaret show at the upcoming 2012 Edinburgh Fringe Festival . All of that is just the tip of the iceberg.
Special Guest - 2022 Winner - Chris Riggins
Chris Riggins' comedy comes from a very sincere place. A native of Berkeley, California, his comedy comes second to his intellect, and his ability to comment on the world around him.
To see Chris perform is to see a window into the reality of American culture, both comic and tragic.
While Chris has many credits to his name, including opening for legends like Dave Chappelle, his true appeal is in his brutally honest comedy, which will force you to think while laughing.
Host - Dauood Naimar
Born with a foreign name in an American country (America), Dauood Muhammad Naimyar learned the value of assimilating at a very young age. Because of this, he tried his best to not be different but failed at every encounter. Once he embraced his eccentric point of view, he saw the humor all around him. Dauood's comedic perspective is shaped by the duality of his constant need to fit in, and his relentless desire to be different. His search for being relatable yet controversial has brought audiences joy for nine years--and will probably continue until he finally figures out who he is. We hope he doesn't, 'cause bills need to be paid.
Visit BarrelProofComedy.com for the best stand-up in Sonoma County. Follow on Facebook & Instagram.
Find all the best stand-up & trivia in The North Bay at BarrelProofComedy.com!