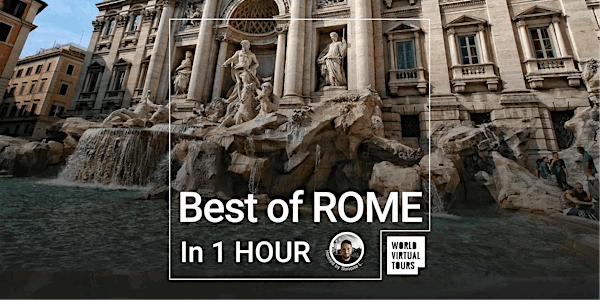 The Best of Rome in 1 hour Walking Tour
Rome wasn't built in a day...but you can visit it in one hour.
About this event
👷🏻‍♂️ Build this project with us:
Our Tours are FREE TO JOIN
the Event is TIP-SUPPORTED (read below ⭐)
⏰ Time is listed as Eastern Time (US/New York)
Language: English
Live stream event from Rome, with SIMONE L.: licensed tour guide of Rome and the Vatican City, Archeologist, Egyptologist with 15+ years of experience
Summary
Trevi Fountain
Pantheon
Capitol Hill
Marcus Aurelius Column
Many other wonders of Rome
Live Q&A
Contents suitable for children
Description
Follow our PhD guide while walking through the magnificent city of Rome.
Trevi Fountain, Pantheon, Capitol Hill, Marcus Aurelius Column and many other wonders of Rome.
Emperors and Popes, wars and blessings, aqueducts and domes, smart-cars and chariots.
Rome wasn't built in a day…but you can visit it in one hour
Special Instructions and Requirements
PC, laptop, tablet or smartphone
Stable internet connection
This experience will use Zoom
PLEASE NOTE: since is a Free Event with high demand, if you don't connect on first 10 mins from tour start, we reserve the rights to assign your reserved seat to someone else
Read Carefully Our TOS here:
https://worldvirtualtours.online/terms.html
You can TIP Simone here:
https://worldvirtualtours.online/tiptheguide.html?guide=Simone
⭐ Why donate to your Tour Guide
Our project is solely funded by your donations.
All our virtual tours are made possible only thanks to your support as part of our Community.
The majority of your tip supports the Guide, the rest lets our group continue to carry out our initiative.
THANK YOU!
#juliuscaesar #history #travel #experience #monuments #rome #ancientrome #mystery #immersiveexperience #virtualtour #virtualtrips #colosseum #romanempire #emperors #romanhistory #romanholidays #middleage #emperor #pantheon #trevifountain #capitolhill #bestrome #romewanders