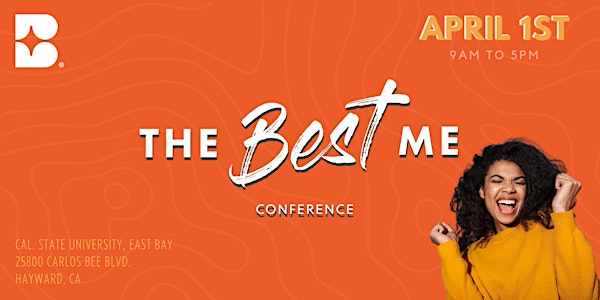 The Best Me Conference 2023
The Best Me Conference is a conference for Black women, by Black women. We are uniting our tribe so raise your hand and gather with us!
When and where
Location
California State University, East Bay 25800 Carlos Bee Boulevard Hayward, CA 94542
About this event
We're baaack!
After a three year hiatus (by no choice of our own), The Best Me Conference is coming back better than ever! If you attended our last in person event in 2019, then you know how powerful the conference was. If you missed it, now is your opportunity to be apart of a movement that is taking the Bay Area by storm.
The Best Me Conference is a jam-packed, day-long conference, for and by Black women to fellowship together and discuss topics such as career, mentorship and relationships.
The Best Me Conference is for women working to become their best selves on all fronts. It was created to support Black women of all ages looking to level up their lives and seeking the support to do so. We will impart resources, experiences and advice that will form your road map to success.
PS: 2019 conference tickets sold out in less FIVE weeks. We expect tickets for our 2023 conference to sell out even faster!
Join us at The Best Me Conference on April 1, 2023 and become a part of a movement of Black women who are striving to be the best version of themselves. At the conference, you'll have the opportunity to participate in panels, discussions, and workshops with a network of 450+ women who share the same goal: to be their best selves and connect with each other. You'll also receive a swag bag and lunch, so you can fully focus on your growth and development.
Don't miss out on this chance to increase your power, pull up others, and join a community of Black women who value collaboration over competition. Your registration includes all of this and more, so get your tickets now and take the first step towards being the best you.
For more information, visit our website or follow us on social media. We can't wait to see you at The Best Me Conference!
www.instagram.com/thebestmeconference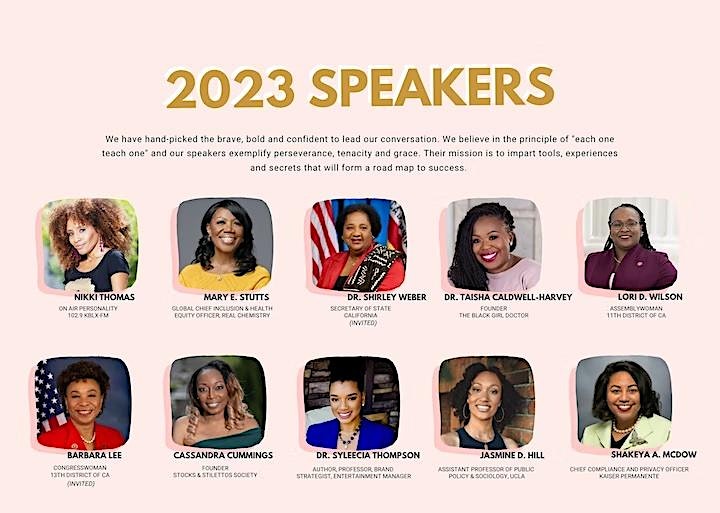 Speaker Lineup:
These are just a few of the game-changing women featured at #TheBestMeConference: (Full list of speakers to be announced soon!)
Nikki Thomas • Radio Personality, 102.9 KBLX-FM
Mary E. Stutts • Global Chief Inclusion & Health Equity Officer, Real Chemistry
Dr. Shirley Weber • Secretary of State of California (invited)
Dr. Taisha Caldwell-Harvey • Founder, The Black Girl Doctor
Lori D. Wilson • Assemblywoman,11th District of California
Barbara Lee • Congresswoman,13th District of California (invited)
Cassandra Cummings • Founder, Stocks & Stilettos Society
Dr. Syleecia Thompson • Author, Professor, Brand Strategist, Entertainment Manager
Jasmine D. Hill • Assistant Professor of Public Policy & Sociology, University of California, Los Angeles
Shakeya A. McDow • Chief Compliance and Privacy Officer, Kaiser Permanente