Description
Leonardo da Vinci was arguably the most creative person who ever lived. Exquisitely gifted in both arts and science, he practiced them as a "scientist of art and an artist of science." Five hundred years later, his anatomical drawings remain testimony to his unique way of engaging the world both artistically and scientifically. From pioneering the injection of molten wax into ventricles, to multiple views of specimens, to the recurrent use of cross-sections and cutouts, those drawings remind us of a brain that always thought in pictures. Yet, they also challenge us to understand what made Leonardo so creative. This may be especially worthwhile in times when medical education has been accused of hindering creativity.
Dr. Mangione is back at the College with this fascinating lecture. This event has sold out in the past. Pre-registration is highly encouraged.
About the Speaker
Salvatore Mangione, MD is a clinician-educator with a long interest in Physical Diagnosis, Medical History and community service. His innovative programs and engaging teaching style have been recognized by multiple awards for clinical teaching, and his work has been featured in the New York Times, the Los Angeles Times, the Wall Street Journal, the BBC, CNN, NPR and Forbes. Dr. Mangione has been an invited speaker at many national and international meetings, especially in regard to the role of visual arts as a way to teach bedside observation. He's the author of the book "Physical Diagnosis Secrets." Dr. Mangione received his MD summa cum laude from the Catholic University of Rome and trained in internal medicine and pulmonary and critical care medicine at the Medical College of Pennsylvania.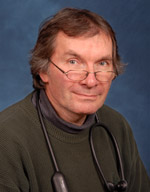 Light reception created by Catering By Design provided after the lecture.
The main Mütter Museum will not be open during this event.
About Bernard Behrend, MD, FCPP (1908-2004)
Dr. Behrend was an internist with a subspecialty in Occupational and Industrial Medicine. A graduate of Germantown High School and the University of Pennsylvania School of Medicine, Dr. Behrend was one of the first physicians to receive board certification in occupational medicine in 1958. His interest in this discipline evolved while serving as a surgical examiner for the Army Induction Board during the 1940s. Following his recuperation from tuberculosis, he pursued his career in the emerging field of industrial and occupational medicine. He was the Medical Director at the Philadelphia Inquirer, Director of Occupational Health at Smith, Kline and French (Glaxo SmithKline), Albert Einstein Medical Center and the Louis Goldsmith Clothier. Dr. Behrend also provided care at the Sidney Hillman Medical Center to members of the Male Apparel Industry Union. He was a frequent contributing author in Hygeia Magazine, which was the official publication of the American Medical Association.
Dr. Behrend was Emeritus Associate Professor of Occupational Medicine at The Medical College of Pennsylvania. He was a Fellow (1945) of The College of Physicians of Philadelphia and a board member of The Visiting Nurses Association of Greater Philadelphia. His other professional interested included aerospace and naval medicine.
His relative, Adajah Behrend, was a hospital steward who served during the Civil War treating wounded soldiers and ultimately received his medical degree from Georgetown University. This genealogy fascinated Dr. Behrend and sparked his study of the Civil War era.
The children of Dr. Behrend - David, Daniel, and Catherine - are honored to have established this lectureship.
Tickets are transferable to other people, but are not refundable.
Questions? Email events@collegeofphysicians.org