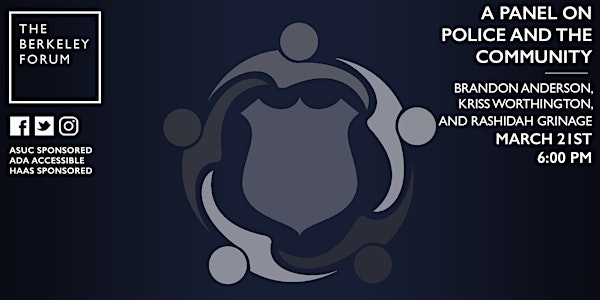 The Berkeley Forum Presents a Panel on Police and the Community
When and where
Location
Chou Hall N500, Haas School of Business UC Berkeley Berkeley, California 94720
Description
Event Details:
The Berkeley Forum Presents a Panel on Police and the Community
The discussion over police and use of force, a constant refrain in Berkeley's community discourse, was revitalized over UC Berkeley's Free Speech Week last September. Nationally, protests against brutality have drawn to attention the relationship between police and the community. Large scale social movements have been critical of the nation's police presence, concerning issues of accountability and excessive use of force in minority communities. In response, others have argued that law enforcement needs a broad mandate to maintain order in society. Join us on Wednesday, March 21st, as we discuss concerns regarding systemic violence, and further the dialogue on the role of law enforcement in Berkeley, the Bay Area, and the nation.
Date: March 21, 2018
Time: 6:00 p.m. (see below for more details about admission)
Location: TBA

Admission
This event is open to the public. Entry to the event will be open to ticketholders and, space-permitting, a limited number of walk-ins. Ticketholders are encouraged to arrive early to maximize their chances of getting in. Having a ticket does not guarantee access to the event but does give the ticketholder priority over walk-ins until 6:00 p.m., at which point walk-ins and ticketholders will have equal access to remaining seats. Our standard event policies apply. What follows is an overview of the admissions timeline. It may be subject to revisions as the event approaches. Seating in the venue is first-come, first served.
5:00 p.m. Event Admission Opens for Ticket Holders
5:50 p.m. Event Admission No Longer Guaranteed for Ticket Holders
5:50 p.m. Admission Opens for Walk-Ins (Limited Seating)
5:55 p.m. Admission Closed (No Late Seating)
6:00 p.m. Event Begins
More details will be shared very soon here and on our Facebook page. We encourage that you "Like" our Facebook page, The Berkeley Forum, to keep up to date on Forum events.
Note on Tickets
Tickets are non-transferable. While you may purchase a ticket on someone's behalf, their name must be listed on the ticket. All attendees will be asked to present a Valid ID at the venue that matches the name on the ticket.
All tickets sales are final. Tickets are non-transferable and non-refundable.
To secure a seat for more than one person, simply fill out the form once again for each subsequent person with his or her information.
If you require an accommodation to fully participate in this event, please email accessibility@forum.berkeley.edu.
Please visit our website for a complete list of event policies.