Description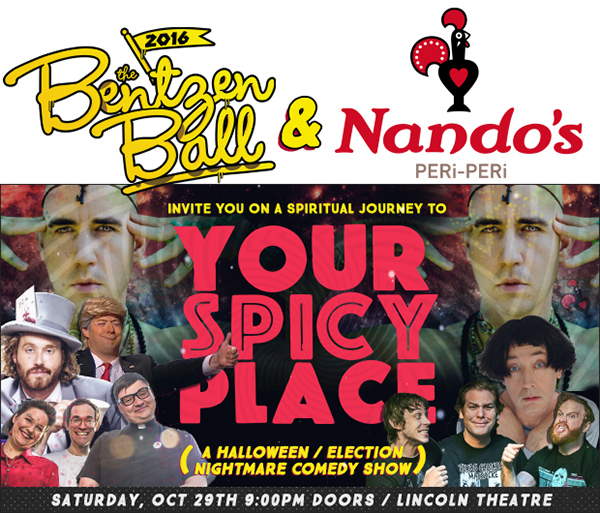 The Bentzen Ball Comedy Festival & Nando's PERi-PERi
Invite You On A Spiritual Journey To
YOUR SPICY PLACE
(A Halloween / Election Nightmare Comedy Show)
Bentzen buddies! We've partnered with our friends over at Nando's PERi-PERi to bring you a very special treat (trick?) in celebration of everyone's favorite comedy holiday Halloween & comedy time-of-year The Presidential Election! A potentially spooky, definitely hilarious Journey To Your Spicy Place aka A BENTZEN BALL HALLOWEEN / ELECTION NIGHTMARE COMEDY SHOW!
Featuring:
Your spiritual guru Earth Universe!
TJ Miller!
Trump Dump! (Anthony Atamanuik of Trump vs Bernie)
Emo Phillips!
Wham City!
Melissa Villasenor!
Church Night!
Last Podcast On The Left!

How to claim your ticket?
Best part about it? It is FREE to attend as Nando's spicy guest!
Go to a Nando's restaurant in the DMV area (click here for map of participating restaurants) and order yourself a little spicy (or mild) something and check for a code on the bottom of your receipt. Then, just come back here, enter the code, and redeem your free ticket. Attendees might win some other saucy gifts too. Space is limited, so it is a first come, first serve situation.

~~CROOSH DEETS~~
Saturday, Oct 29th, 2016
9:00pm Doors / 10:00pm Show
Lincoln Theatre
1215 U St NW
Washington, DC 20001
This show is recommended for people 18 and over
~~~

About Nando's PERi-PERi:
Back in 1987, friends Fernando Duarte and Robbie Brozin visited a humble Portuguese eatery in the heart of Rosettenville, South Africa, to try some mouth-watering PERi-PERi-marinated chicken. They loved their lunch so much they bought the restaurant. Three decades later, there are 1,200 Nando's PERi-PERi restaurants spread across five continents—including more than 30 U.S. locations in and around Washington, DC, and Chicago, with many more U.S. cities to come. PERi-PERi is the hero in each of our restaurants, where millions of Nando's fans feast on our PERi-PERi chicken, marinated for 24 hours and grilled over an open flame. So now you can get the flavor, fire and passion of PERi-PERi in our restaurants or take it wherever you go with our sauces available in your local grocery store.
http://www.nandosperiperi.com
On Social: @NandosUSA
#SpicyPlace #BentzenBall
~~~
More Bentzen Ball shows available at:
http://www.bentzenball.com
Stay informed:
http://www.twitter.com/byt
Your ticket does not guarantee entry, the event has a limited capacity and is first come first serve. Talent and attractions subject to change.