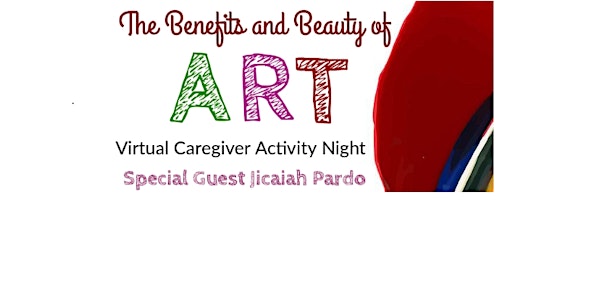 The Benefits & Beauty of Art
The Healing Power of Art for Better Emotional and Physical Well-Being
About this event
In partnership with Great Day Family Connections and the Senior Resource Network Collaborative , we invite you to join us and unleash your creativity with a fun family friendly finger-painting activity with special guest, Jicaiah Pardo!
We will share the benefits of art, and offer caregiver support resources. There will be giveaways and fun! Most of all, we will have a moment of respite.
We define caregivers as a person who provides direct care and services to children, the elderly, or patients who have chronic illnesses or are differently-abled. Past and present professional, independent, private, family, and volunteer caregivers are all welcomed; also families and additional support.
Create Art with Us! To participate in the finger-painting activity you'll need the following:
- Tempera paint or Finger Paint (we do not recommend acrylic paint for this activity as it's not safe for the skin)
- A sturdy place to park your canvas or poster board
- Hand sanitizer
- Paper towels, paper plate( for paints) or a paint palette
- Wear comfortable clothing... No fear of making a mess!
About Our Guest Artist
8-Year-Old Jicaiah Pardo lives in Georgia with her patents and older brother and sister. Jicaiah is in the 3rd grade and loves to play video games and help her mother cook. Most of all, Jicaiah loves art because of the beautiful colors. She has a lot of paint, paint brushes and canvases. She also participates in art shows where she sells her paintings.
Register today to reserve your spot! Zoom link will be emailed subsequent to registration. We hope to see you!