Description
11.29

Thursday

(Funk/Hip-Hop)
Densmore presents:
The Benefit Show for Music Mentorship
feat.
Kevin Kieneker
$10 adv, $15 dos
Nectar Lounge
412 N 36th St
MARSHALL LAW
Marshall Law is a Seattle-based Funk-Hop band led by MC, Marshall Hugh and backed by a five piece instrument toting groove machine.

Marshall Law was founded in 2016 when they first collaborated on Marshall Hugh's sample heavy solo album, 'Mill Creek'. Loving the instrumental feel, Marshall enlisted the help of Evan, Josh, Matt, Marty, and Zack to headline shows at The Vera Project and the Pacific Science Center Laser Dome both in Seattle. The chemistry was evident, and the six musicians set out to create a one-of-a-kind Funk-Hop sound from scratch.

Although new to the scene under the moniker Marshall Law, each member of the band comes equipped with over 7 years of professional gigging and hundreds of live show experiences. The band has spent the last year executing a Hatchfund campaign, honing their sound, and researching their next project, ultimately landing on Nostos: A Hero's Journey. Nostos is a performance piece in which each composition is based on classic literature and assigned a specific phase in Joseph Campbell's 'Making a Hero' model.

Marshall Law can be heard rocking all throughout the Northwest in 2018 and releasing singles along the way as they quietly work on their major debut LP.
BOOBOOLALA
BoobooLala is a band that goes down well with everything. In the Summertime, their music feels like Summer. Yet in the greyness of a Northwest winter, Booboolala serves like a full spectrum light, treating the doldrums of early January, with a mix of pop infused party funk, back pack rap, and new RnB anthems. The band emits its own three word mantra with every note.
"Everybody Love Everybody"
It's a rare group of musicians that are both a sum that is better than their parts, and such wonderful parts indeed. The band possesses a Bruno Mars like ability to take so many classic ingredients and bake a cake so fresh it always tastes like today. As they take their music fresh out the oven, it looks easy. It isn't easy. But it is easy to love Booboolala.
BoobooLala is a Tacoma band, by the way of Port Orchard, WA. They are young folks and old friends. They hug new fans, they hold old fans. It's a nice family. Come up to them before or after the show, and ask them the great story of how they got their phonetic name. It's a hard name to forget.
Vocals / Kevin Dailly
Vocals / Madisen Dailly
Guitar / Jordan Neal
Bass / Byron Thomas
Drums / Taylor Cryder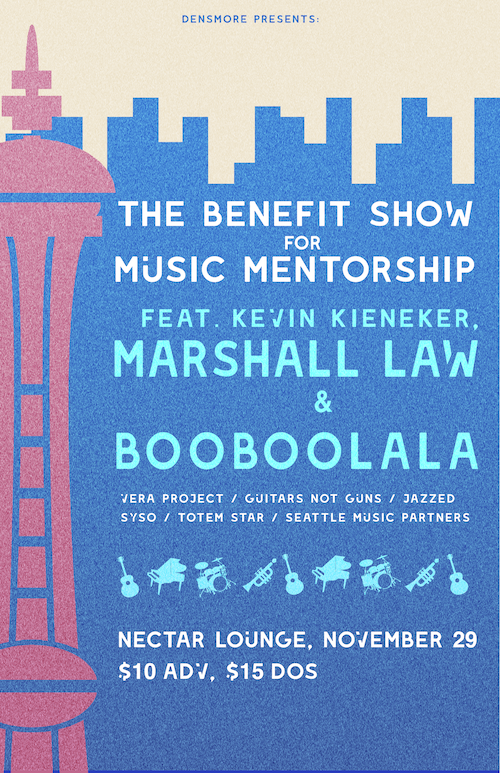 Performers
Date and Time
Location
Refund Policy