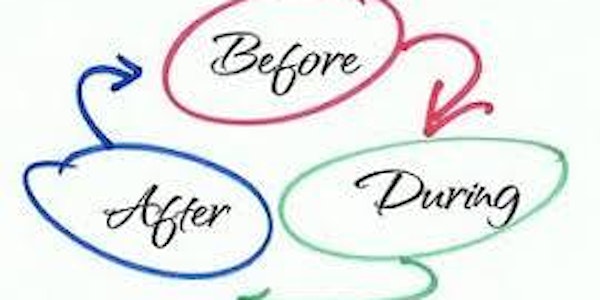 The Before-During After Process to Innovate anything in your business.
The BDA Innovation™ - Three full hours to build and improve the three most essential units in your business to innovate and solve anything.
Refund Policy
Refunds up to 30 days before event
Eventbrite's fee is nonrefundable.
About this event
The BDA Innovation-Only One of its Kind. The Before-During-After Innovator
Three Full hours of Intense Planning and Putting Things in Motion to walk away with the three most essential units in your business to solve anything in your business.
Every attendee will walk away with the following at the end of the workshop
Step-by Step in-depth examination of every step of your three most essential units in the company and improvise them for get the end result faster, easier, bigger, and cheaper.
Discover who needs to do what by when to implement the improvisation in the company in the current times and in the future.
Access to resources, structure, tools to overcome challenges you may face in the implementation.
A customized 90-Day Leap™ for your business to make the biggest traction in the next 90 days.
Testimonials:
"Bimal is the big picture guy and he takes us really deep. I might concentrate on one idea that I think it is the greatest idea in this world and Bimal will come back with making us think 10 times bigger and he's got this amazing ability to see opportunity. He lays out a great plan to get to where you want to go and makes it just so attainable. Every entrepreneur with big goals should consider hiring Bimal and if I could have Bimal in my pocket and carry him around at all times that would be great."
Mike Barnhill  Managing Partner, Specialist ID
"Before, I was working 70-80 hours a week. Now, it is down to 45-55 hours a week. The personal impact of his coaching has allowed me to spend more time with my family. Financial impact has been priceless because of the time saved. If you are struggling, definitely consider hiring Bimal. His coaching has helped me plan and organize where I want the business to go. Bimal has also taught me to push my limits and think about things more in detail on why I am doing this."
Reginald Andre, CEO, Ark Solvers, Inc.
"Bimal's workshops have further reinforced and enhanced some aspects of my leadership, in that he has brought on a fresh perspective to my role as a leader of the company. In addition to Bimal being a very engaging and energetic personality, he also has an open minded and unique perspective to making learning a fun-filled experience for my staff, which then adds immeasurable value to my company."
Terry Sgamatto, Managing Regional Director, Seeman Holtz.
Parking is FREE. Please park on the 2nd Floor and take the elevators to the 4th Floor. The office is the only office with Double Doors on the floor. 
Directions: Take 95-North to Exit #44 - Palmetto Park Road- Go East all the way to NE 5th Ave which is right before the Intracoastal Bridge. Make a left and enter the Parking Garage on your left. 
FAQs
How can I contact the organizer with any questions?
Please call us at 561-208-4032 or email at info@bizactioncoach.com
When will I get the Online Meeting Details?
Once you make a reservation and you wish to join online, please email us at info@bizactioncoach.com and we will send you instructions on how to join online via Zoom. 
Will you be doing these in Miami, Coral Springs, West Palm Beach, and Other Locations?
Yes many of the CEO Boardroom events will be held at different locations and they will be updated on Eventbrite when they are held at different locations. Since Eventbrite only allows to put one location at a time, the location will be updated one week before the event when it is held at a different location. You can email the organizer at info@bizactioncoach.com to know before you make a reservation. 
What if I couldn't make it to the event?
You will be allowed to reserve at one of the future dates at no additonal investment or offered a one-on-one workshop of the same value at no additional investment. 
Can I bring additional guests?
Yes, however each guest has to register for the event on Eventbrite. 
What is a 90 Day Breakthrough Plan?
The "90 Day Breakthrough Plan" is a plan and road-map you will develop in the CEO Boardroom Mastermind. It will have who needs to do what by when in your company to achieve the results you want. 
Is this some kind of Sales Presentation or pitch of any program or product?
No. You will walk with results that make a positive and a meaningful transformation in your bsuiness.  
What can I bring into the event?
Yourself and Your Dreams. All the necessary tools will be provided to you at the event. 
Do I have to bring my printed ticket to the event?
No.