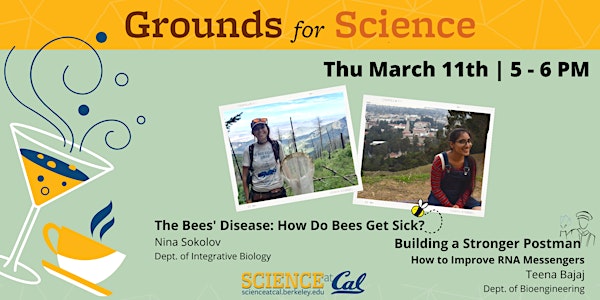 The Bees' Disease & Building a Stronger Postman
Grab an after-work beverage for a fun night of science, trivia, and socializing for all ages featuring two budding UC Berkeley researchers.
Refund Policy
Contact the organizer to request a refund.
Eventbrite's fee is nonrefundable.
About this event
Grounds for Science
The Bees' Disease: How Do Bees Get Sick?
Nina Sokolov, Department of Integrative Biology, UC Berkeley
Did you know that there are over 20,000 species of bees worldwide? The European honey bee is just one species that faces staggering winter losses due to a variety of stressors, including infectious diseases. Viruses that were once thought to be honey bee specific however, are now being found in many other bee species, with unknown impacts on their populations. This talk will focus on an overview of the viruses that make bees sick, what bee sickness looks like, why it is hard to diagnose, and how flowers are involved.
Building a Stronger Postman: How to Improve RNA Messengers
Teena Bajaj, Department of Bioengineering, UC Berkeley
While DNA is the king of the cell, proteins are its major workforce. But how does the workforce get instructions from the king? A postman! In our cells, the postman is called messenger RNA, or mRNA, carrying information from DNA to proteins. But mRNA tends to be unstable and delicate. This talk will describe a process scientists are using to make mRNA stronger and how this improvement can help treat genetic diseases.
For our 21 and older guests:
Check out our themed cocktail: Mite Russian! Stir one up before the show - one of our presenters will explain the importance of Varroa Mites to the bee kingdom. Mocktail recipe included.
Recipe below.
About Grounds for Science:
Grounds for Science is a science talk series organized by and featuring UC Berkeley graduate students. These talks are free, open to the public, and are geared towards lay audiences.
About Science at Cal:
In 2008, Science at Cal was envisioned as a unifying effort to raise public awareness, understanding and appreciation of scientific research at Berkeley. To realize this vision, we engage the vast Berkeley STEM community as science communicators and foster creative collaborations among campus and community-based groups who share our commitment to equity and inclusion in STEM education and careers.
Science at Cal connects UC Berkeley STEM researchers with diverse community groups of all ages and backgrounds, for science engagement and learning. Accessibility, inclusiveness, creativity and innovation are hallmarks of Science at Cal events, which reach tens of thousands of people annually.