Description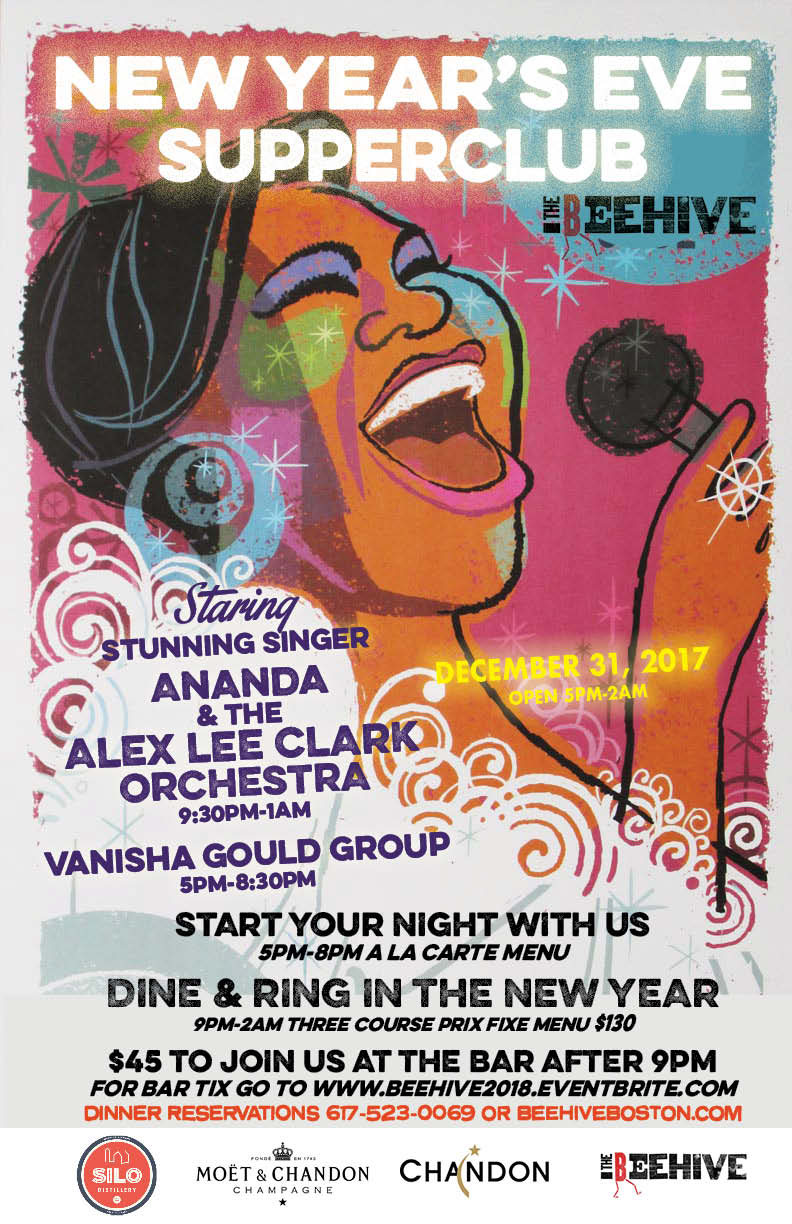 THIS SITE IS TO PURCHASE TICKETS TO JOIN THE PARTY AFTER 9PM ONLY.
FOR NYE DINNER RESERVATIONS CALL 617-423-0069 or go to www. beehiveboston.com
Fabulous, Glamtastic, Champagne-Soaked! Break out the bubbly and make your resolutions!
The Beehive's New Year's Supperclub is a Modern-Retro NYE for love-birds & chums to dine, lounge, imbibe & celebrate!
It's a night of bohemian decadence and eccentric fun!
Chef James Lyons will feature a delectable a la carte menu from 5pm-8pm and a three course prix fixe menu starting at 9pm.
Toast the evening with The Beehive's selection of Champagnes!
Enjoy dinner and the show or join us at the bar for the party.
Start your night with us – A la Carte Menu 5pm-8:00pm (additional charge if also joining us for later party)
Party with us – Three+ Course Prix Fixe 9pm-1am for $130 with glass of bubbly
No food – Buy tickets for $45 to join us at the bar after 9pm
CASH BAR
TO ONLY JOIN PARTY (NO DINNER) AT BAR AFTER 9PM BUY TICKETS HERE
The Beehive Presents NYE filled with Evocative Soul.
Alex Lee-Clark Band starring vocalist Ananda Mitchell will immerse the Beehive with a smoky soul vibe that is "Vintage Hip ". Ms. Mitchell's voice is glorious, transporting the essence of Aretha Franklin to the stage with Alex Lee Clark's band filling the crevasses. This is marvelous, polished, gritty, music combined with a young energy and groove that is new, fresh and exciting.
Vanisha Gould Group fills the early evening with modern/classic Jazz vocals. Vanisha is a stunning young talent that is evocativew of the great singers of the past yet very much a hip and now performer. This is today's music with layers of classic cool.