The Beauty Cleanse Conference
Description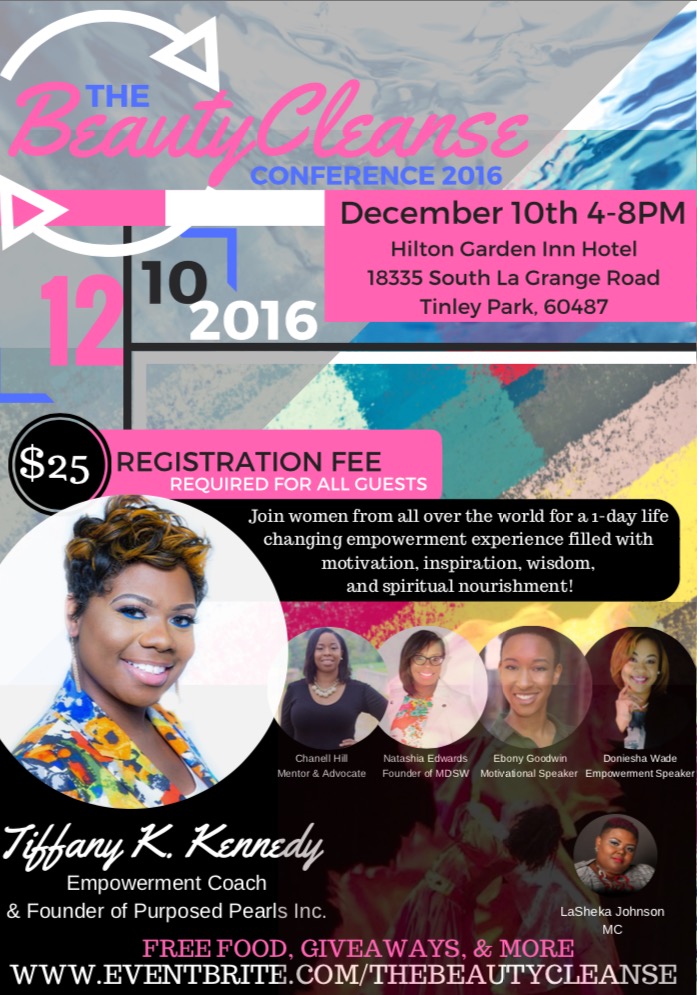 The Beauty Cleanse Conference is a one (1) day empowerment gathering for women from around the world to discover how to scrub away the old, rejuvenate the forgotten, and birth out the new! This is accomplished through hearing dynamic leaders share their perspectives and insights on a variety of topics that will equip you with the tools of knowledge, wisdom, motivation and spiritual nourishment that will include womanhood, brokenness, and restoration. It is a time for you to unclog your life and dismantle strongholds while strengthening your testimony and uniting with women of purpose to propel every ounce of your potential.
We believe that inner beauty is a reflection of truthfulness and honesty about who you are, where you come from, and where you're going. There's a lot to uncover, and you won't get to experience all God has for you accidentally. So come discover the power of a life healed on the potter's wheel (Jeremiah 12:1-6). It's going to be one of the most impactful conferences of the year…and we want YOU to join us! We're talking about a ladies-only gathering to recharge, refuel, and refresh YOU in a really big way.
If you can not make it but would like to sow into other women to become restored & revived you can donate in the ticket session as well. Many have done so already. You all are fantastic!
There will be FREE food, give-aways, raffles, complementary facials & MORE!!!
Ticket Sales has been EXTENDED for a limited time!!! Get them while you can!! As of now there will NOT be tickets sold at the door!
Here is a quick screenshot of the itenenary
4:00 - 4:15 Registration
4:15 - 4:25 Intercessory Prayer
4:25 - 4:40 What to Expect/Visionary
4:40 - 5:00 Praise Dance
5:00 - 5:15 Poem
5:15 - 5:35 The Visit: Heart Check-Up
5:35 - 5:55 The Reaction: Broken Pieces
5:55 - 6:15 The journey process
6:15 - 6:35 The Discomfort: Pressure Points
6:35 - 6:55 Lunch Break/Networking
6:55 - 7:15 The Medicine: Strength to Propel
7:15 - 7:35 The Side Effect: Perception
7:35 - 7:55 The Result: Healed to Heal
7:55 - 8:15 Intercessory prayer
Ticket Sales END Dec 1, 2016! As of now there will NOT be tickets sold at the door!
***DISCLAIMER: There are limited seats so do not wait until the last moment if you know this is something you need, thought about, or is interested in. Dont say we didnt tell you to JOIN us :) ***