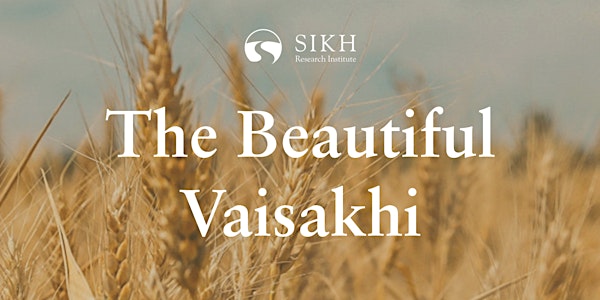 The Beautiful Vaisakhi
The session explores Vaisakhi in the Panjabi and Sikh context, the relevance of Guru Gobind Singh Sahib's Nash doctrine, and more.
When and where
Location
Pacific Oral Health Society 15850 24 Avenue #Suite 300 Surrey, BC V3S 0G1 Canada
About this event
Guru Nanak Sahib and Guru Arjan Sahib share great insights on Vaisakhi in the Guru Granth Sahib. To them, Vaisakhi is a beautiful moment: submitting to the Wisdom-Guru in totality and feeling the One's Presence in everyday life.
The session explores Vaisakhi in the Panjabi and Sikh context, the relevance of Guru Gobind Singh Sahib's Nash doctrine, and the collective aspiration to nurture the characteristics of the Khalsa.
Limited Seats: 50
Limit 1 per order so please register each attendee within your party.
Schedule
1:00 Registration & Refreshments
1:30 Introductions, Hukam & Presentation
3:00 Snack Break
3:30 Activity & Reflections
4:15 Q&A & Wrap-Up
Harinder Singh
Harinder Singh is the Senior Fellow and Innovation Director at the Sikh Research Institute. He leads The Guru Granth Sahib Project to avail the Sikhi wisdom to a global audience in contemporary English and Panjabi. He also focuses on developing critical thinking for individuals and institutions via the State of the Panth reports. He is a widely respected educator and thinker attempting to live 1Force-1Ness paradigm that radiates in all.
He is a prolific writer and sought-after public speaker who delves into spirituality, history, culture, linguistics, politics, governance, and prison reform. He has spoken at universities, corporate houses, government departments, interfaith forums, museums, civic and community organizations worldwide. He appears on radio and television programs globally. He also consults on curriculums, exhibitions, films, board development, and policymaking. He resides with his family in the United States.
Surender Pal Singh
Surender Pal Singh is a Senior Research Associate at the Sikh Research Institute. He holds an M.A in Religious Studies from Punjabi University, M.A. in English from Panjab University, and a B.Sc. in Botany and Zoology from Panjab University.
He develops curriculums, presentations, and research papers and delivers topical courses on Sikh theology and culture online. He is the lead instructor of the Gurbani 101 track at Sidak, an annual leadership development program by SikhRI, and is the English Reviewer for The Guru Granth Sahib Project.
He is the co-author of the Gurbani linguistics book Guru Granth Sahib – Its Language and Grammar and the author of the Workbook Gurbani Language and Grammar. He has over twelve years of experience teaching Gurbani linguistics and twenty years of experience teaching Sikh theology and culture. This work helps him explore his roots and identity more deeply, giving him a stronger sense of purpose. He is particularly fascinated by Sikh theology, which provides new perspectives and experiences to observe the world. He has been involved with various religious, educational, and human-centered development organizations since his youth.