Description
UPDATE: We are now sold out. Please call 805-686-1359 to be put on a wait list.

---
The Bear and Star, Los Olivos' newest restaurant, continues their collaborative Chef's Table Dinners with Executive Chef/Co-Owner Ted Hopson and Beverage Director/Co-Owner Ann-Marie Verdi of The Bellwether.
Ann-Marie Verdi contributes a craft cocktail to complement the dinner and collaborates on Santa Barbara County wine pairings with The Bear and Star General Manager Robert Williams. (Optional add-on to dinner ticket.)
The six-course tasting dinner championing Southern California restaurant talent staged in the Chef's Room blends products raised on the Parker ranch with inspiration from Los Angeles County.
---
Wagyu Beef Tartare egg yolk, cornichon, caper, pain au lait
Split Pea Soup lardo, smoked pork consommé
Scallop & Spiny Lobster Agnolotti uni nage, bay leaves, fennel
Chicken Chicharron chicken liver mousse, micro celery, fermented chile de manzana, carrot
Lamb Loin romesco, romanesco, turnips, kale, guajillo, onions
Acorn Macaroon dark chocolate-acorn butter, cocoa nib, pomegranate
---
---
ABOUT THE BELLWETHER:
Contributing to a swiftly-growing dining scene in Studio City, CA, The Bellwether features a market-driven menu laced with Italian traditions, but enlivened with eclectic influences from throughout the Mediterranean and Middle East. Craft cocktails featuring seasonal, housemade infusions, alongside California beers and wines on-tap, contribute to the gastropub vibe. Founded in 2015 as the first venture from Co-Owners Ted Hopson and Ann-Marie Verdi, The Bellwether is a favorite of Los Angeles Times restaurant critic Jonathan Gold and was included among his esteemed list of "101 Best Restaurants" in Los Angeles for 2016 and 2017. Named one of the "Top 10 New Restaurants" by Los Angeles magazine in its first year, The Bellwether was also listed as one of LA Weekly's "99 Essential Restaurants" and Zagat's "Hottest Restaurants in L.A."
TED HOPSON
Soon to appear on the upcoming season of "Iron Chef Showdown" this December, Co-Owner/Executive chef Ted Hopson draws inspiration from his nostalgic memories of cheerful family meals for The Bellwether's eclectic New American menu. Growing up in a large Italian household in the Los Angeles suburbs, he developed a reverence for food at an early age, assisting his Italian-born grandmother in the garden and kitchen practically as soon as he could walk. After honing his skills at some of the most influential restaurants in Southern California--including The Water Grill, The Eveleigh, Father's Office and Umami Restaurant Group—Hopson now brings his diverse experience and curious palate to The Bellwether, incorporating Italian, Mediterranean, and Middle Eastern flavors for a culinary spread that proudly crashes borders and challenges convention.
ANN-MARIE VERDI
A Southern California native with international hospitality experience, Co-Owner and Beverage Director Ann-Marie Verdi attributes her passion for food and hospitality to growing up in a large Sicilian family, including several veteran restaurateurs on both coasts. Verdi rose through the ranks at several gastropubs, ultimately leading her to Sang Yoon's famed Father's Office, where she worked alongside Chef Ted Hopson as general manager. At The Bellwether, Verdi creates a beverage program that pleases all palates through both contemporary and classic selections including craft beers on draft, wine on tap, and two more for her signature cocktails. Verdi is responsible for creating an ever-changing, house-infused cocktail menu as ambitious and far-reaching as Hopson's cuisine, and maintains a wine list that spans the globe.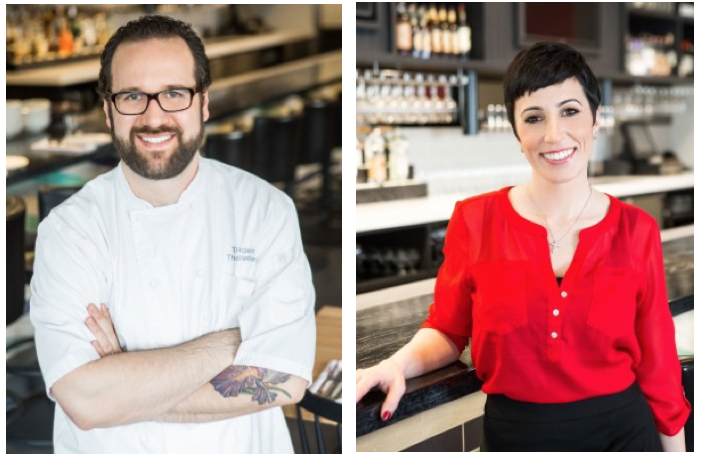 Chef Ted Hopson & Beverage Director|Partner Ann-Marie Verdi | photo courtesy of The Bellwether