The 7th Annual BAYOU SOUL YOUTH LITERARY CONFERENCE is Virtual in 2020 and looking forward to welcoming students from all over the nation.
About this event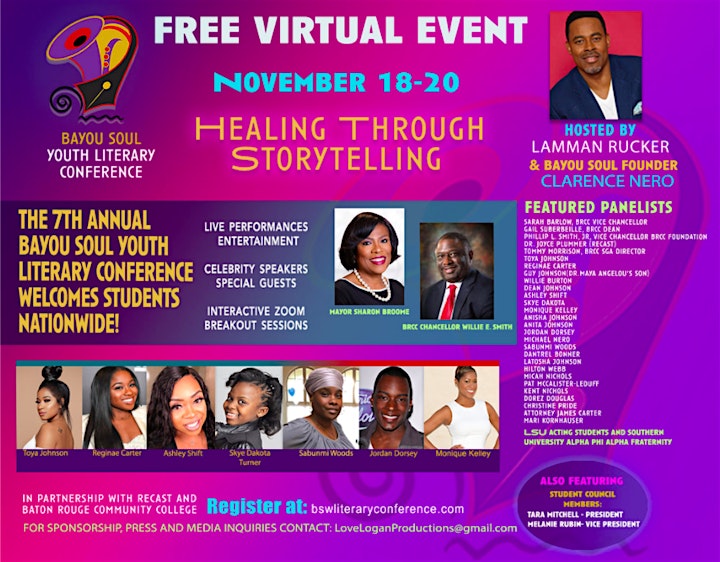 The Bayou Soul Youth Literary Conference (BSYLC)
.. is an annual event that takes place in Baton Rouge but originated in New Orleans during the Essence Festival weekend. During this time, many people will converge upon the Crescent city to experience and celebrate American music, art and culture with a focus on music. From Be¬yonce to Janet Jackson, these festivities have featured some of the biggest recording artists of our time.
In contrast, the Bayou Soul Youth Literary Conference caters to Louisiana High School Students. Our goal is to introduce young people in the company of authors, singers, readers, emerging writers, members of the publishing industry and educators.
This exciting event is going virtual this year and we look forward to welcoming students from all over the world to journey with us as our theme this year is: Healing Through Storytelling. From November 18-20, 2020 we will host three days of conference speakers, panels, activities, performances, and interactive breakout sessions via publicly premiered stream on Youtube and Facebook, with access to all content via Teachable for up to 1 month after the conference's premiere. The premiere of each day will begin at 1pm CST/ 2pm EST. It is free to register and join this conference for all. Links to stream via Youtube and/or Facebook will be sent once registered during the week of the event.
Unlike any other event, BSYLC gives young people the opportunity to access information for college. In addition, students have a chance to compete for scholarship monies in our annual Dr. Maya Angelou Oratorical Contest. Students are given a writing prompt on issues impacting their communities like school violence, racism, and police brutality. The top students then have a chance to recite their speech in front of their peers and a panel of celebrity guests. Join the conference to get the inside on the contest and be the first to enter as the contest entries will begin during the conference.
BSYLC affords young people more opportunities and experiences than you'd expect to find at a mere book conference. Besides featured panels with celebrities we honor book clubs, both established and emerging writers as well as recognize the hard work of edi¬tors and literary agents who are behind the scenes everyday fighting to make sure your favorite author's books end up in your personal library. In addition, BSYLC will give you a chance to unwind with astounding student performances of spoken word and song, as well as celebrity jazz and blues' artists. Moreover, you'll get a chance to have an intimate chat during the end of the day breakout sessions where your favorite author is actually sitting in front of you, this year virtually.
Treat yourself to some literary fun and great people in a creative atmosphere at the Bayou Soul Youth Literary Conference!
Stay tuned for more information that will be rolling out on our website at http://www.bswliteraryconference.com/ , via Instagram and Facebook @bayousoulconf and once registered, emailed to you directly as the event date nears.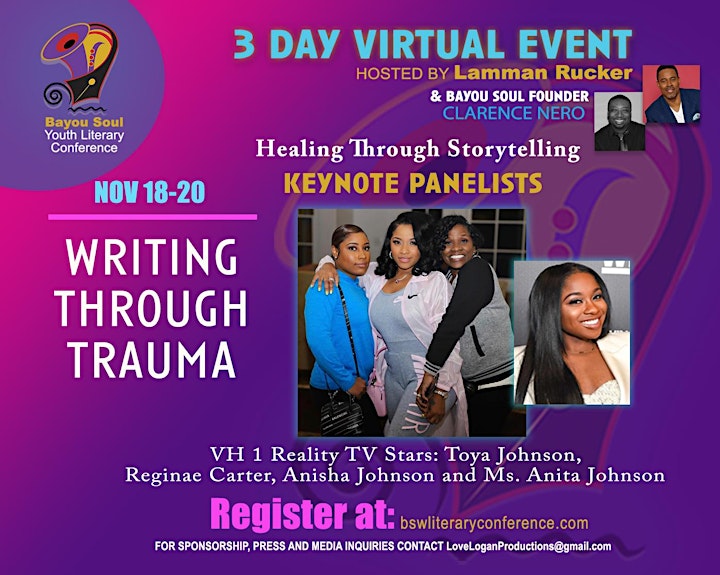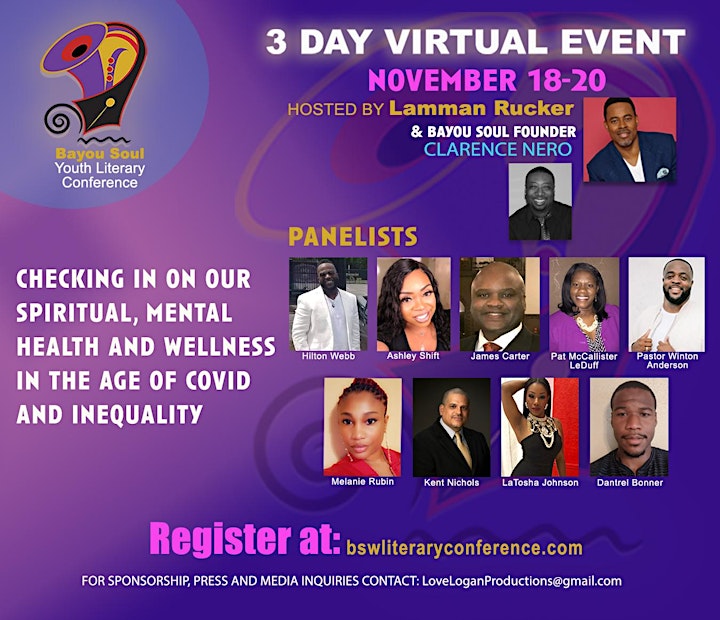 Day 1 Conference Highlights
Hosted by actor, Lamman Rucker and Founder, Clarence Nero
Words from Chancellor Willie Smith of BRCC
Gems from Mayor Sharon Broome
The premiere of Aretha Franklin movie "RESPECT" starring Skye Dakota
Performances from Skye Dakota and the Alpha Phi Alpha Step Team
KEYNOTE PANEL – CHECKING IN ON OUR SPIRITUAL, MENTAL HEALTH AND WELLNESS IN THE AGE OF COVID AND INEQUALITY, Part #1: Dr. Plummer moderates and leads the following panelists in discussion: Lamman Rucker, Latosha Johnson, Kent Nichols, Hilton Webb, Pastor Winton Anderson, Pat LeDuff, Melanie Rubin, Dantrel Bonner, Ashley Shift
Day 2 Conference Highlights
Debuts of THE VOICES FROM THE BAYOU SOUL PROJECT DOCUMENTARY
Vocal performance from Michael Nero
Words from Dr. Sarah Barlow, Vice Chancellor of Academic Affairs, and Dean Johnson
FILMMAKERS CORNER: featuring Oscar winning director, Willie Burton and producer, Dorez Douglas talk about working on the film, shooting at BRCC and working with BRCC Students and Professor Nero
KEYNOTE SPEAKER – Words from Baton Rouge Community College's Student Government Association President, Tara Mitchell, on her experience during the two simultaneous pandemics
KEYNOTE PANEL – CHECKING IN ON OUR SPIRITUAL, MENTAL HEALTH AND WELLNESS IN THE AGE OF COVID AND INEQUALITY, Part #2: featuring a deep and inspirational discussion continued from yesterday's panel
Day 3 Conference Highlights
A day to learn, grow, and acknowledge the work of Maya Angelou (highly suggested for any students looking to submit to the Maya Angelou Writing Contest)
Words from Gail Suberbille, BRCC Dean of Liberal Arts, and Tommy Morris, Director of Student Life
Performances from American Idol finalist, Jordan Dorsey, and poet Micah Nichols
Special Guests and family to Maya Angelou, Guy Johnson and Sabumni Woods share their closest Maya Stories
KEYNOTE PANEL – WRITING THROUGH TRAUMA : featuring VH1 Reality TV Stars: Toya Johnson, Reginae Carter, Aleshia and Ms. Anita Johnson
Be the first to learn the writing prompt for next year's Maya Angelou essay contest; submissions may begin at the close of the event.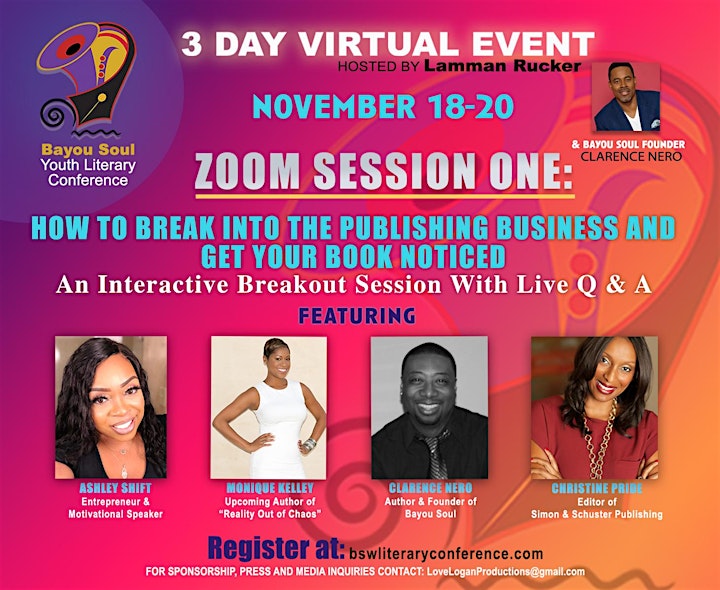 ZOOM BREAKOUT WRITING SESSION ONE
How to Break Into the Publishing Business and Get Your Book Noticed:
An interactive break out session with Live Q&A: featuring Ashley K. Shift, Entrepreneur and Motivational Speaker, Christine Pride, Former Editor of Simon & Schuster Publishing, Monique Kelly, upcoming author of "Reality out of Chaos," and Clarence Nero, Author and Founder of Bayou Soul
Begins at 2:30pm CST/ 3:30pm EST on Wednesday, November 18, 2020
Doors Open at 2:00pm CST/ 3:00pm EST featuring jams from our House DJ until session begins
ZOOM BREAKOUT WRITING SESSION TWO
Writing For Television and Film:
An interactive break out session with Live Q&A: featuring Arthur Harris, Mari Kornhauser and Willie Burton
Begins at 2:30pm CST/ 3:00pm EST on Thursday, November 19, 2020
Doors Open at 2:00pm CST/ 3:00pm EST featuring jams from our House DJ until session begins