Description
Join us for our 3rd annual historic walk where we mark the 240th anniversary of the Battle of Short Hills. The total walk is about 13 miles as we follow a fully enacted historic battle and military retreat into the Watchung mountains.
We walk from Metuchen to our first stop at the Plainfield Country Club (changed - previously from the Ashbrook Monument) about 6 miles following the route of Lord Sterling. We continue with our historian guide Rich Palmatier another 3 miles around the Ashbrook Reservation to the Oak Ridge as we learn about the battle and grounds where it was fought by General Sterling against Cornwallis' troops on June 26, 1777. NOTE: If you want to start near the battlefield to reduce the miles walked park at the Vo Tech School.
A running battle ensued in this area before the heavily outnumbered American troops retreated to the safety of the Watchung Mountains. The battle is commonly referred to as the Battle of Short Hills although it has nothing to do with the area now known as Short Hills-which had its own share of memorable battles.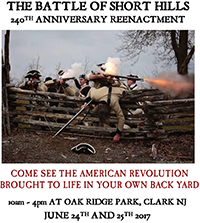 The Freewalkers, in cooperation with Union County Parks and the Brigade of the American Revolution, is sponsoring this Battle of the Short Hills march. We will follow a group of re-enactors into the battle at Oak Ridge Park and learn what the strategy of war and what life was like for soldiers in those days. While events are running all day, we expect to stay for approximately 2 hours to witness the battle then walk back to the train to return home.
If you would like to walk fewer miles or have limited time, you can join the group along the way. You can also chose to return home on your own from the battlefield by walking to one of several train stations from 2 to 4 miles away.
Join this unique walking adventure and relive the times when our nation was created and important battles were fought for our independence. Bring the family and your friends too. The event is FREE and open to everyone!
FreeWalkers Event Info - Learn More >> boshmarch.org

Union County Learn More about the battle >>
Please arrive early from 8:00 to 8:15 for registration and briefing for the day. We expect to start walking at 8:30 a.m.