About this Event
THE BATTLE IS NOT YOURS
I S ANOTHER PHENOMENAL GOSPEL STAGE PLAY WRITTEN AND DIRECTED BY LINDA WALKER. THIS PLAY IS A REMARKABLE STORY ABOUT (THE RETURN OF HINSON'S)
IT EMPHASIZES THE SURE POWER OF GOD AS IT DEMONSTRATES THE FACT THAT GOD IS ALWAYS A STEPT AHEAD OF THE ENEMY EVEN WHEN WE ARE AWARE OF THE WARFARE. WHEN WE ARE DOWN WITH A BROKEN SWORD, DON'T GIVE UP. SATIN MAYBE ON TOP OF THE FIGHT BUT THE BATTLE IS THE LORD'S . YOU DON'T WANT TO MISS THIS !!!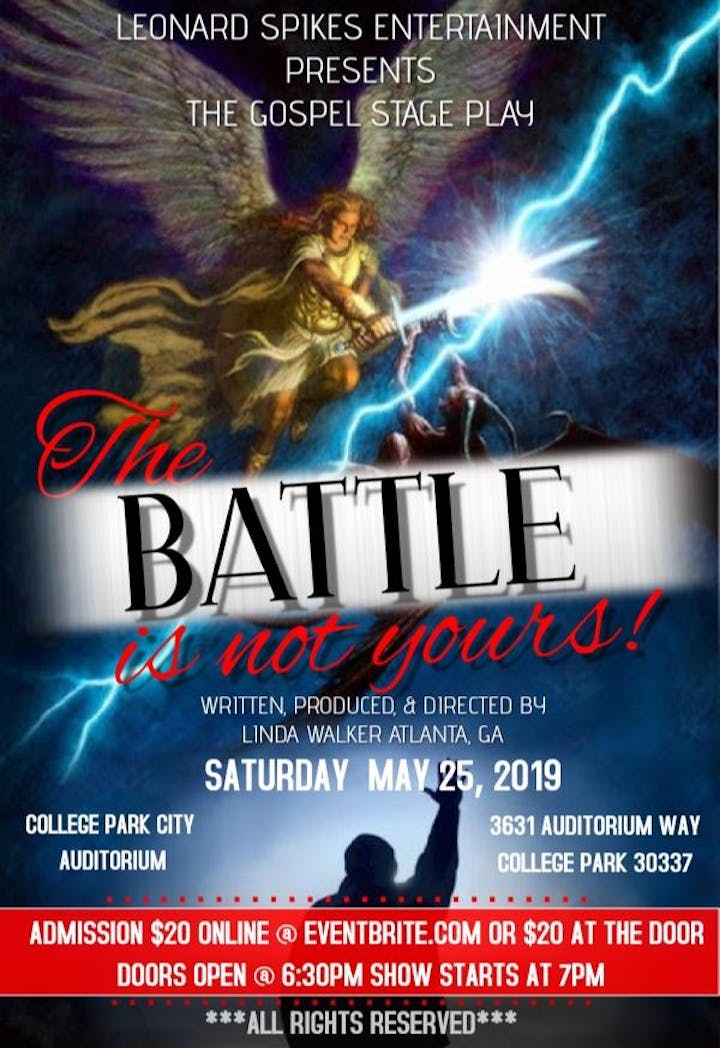 ATTENTION ATTENTION ATLANTA !!!
COME OUT AND ENJOY THIS GREAT DYNAMIC GOSPEL STAGE PLAY!!!
WRITTEN AND DiRECTOR
BY LINDA WALKER !!!
"THE BATTLE IS NOT YOURS"
PRESENTED BY
LEONARD SPIKES ENTERTAINMENT