The Baton Rouge Chapter of NAACP presents: The Christmas "Bail Out" Gala
Description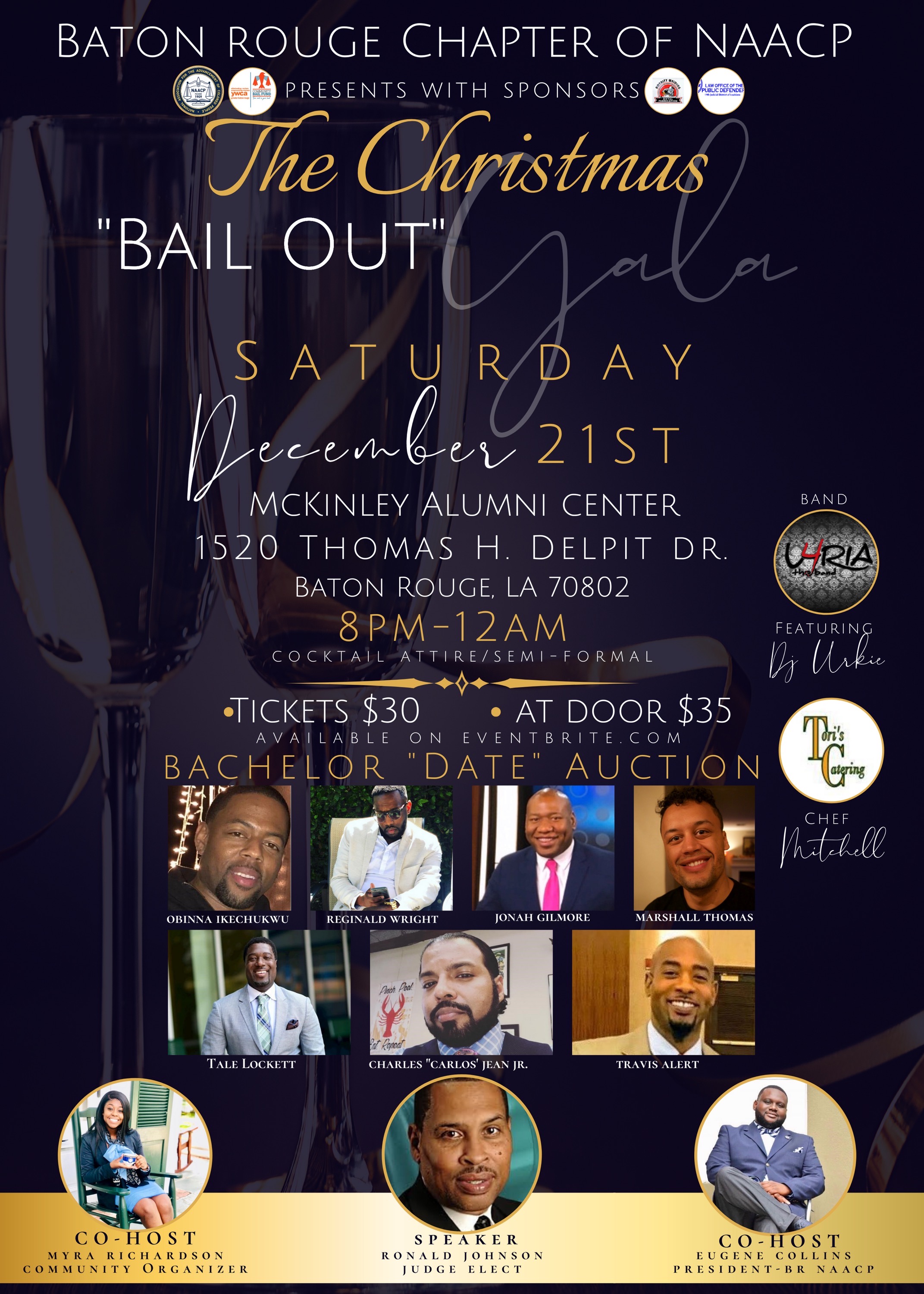 Did you know that fifty-percent of women across the nation are incarcerated single mothers? Locally, over 1500 inmates are housed in East Baton Rouge Parish prison. Twelve-percent of that population are females. Non-violent, un-convicted citizens in Baton Rouge are being held in jail because they do not have the ability to pay several hundred dollars on the spur of the moment. Our goal is not to subvert justice, but to allow them to continue their lives until they have been arraigned and judged as guilty or not guilty.
On December 21, 2019, The NAACP Baton Rouge Branch will be hosting a fundraiser that will benefit The YWCA's Community Bail Fund. All proceeds collected, will go towards making a difference in the lives of incarcerated mothers by paying bonds for non-violent misdemeanor offenses to bring them HOME for the Holidays.
This event will be at the McKinley Alumni Center from 8 pm - 12 am and will feature keynote speaker Judge Elect Ronald Johnson, Live Band "U4ria", DJ Urkle, and an auction all predicated around bringing Mothers Home for the Holidays.

Why must Mothers be home for the Holidays?

According to a report by Justice Strategies, "Children on the Outside" research has shown a connection between parental incarceration and adverse outcomes for children that include:

· Increased likelihood of engaging in antisocial or delinquent behavior

· An increased likelihood of school failure

· An increased likelihood of unemployment, and;

· An increased likelihood of developing mental health problems

We need your participation and assistance to help Mother's come home for the Holidays. Join the leaders, members, and advocates at the 2019 NAACP/YWCA's Christmas Bail Out Gala.
Unable to attend the gala? Please use our GoFundMe link to donate: