The Basics of Bookkeeping in QuickBooks

Friday, January 11, 2013 from 11:00 AM to 12:30 PM (EST)
Event Details
Looking for practical and easy-to-understand guidance on keeping your books in QuickBooks?
Need a better understanding of bookkeeping and how QuickBooks works to help simplify your job?
Want to learn bookkeeping secrets and tips from someone who knows accounting but doesn't talk like an accountant?
Your solution is right here, in...
The Accidental Bookkeeper Training Series
WHEN: FRIDAY, JANUARY 11, 2013 from 11AM - 12:30PM ET
In this 90-minute webinar, you will boost your knowledge on the topic of bookkeeping and set your mind at ease as Scott walks you throught these important concepts.
WHAT YOU'LL LEARN:
The inner workings of the ledger, chart of accounts and other commonly used terms in QuickBooks - this insight is absolutely a key to your success. Scott will help you develop a crystal-clear understanding of what the terms mean, why they are important, and tips, tricks and traps in working with your chart of accounts.

How each type of transaction in QuickBooks (i.e. bill, invoice, etc.) posts to the ledger and which transactions don't post to the ledger at all!


Is it a debit? Or is it a credit? And why you should care! (plus a handy chart for all attendees that makes it easy to remember what happens when you debit or credit an account).

What the heck the differences are between cash and accrual basis and which option is better for running a business

.
BENEFITS TO YOU:
The skills taught in this session are applicable to QuickBooks, Peachtree or any other accounting package. Even those using a paper ledger will gain new insights.

The content was created to relate to you as someone that has had little (or no) training or experience in keeping the books.

The concepts discussed are practical, understandable and easily applied in your office setting.

Scott will be using QuickBooks to demonstrate and share some bookkeeping concepts, as it will be easier to understand them visually. However, it is NOT mandatory to use or even have a copy of QuickBooks to benefit from "The Accidental Bookkeeper" training series.
WEBINAR WILL BE RECORDED
If you can't make the live event - no problem.
It will be recorded and all registered attendees can download and view the contents an unlimited number of time within 30 days of the event as it fits your schedule.
REGISTRATION FOR THIS EVENT IS LIMITED, SO SIGN UP TODAY!

If you find that this webinar does not meet your expectations, simply disconnect within the first thirty-minutes and request a refund. Your registration fee will be cheerfully refunded in full.
IMPORTANT NOTES ABOUT "THE ACCIDENTAL BOOKKEEPER" TRAINING SERIES WEBINARS:
Each webinar will be recorded and available for playback by attendees for a period of 30 days after the completion of the webinar.

Windows Media Player will be required for viewing the webinar once it has been archived (but not needed if you are attending live). Most Windows computers have this software already installed!

Refunds will NOT be issued for any cancellation received less than 48 hours ahead of the webinar date.

E-mails will be sent out several times prior to the webinar with login instructions. Please make sure to test your connection to the webinar prior to the event to ensure you can connect properly to the webinar.
Organizer
Scott Gregory, QuickBooks Specialist and CFO
Scott has been helping businesses unlock the mysteries of QuickBooks, accounting, inventory, manufacturing/distribution and finance for over 30 years.
His easy-to-understand teaching style has helped hundreds of business owners, entrepreneurs, and bookkeepers gain clarity with QuickBooks, eliminate confusion, and be successful with their favorite software!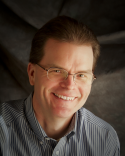 Some of Scott's credentials:
 - Certified QuickBooks ProAdvisor
 - Certified QuickBooks Enterprise ProAdvisor
 - Certified in Integrated Resource Management (CIRM) from the American Production and Inventory Control Society (APICS)
 - QuickBooks instructor in such venues as: Ohio Society of CPAs, Ohio Small Business Development Center, Lakeland Community College, Intuit Town Hall Meetings
 - CPA
 - Worked with QuickBooks software for 19+ years and in business finance and accounting for 30+ years.