Description
Northwestern alumnus Thom Collins, an innovative museum director and accomplished art historian and educator, is the executive director and president of The Barnes Foundation in Philadelphia, PA. The Barnes is a renowned collection of post-impressionist and early modernist art that was established by Dr. Albert C. Barnes in 1922 to "promote the advancement of education and the appreciation of fine arts and horticulture." It has gone through significant transformation in its service to contemporary audiences since its move to Center City Philadelphia in 2012. Collins will share his perspective on the past, present and future of The Barnes and the museum field more broadly in conversation with S. Hollis Clayson, Professor of Art History.
This event is supported by the Block Leadership Circle in memory of Phyllis Weil Ellis and her dedication to the Block Museum.
---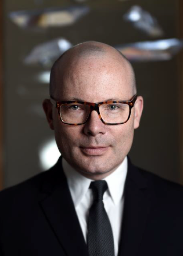 Thom Collins is the Executive Director and President of the Barnes Foundation. An innovative educator, accomplished art historian, administrator and author, Mr. Collins, a Philadelphia native, has more than 20 years of experience at some of America's top arts institutions. Collins previously served as Director of the Pérez Art Museum Miami, Florida (PAMM) for five years, where he oversaw construction of the new Herzog & de Meuron-designed building located in downtown Miami, which opened to great acclaim in December 2013. During his tenure, the museum achieved an overwhelming increase in membership, annual giving, attendance, and major gifts, published important exhibition and collection catalogues, added significant works of art to the collection, and began in-house production of critical new digital education tools.
Prior to joining PAMM, Mr. Collins served for five years as Director of the Neuberger Museum of Art in Purchase, New York. Mr. Collins' tenure at the Neuberger Museum of Art was highlighted by significant growth in attendance and annual giving, and the creation of major endowments for new programming initiatives and capital improvements. He also oversaw the museum's exhibitions, permanent collection displays, and a far-reaching platform of community-based educational programs for school children and adults in Westchester and Fairfield Counties. Before heading the Neuberger Museum, Mr. Collins served as Director of the Contemporary Museum in Baltimore, Maryland, 2003–2005; Chief Curator at the Contemporary Arts Center in Cincinnati, Ohio, 2000-2003; Associate Curator at the Henry Art Gallery in Seattle, Washington, 1998-2000; and Newhall Curatorial Fellow at the Museum of Modern Art in New York, 1994-1997.
Mr. Collins earned his MA in Art History from Northwestern University and his BA with honors in Art History and the History of Religion from Swarthmore College. He currently holds memberships in the Association of Art Museum Directors, the Association of Art Museum Curators, and the College Art Association.
Hollis Clayson, a historian of nineteenth-century art, is Professor of Art History and Bergen Evans Professor in the Humanities at Northwestern University, USA. She has published widely on Paris-based art practices and those of the transatlantic world. Her books include Painted Love: Prostitution in French Art of the Impressionist Era (1991), and Paris in Despair: Art and Everyday Life Under Siege (1870-71) (2002). Her current book (undergoing final revisions) is Paris Illuminated: Essays on Art in the Belle Époque. She was the Samuel H. Kress Professor, Center for Advanced Study in the Visual Arts, National Gallery of Art, Washington DC, in 2013-14. In 2014, she was named Chevalier dans l'Ordre des Palmes académiques. She was the Visiting Kirk Varnedoe Professor at the Institute of Fine Arts, New York University, during the fall of 2015.