The Bar Exam: [Dallas, TX Edition] The Definitive Open-Mic Competition and Showcase . Win a Trip to perform in Atlanta during A3C Festival & BET Awards Weekend

Thursday, September 17, 2015 at 8:00 PM

-

Friday, September 18, 2015 at 1:00 AM (CDT)
Event Details
The Bar Exam, one of Atlanta's biggest showcases is coming to Dallas, Texas on Sept. 17th to RBC Speakeasy!
Win a Roundtrip flight to Atlanta, AND perform during

BET Awards weekend

and one of the biggest Hip-Hop festivals in the world; A3C Hip-Hop Festival!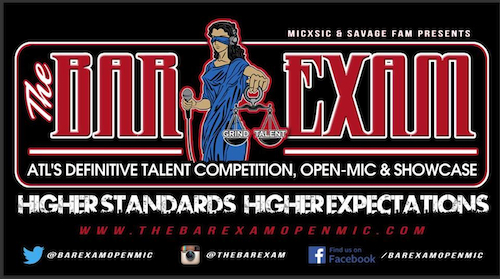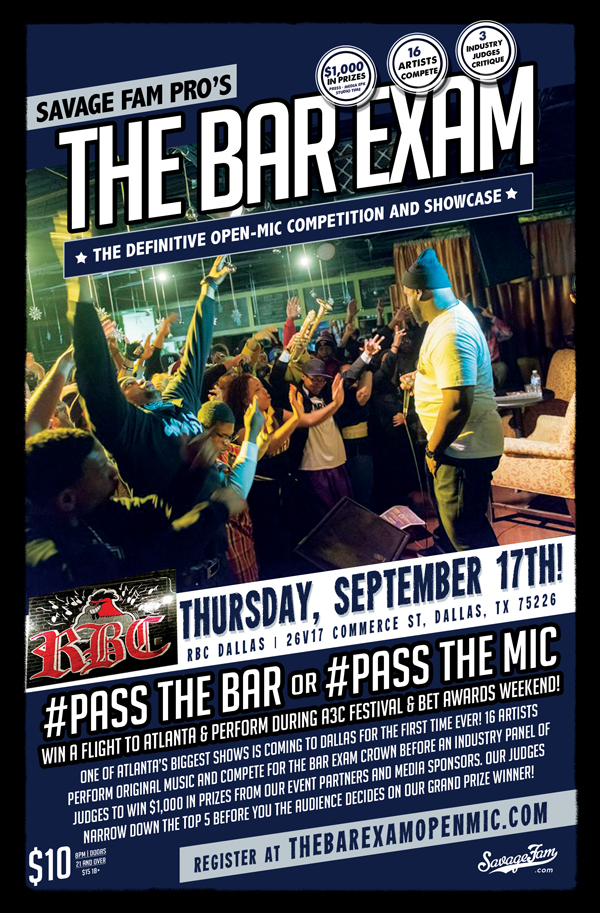 Emcee's, singers & poets register for our competition showcase to compete for $1,000 in prizes and perform before a panel of industry judges and a packed house.  Our golden rule;

Pass the bar or Pass the mic!

Will you raise the bar?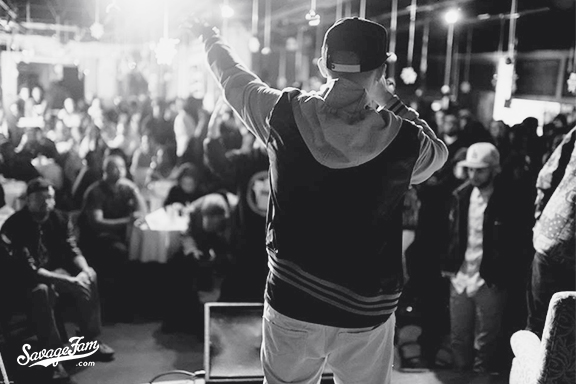 Pictured: Artist Phene, January 2015 featured artist. Photo CC Fat Boy Pictures
Visit our official website 

www.thebarexamopenmic.com

 for picutres and videos from past events as well as King of the Cypher footage, interviews, music videos from The Bar Exam #Alumni and more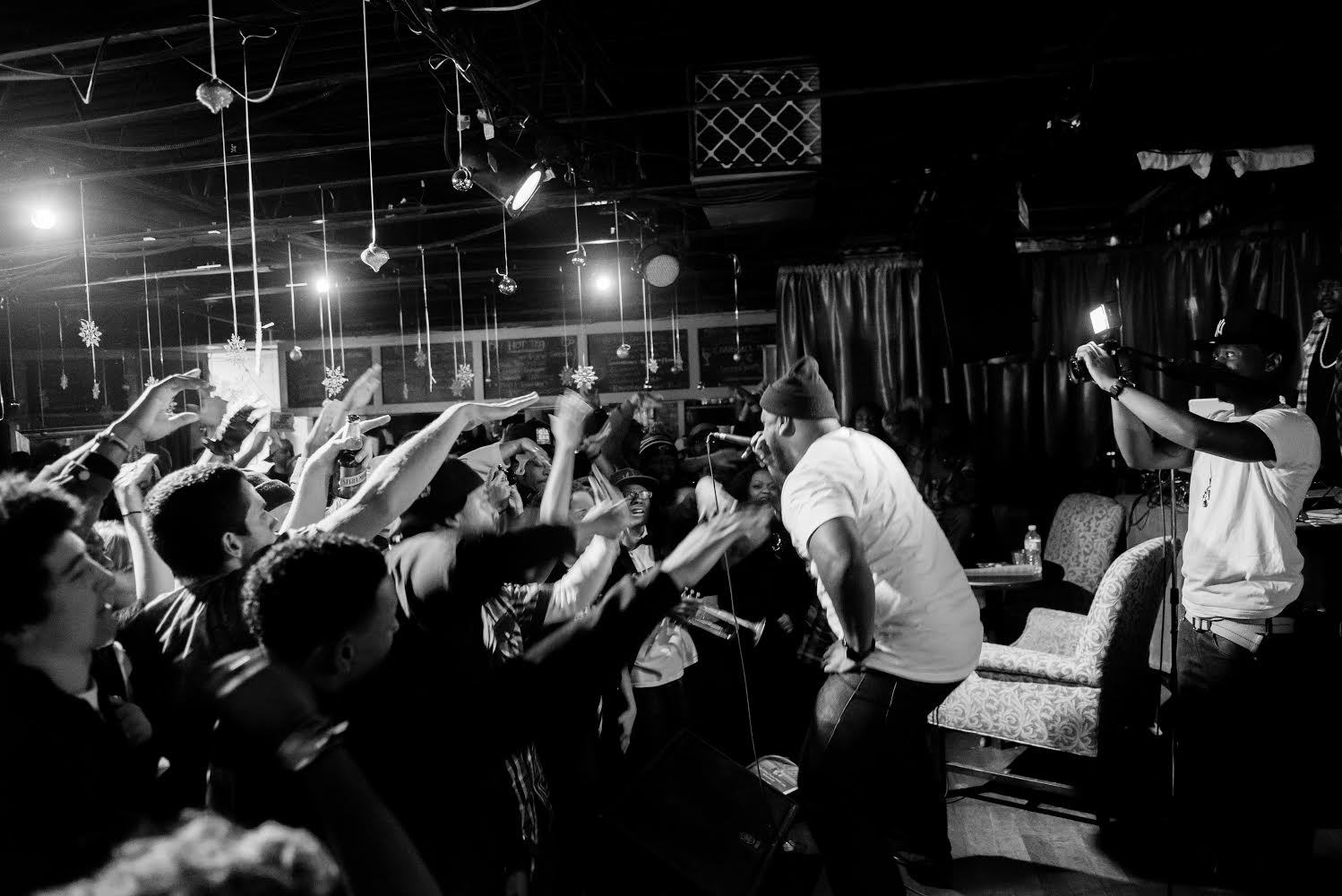 Photo Credit: Fat Boy Pictures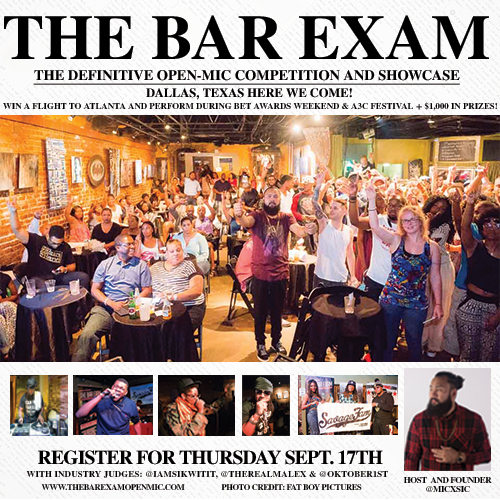 Promo for our August 28th 2015 Show in Atlanta. The house was packed in July!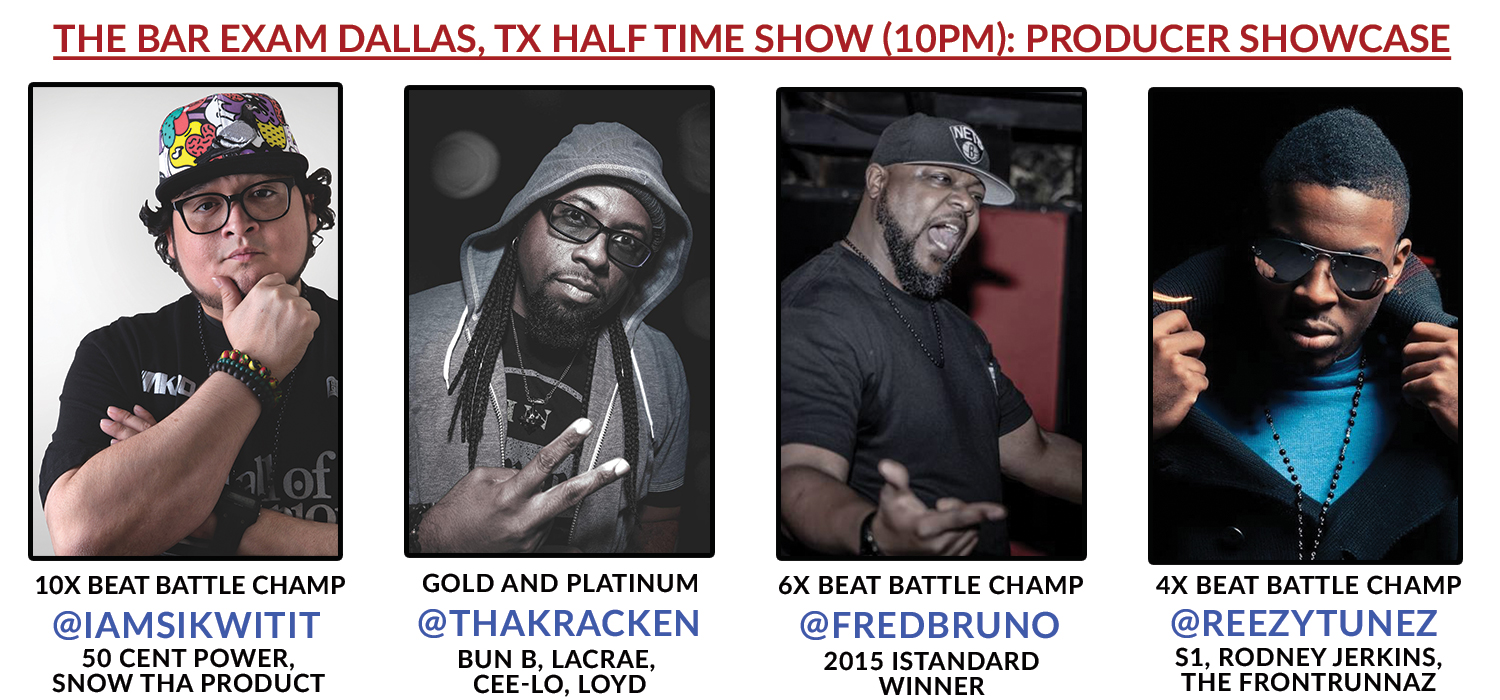 One of atlanta's biggest shows is coming to dallas for the first time ever! 16 artists perform original music and compete for The Bar Exam crown before an industry panel of judges to win $1,000 in prizes from our event partners and media sponsors. our judges narrow down the top 5 before you the audience decides on our grand prize winner!
Entertainment Industry Panel: 
Grammy Winner @TheRealMalex (Eminem, Common, Raekwon)
Formmer Maybach Music Group producer @Oktober1st (Rick Ross, Jeezy)
Featured Artist: TBA
This edition of The Bar Exam is sponsored by: Salem Psalms Studio, Dirt In The Streetz TV, Precise Ears, DeadEndHipHop.Com, iStandard (powering our prize package) + more TBA
Follow @BarExamOpenMic on Twitter and @THEBAREXAM on Instagram where we will announce our Featured Artist and Industry Panelist line up!
------------------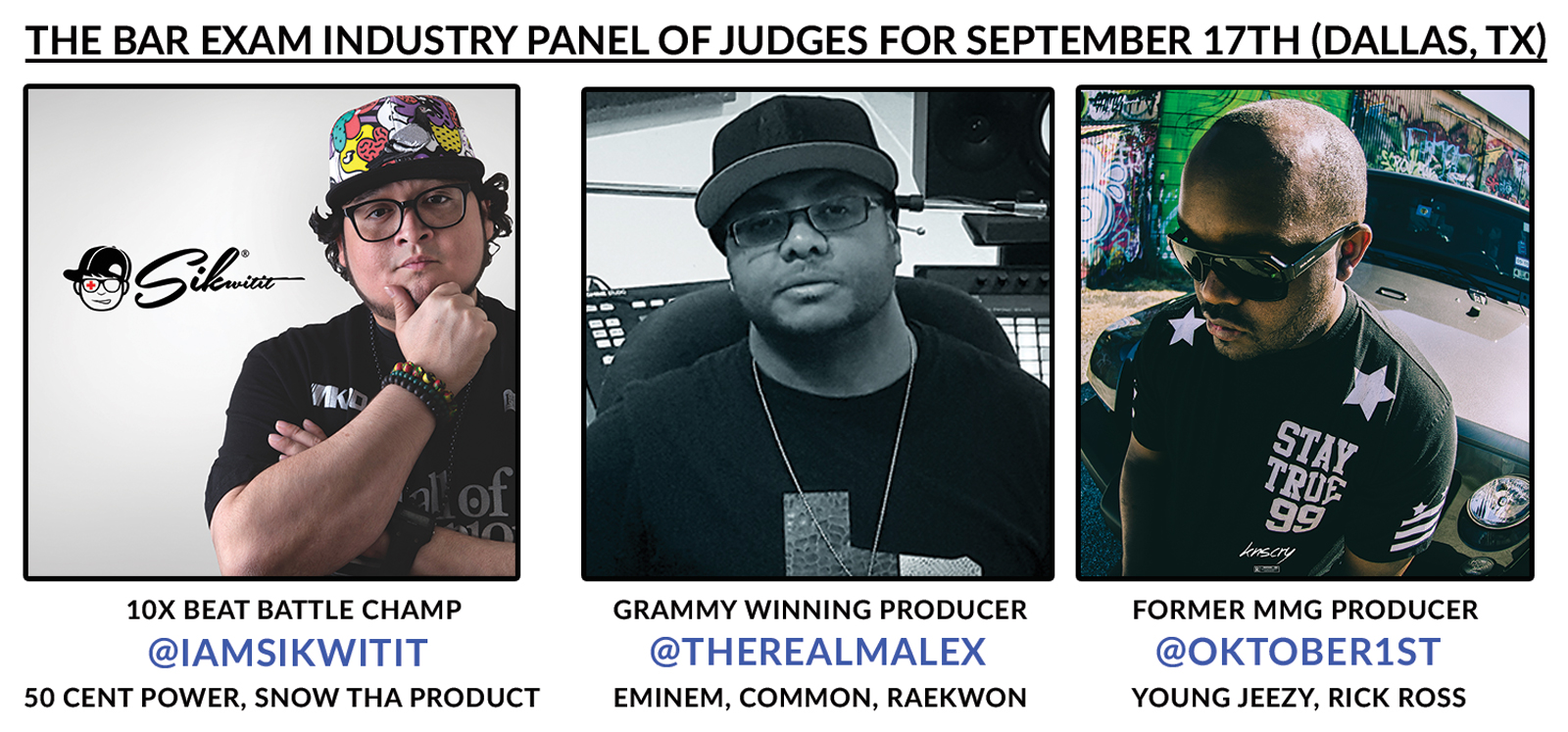 16 artists compete. 3 industry judges critique. Our esteemed panel of judges will narrow down the top 5 artists before voting is turned over to our audience. #PassTheBar or #PassTheMic Register today!
Contestents will be critiqued in 3 areas, Bars, Production, Performance
##ARTIST WHO REGISTER EARLY WILL BE PROMOTED VIA TWITTER BY @BAREXAMPENMIC and on Instagram @TheBarExam##
**Pre-Registering here on eventbrite is the only way to guarentee your performance slot. Slots normally fill via pre-registration a few weeks before the event and the list is closed at the door**
BE SURE TO READ OUR FAQS SECTION AT THE BOTTOM
---
The Bar Exam [Dallas, TX Edition] 
Thursday, Sept. 17th 8pm
RBC Concert Hall
Prizing Powered by iStandard

---
The Bar Exam is the definitive talent competition, open mic and showcase. The nations best emcees, poets, and singers are being discovered right here in Atlanta. The Bar Exam brings the excitement; inspiration, anticipation, humor and heart break from the likes of American Idol and puts it in front of a live audience. The Bar Exam is the place to develop your craft, showcase your talents, and network with like-minded people and industry professionals. 
2 
hours of studio time and filming at Sale Psalms Studio in Atlanta - Mastering from Mixtapemastering.net - Online marketing promo from 

realrappromo.com

 ( 1 week of twitter promo and email blast to 40k+ contacts ) and our growing list of marketing partners (Scheinbeck.com, whycauseican.com, DeadEndHipHop.Com)-  
PASS THE BAR OR PASS THE MIC
(DECIDED BY THE CROWD AND PANELISTS)
**Pass the bar or pass the mic will take effect after 2 1/2 minutes into the set. In the event that an artist is asked to pass the mic, each panelist will provide positive constructive feedback to the artists**
*1 song or 3 1/2 minute limit for every performing artist excluding the featured artist. no exceptions
**Artist 

must

 email their show track IN MP3 FORMAT. Instructions are in the registration page and confirmation page
***Show track must be a performance version of the song (No lead vocals!!).  
Growing list of MEDIA SPONSORS
Deadendhiphop.com, 

Djsdoingwork.com, Realrappromo.net, Schweinbeck.com, Atlhiphop.com,  Whycauseican.com, Southernhollywood.com, bootslap.com, heartlandhiphop.com, Culture 73, Mad Fresh Daily, A2BAYHipHop.Com, 
---
History of the show and the promoter, Savage Fam PRO
History: The Bar Exam was founded in 2013 at the legendary Apache Cafe in Atlanta, GA and and has grown to be one of the most sought after open mic showcases in the city. Close to 1,000 artists have performed on our at The Bar Exam. 'The Bar Exam' is also the name of the companies annual showcase at the A3C Festival. One of the biggest Hip-Hop festivals in the world. The event is curated and hosted by rapper MICXSIC (pronounced Mike Sick), CEO of Savage Fam PRO. In a few short years, Savage Fam PRO has grown to become one of the the South Eastern United States most admired and respected indie entertainment imprints. In addition to The Bar Exam, Savage Fam PRO also curates 'The Freestyle Experiment' every 1st Tuesday of the month at Apache Cafe as well as quarterly concerts on demand and monthly Beat Battle's.  For more info, music and events and opportunities visit www.savagefam.com
 Our Industry panel of judges have ranged from platinum earning and Grammy winning producers (Focus, Mr. Hanky ) to current music managers (Diana Schweinbeck of Mixtape Monopoly, Nick Love of The Coalition DJ's), talent buyers as well as vetern artists (J-Live) and contributors to media outlets and lifestyle brands ( DeadEndHipHop.com, Maurice Garland of AB+L Radio, The Source, XXL).
Our featured artists and contestants Have been the likes of HBO Def Poet's (Abyss, Georgia Me), artist's who have gone on to amass thousands of views and radio spins (Sy Ari Da Kidd, Heathe McNesse) and multi talented singer/instrumentalists (Angelina Sherie)
Visit TheBarExamA3C.com to see our 2014 showcase lineup!
 About MICXSIC, the Creator and Host of The Bar Exam
---
ABOUT A3C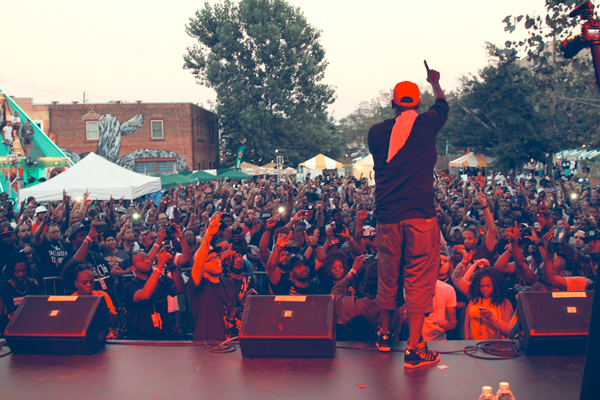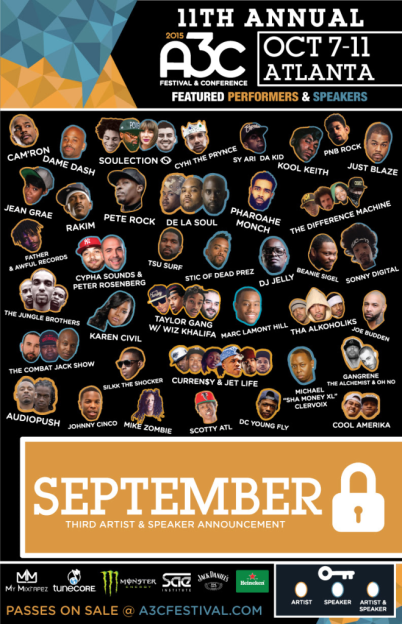 A3C is the top Hip Hop festival and conference in the US, and one of the key destination for music fans, artists and professionals.
This year's A3C line-up includes: Wiz Khalifa, Rakim, De La Soul, Camron, Joe Budden, Johny Cinco, Mike Zombie and 200+ performers and speakers over a 5 day period! More info can be found at www.a3cfestival.com
---
FAQs
How many songs do i perform?
One song. But, artists are put together in groups of 4 and each group represents a round. When each round starts we start that round off with a cypher for that group so have at least 16-24 bars or an impromptu hook ready to perform as well.
What is a "show version" of my performance track that is being requested of me

We ask artists to email their show track ahead of time to thebarexamopenmic@gmail.com. A "show version" is simply a verion of the track that does not have the lead vocal on it. Hooks and Ad-libs or backing vocals are ok.
Where do i send my show track?
thebarexamopenmic@gmail.com Include the word DALLAS and the showcase Date in your email
What format is accepted for my show track?
MP3 ONLY.
Can i change my track selection the night of?

No.
What if i do not have a hi resolution press photo to send you?
We can arrange a short photo shoot for $40 at or around Apache Cafe. Please email thebarexamopenmic@gmail.com for that request.
Are there ID requirements or an age limit to enter the event?
18 years of age to 20 years of age is $15 to enter $10 for 21 and up
What are my transport/parking options getting to the event?
UBER and LYFT are great options too 
Where can I contact the organizer with any questions?
thebarexamopenmic@gmail.com
Is my artist registration or general admission ticket transferrable?
Because slots are limited to 16 artists to compete, refunds are not available 72 hours before the event. If a transfer request for an artist is made before that time via email then that artist can be transfered to the next month.  General admission refunds or transfers must follow the same guidelines.
Have questions about The Bar Exam: [Dallas, TX Edition] The Definitive Open-Mic Competition and Showcase . Win a Trip to perform in Atlanta during A3C Festival & BET Awards Weekend?
Contact Savage Fam Productions
When & Where

RBC Dallas Speak Easy
2617 Commerce St.
Dallas, tx 75226


Thursday, September 17, 2015 at 8:00 PM

-

Friday, September 18, 2015 at 1:00 AM (CDT)
Add to my calendar
Organizer
Savage Fam Productions
Based in Atlanta, GA
Events- Marketing - Brand Development - Music Label
Current in-house events includ:
The Bar Exam - The definitive showcase and open-mic competition
The Freestyle Experiment - live music jam session #LiveInTheMoment
Controllerise - LoFi Beats and Anime
Reimagining the human experience through art and entertainment. 
Founded by Emcee @MICXSIC .
The Bar Exam: [Dallas, TX Edition] The Definitive Open-Mic Competition and Showcase . Win a Trip to perform in Atlanta during A3C Festival & BET Awards Weekend