Sales Have Ended
Ticket sales have ended
Sorry pre-registration had ended and the performance list is full. Please take this time to register for our next Bar Exam
Sales Have Ended
Ticket sales have ended
Sorry pre-registration had ended and the performance list is full. Please take this time to register for our next Bar Exam
Description
In addition to our regular prize package, the winner of the Sept. 27th Bar Exam automatically earns a performance slot on our A3C stage Oct. 5th!
Or you can do all 3. Persistance pays.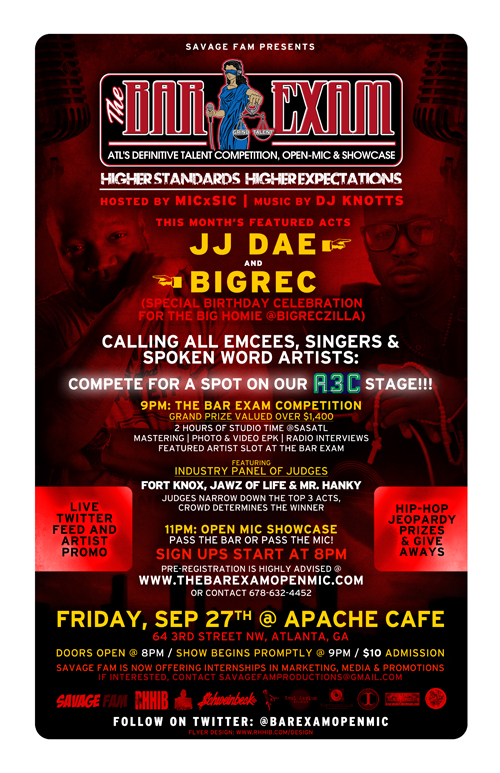 **This month there will be no open mic. Only the talent competition. And we are giving the panel the power to decide wether artists pass the bar or pass the mic! The stakes have been raised. Only compete if you are confident your music and showmanship is not just up to par but will raise the bar! Higher Standards, higher expectaitons**
**Pass the bar or pass the mic will take effect after 2 minutes into the set. In the event that an artist is asked to pass the mic, each panelist will provide positive constructive feedback to the artists**
Sponsored by: RHHIB, Soul Asylum Studios, Hobi Ink Studios, Urban Vines, Mixtapemastering.net, Realrappromo.net, Schweinbeck, Fort Knox Live, A-Town Down Promotions, Power of 3, Whycauseican.com, Hip-Hop Gives Back
Music by: DJ Knotts
Contestents will be critiqued in 3 areas, Bars, Production, Performance
This months panelist include: Dungeon Family alumni Jawz of Life (Bars), returning Platinum producer Mr. Hanky (production), & Hip-Hop's most sought after host Fort Knox (performance)
Featured artists: BIGREC (#RHHIB and Diamond D) & Previous winner JJ Dae
Doors open at 8pm show starts promptly at 9pm
**Pre-Registering here on eventbrite is the only way to guarentee your performance slot. Slots normally fill via pre-registration a few days before the event and the list is closed at the door**
#Powerhour 8-9pm artist, producers, dj's, promoters, & agents come network before showtime and grow your business and create opportunites among each other. Special invited DJ will be on the tables. $3 #coldcrush drink special while supplies last
Calling all singers, emcee's and poets
The Bar Exam is the definitive talent competition, open mic and showcase. The nations best emcees, poets, and singers are being discovered right here in Atlanta. The Bar Exam brings the excitement; inspiration, anticipation, humor and heart break from the likes of American Idol and puts it in front of a live audience. The Bar Exam is the place to develop your craft, showcase your talents, and network with like-minded people and industry professionals.
Talent Competition: Who will set the bar? Registration starts at $30
-Perform and receive feedback before an industry panel of judges. Feedback shared via live twitter feed on stage
-Judges narrow down top 3 then the crowd decides on the winner
2
hours of studio time at Soul Asylum Studios - Mastering from Mixtapemastering.net - Online marketing promo from

realrappromo.com

( 1 week of twitter promo and email blast to 40k+ contacts )- featured artist slot at next months Bar Exam - radio interviews - video & photo epk
Follow on twitter @barexamopenmic
*1 song or 3 1/2 minute limit for every performing artist excluding the featured artist. no exceptions
**Artist come prepared with a show track or show cd. Turn in your music when you sign up
*** Emcee's interested in being apart of our monthly video production of the King of the Cypher contact @barexamopenmic or email

thebarexamopenmic@gmail.com

. Slots limited to 6.