Description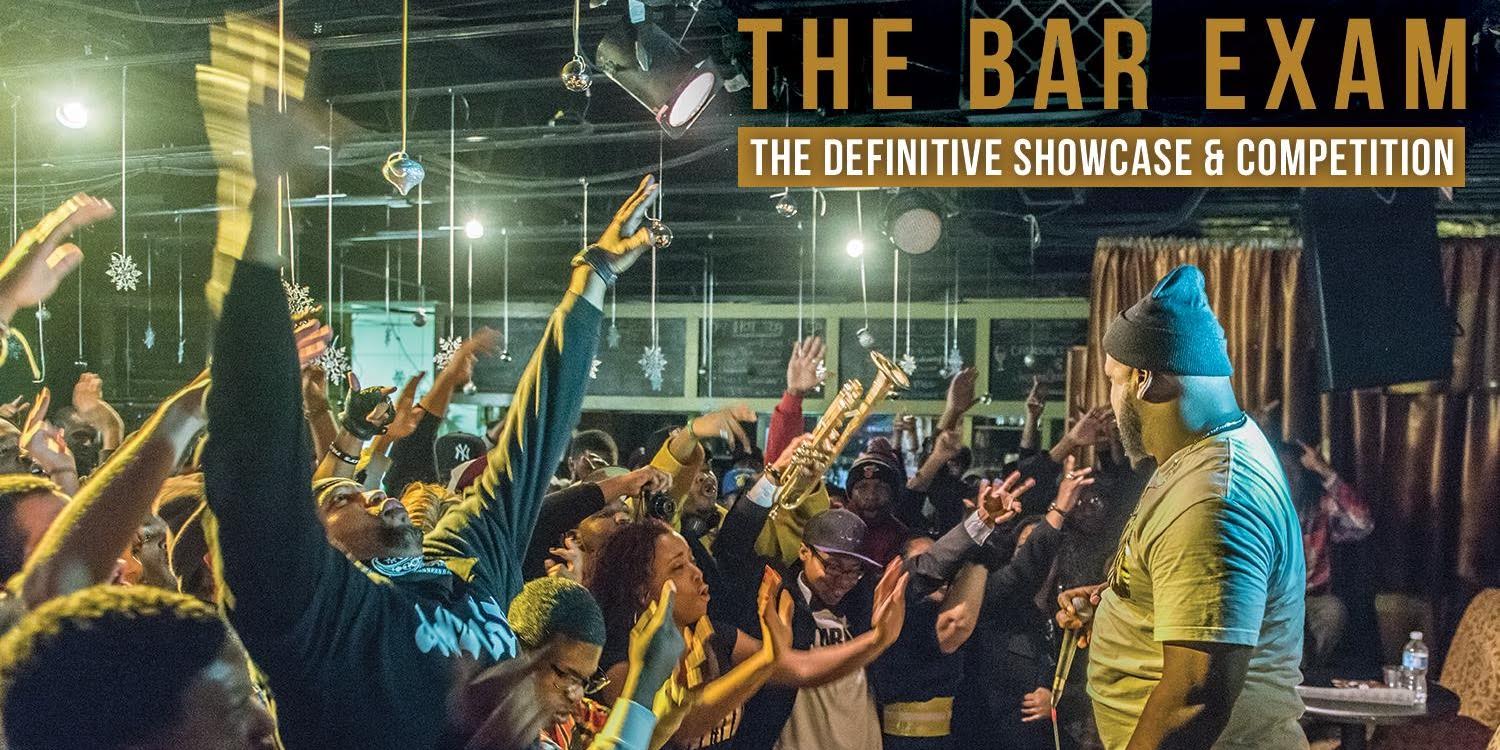 Use this page to buy tickets and table reservations. To register to perform DM @thebarexam on ig or email Thebarexamopenmic@gmail.com !

Pass the bar? or pass the mic! It's up to you Atlanta.


For 6 years, The Bar Exam has been Atlanta's definitive open-mic showcase & competition and one of the cities biggest!
12 artists compete. 3 Judges critique and narrow down our top 5. Judging is then turned over to the audience. $1,400 in prizes from our sponsors and partners + the right to headline the next months Showcase.
Registration starts at $40
Register to perform at thebarexamopennmic.com
Watch videos and interviews from the show and past winners on Youtube at Youtube.com/thebarexamnetwork
Our halftime show will feature the previous months winner + national touring rapper, singer or poet!
Presented by The Bar Exam Network, Savage Fam Productions and hosted by MICXSIC
Past featured artists have included:
SyAri Da Kid (Cash Money), RaRa (Grand Hustle) Supastition, J-Live, Def Poetry poets Georgia Me, Red Storm & Abyss, Singer/Violinist Angelina Sherie
Celebrity Judges = Industry accredited producers, managers, songwriters, Journalists, A&Rs and DJs.
Past Judges:
Producers: 2X Grammy winner Focus, Mr. Hanky (T.I California), Black Metaphor (Rick Ross), Smitti Boi (Lil Boosie), Go Grizzly (3x in a row), Sean Pen of The Exclusives (August Alsina)
Managment: Nick Love (Grand Hustle), Joso (Twelve Music Group), Kash Johns (Winners Circle), Chris Patterson (Wonderland Records)
Journalists: Maurice Garland (XXL), Yohance Collins (AllHipHop.Com), Tai Saint Boogie (Vibe Magazine), Laura Martinez (The Shade Room), Brandon LSK (ABL radio)
Watch the promo trailer:
https://www.youtube.com/embed/16wUzu5rIG4
Freestyles, interviews and show recaps on The Bar Exam's YouTube Channel
https://www.youtube.com/embed/videoseries?list=PL1nfiElY_DbknmVbei0ySO50xSlSpSLYU

Doors - Food Truck- Concessions 9P
Showtime 9:30P
$10 online | $10 at the door
18+

*Cash or CashApp only, day of entry, at the door. The bar/restaurant takes VISA/MC/American Express/DISCOVER/Cash.


There is a $10 per person minimum for table seating.
---
FAQs
How many songs do i perform?
One song. But, artists are put together in groups of 4 and each group represents a round. When each round starts we start that round off with a cypher for that group so have at least 16-24 bars or an impromptu hook ready to perform as well.
What is a "show version" of my performance track that is being requested of me?

We ask artists to email their show track ahead of time to thebarexamopenmic@gmail.com. A "show version" is simply a verion of the track that does not have the lead vocal on it. Hooks and Ad-libs or backing vocals are ok.
Where do i send my show track?
thebarexamopenmic@gmail.com
What format is accepted for my show track?
MP3 ONLY.
Can i change my track selection the night of?

No.
What if i do not have a high resolution press photo to send you?
We can arrange a short photo shoot for $40 at or around Apache Cafe. Please email thebarexamopenmic@gmail.com for that request.
Are there ID requirements or an age limit to enter the event?
18+
Where can I contact the organizer with any questions?
thebarexamopenmic@gmail.com
Is my artist registration or general admission ticket transferrable?
Because slots are limited to 16 artists to compete, refunds are not available 72 hours before the event. If a transfer request for an artist is made before that time via email then that artist can be transfered to the next month. General admission refunds or transfers must follow the same guidelines.
---
ADMISSION & TIMES

* Doors, Food Truck (depending on availibilty), and Concessions @ 8pm
* $10 Advanced - Genral Admission / $10 Day Of
Event admission, the day of, at the door, is CASH. Most concessions accept Visa, MC, American Express, & Discover.
There is a $10 per person minimum for table seating.
At this time, you are allowed to bring your own food and snacks into the venue.

PARKING:

Park inside the gate. Do not park on the street. Park in big lot to the left upon entry to through the gravel drive , double gate on Woodrow.
------------------------------------------------------------------------------------------------------------
REGARDING TABLE RESERVATIONS!!!:

(1) Table reservations are generally held until one (1) hour after doors open but make sure to refer to the event's specific ticket rules on Ticketweb; if you have not redeemed your table reservation by the specified time, you will lose your reservation and your table will be made available to others without refund.
(2) Table tickets are not required to attend, but they are recommended for guaranteed table seating. Try arriving early to be seated at an open an free table.
(3) All reserved and walk-up tables have a $10 minimum per person
(4) A table ticket entitles you to the entire table with the described number of chairs. Do not purchase a table ticket for each person sitting with you at this table.
(5) General admission ticket is required per person to enter venue. Purchasing a table reservation does not include the price of admission. Admission may be purchased by selecting General Admission tickets or at the venue upon arrival.
(6) Table reservation fees do not go towards food or beverage, admission or gratuity.
(7) There are no refunds on table reservations (except event cancellations) additionally, seating/table arrangements or changes to them are non negotiable and provide no cause for refund.
(8) When you enter the venue, please see the Hostess to be seated and be prepared to show your reservation purchase credit card and picture ID before you are seated.

Should you have any further questions or concerns please feel free to call the Apache Cafe @ 404.594-1170 or visit www.apachecafe.info