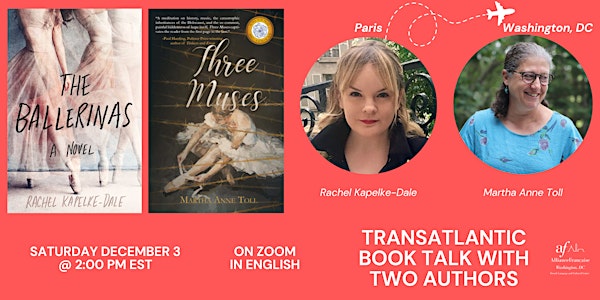 The Ballerinas & Three Muses: a Book Talk
If you love ballet and literature, join us for a very special transatlantic event with authors Rachel Kapelke-Dale and Martha Anne Toll.
Refund Policy
Contact the organizer to request a refund.
Eventbrite's fee is nonrefundable.
About this event
Two authors, two stories, two continents, united by their passion for ballet! Join us for a very special event, an online conversation with Martha Anne Toll and Rachel Kapelke-Dale, who will discuss their recently published novels, Three Muses and The Ballerinas.
Three Muses and The Ballerinas are available at Politics and Prose. Click here for Three Muses and here for The Ballerinas.
About the authors
MARTHA ANNE TOLL graduated from Yale University and Boston University School of Law. She has had a long career in social justice as the founding CEO at the Butler Family Fund. Toll is also a widely published book critic--NPR, Washington Post, The Millions, etc.-- as well as an essayist, and fiction writer. Her debut novel Three Muses won the Petrichor Prize for Finely Crafted Fiction.
RACHEL KAPELKE-DALE is the author of The Ingenue (St. Martin's Press 2022, forthcoming), The Ballerinas (St. Martin's Press 2021,) and coauthor of Graduates in Wonderland (Penguin 2014), a memoir about the significance and nuances of female friendships. The author of Vanity Fair Hollywood's column "Advice from the Stars," Kapelke Dale spent years in intensive ballet training before receiving a BA from Brown University, an MA from the Université de Paris VII, and a PhD from University College London. She currently lives in Paris. Some of her earliest French classes were at the Alliance Française de Chicago.
About the books
THREE MUSES by Martha Anne Toll
Three Muses is a love story that enthralls; a tale of Holocaust survival venturing through memory, trauma, and identity, while raising the curtain on the unforgiving discipline of ballet.
In post-WWII New York, John Curtin suffers lasting damage from having been forced to sing for the concentration camp kommandant who murdered his family. John trains to be a psychiatrist, struggling to wrest his life from his terror of music and his past. Katya Symanova climbs the arduous path to Prima Ballerina of the New York State Ballet, becoming enmeshed in an abusive relationship with her choreographer, who makes Katya a star but controls her life. When John receives a ticket to attend a ballet featuring Katya Symanova, a spell is cast. As John and Katya follow circuitous paths to one another, fear and promise rise in equal measure. Three muses—Song, Discipline, and Memory—weave their way through love and loss, heartbreak and triumph to leave readers of this prize-winning debut breathless.
THE BALLERINAS by Rachel Kapelke-Dale
Thirteen years ago, Delphine Léger abandoned her prestigious soloist spot at the Paris Opera Ballet for a new life in St. Petersburg––taking with her a secret that could upend the lives of her best friends, fellow dancers Lindsay and Margaux. Now thirty-six years old, Delphine has returned to her former home and to the legendary Palais Garnier Opera House, to choreograph the ballet that will kickstart the next phase of her career––and, she hopes, finally make things right with her former friends. But Delphine quickly discovers that things have changed while she's been away...and some secrets can't stay buried forever.
Moving between the trio's adolescent years and the present day, The Ballerinas explores the complexities of female friendship, the dark drive towards physical perfection in the name of artistic expression, the double-edged sword of ambition and passion, and the sublimated rage that so many women hold inside––all culminating in a twist you won't see coming, with a magnetic cast of characters you won't soon forget.