The Balance Tree of Inspiration, Empowerment & Harmony, An Intentional Crea...
Description
A transformative, creativity and experiential Intentional Creativity special event of clarity for the future you desire. No artistic experience needed! Only an open heart and open mind to learn something new.
How would it feel to experience the Ah Ha moment of where your joy, truth and balance can be found? And to be able to go back to that feeling and knowledge by simply looking at your painting.
Would you like to be with like minded friends old and new for an afternoon of inspirational and empowering creativity and clarity?
Have you always wanted to paint but weren't sure where to start? Or looking for a new way to express yourself?
No artistic experience is needed! Only an open hear and open mind to discover something new. However there is plenty of room for the artistically inclined to create this symbolic image in your own way as well!
INTENTIONAL CREATIVITY -

Where introspection ingnites innovation

Intentional Creativity is a guided step-by-step method of painting or other forms of creativity that can release blocks, transform old stories into empowering new endings, and create clarity and vision for the future. Everything within us, past, present, and future, lives in a story. By creating with mindfulness and intention, whether making a soup, planting a garden, writing a business plan or creating a painting, we are more present because we chose to be. The results are different than if we are not paying attention. Activating both sides of the brain helps to discover something new or forgotten.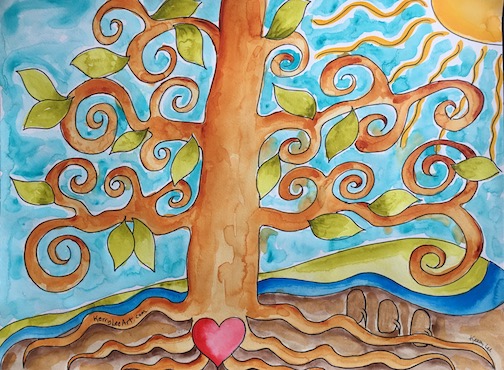 We'll start witih a Red Thread Ceremony as a simple yet meantingful icebreaker to introduce ourselves and connect
The red thread is a universal symbol used in many cultures to create connection, deep listening, transformation, education, inspiration and a very memorable moment.
Then Certified Intentional Creativity Teacher and Coach Kerry Lee will lead a guided visualization.
This is a mindfulness moment when everyone is invited to relax in their body, close their eyes, let go of thoughts and use their imagination as Kerry Lee tells a visual story. This allows you to tap into you wise inner self and intuition where personal truth lives. During the story, Kerry Lee will ask questions that guide discovery the meaning for the symbolic parts of the tree. The story has scenes or images that relate to the parts of the painting we'll create.
What is good now? What successes and learnings from this past year do you want to carry into this year?
How do you want to feel one year from now?
What intentions would you like to set to let your dreams, desires and goals grow?
Which experiences can now be old stories and lessons learned, ready to be let go of and buried?
What limiting beliefs is it time to let go of as they are no longer serving you?
What inspired initiative would you like to begin or grow?
What are three big steps you can take now to sprout your dreams, desires and goals?
What do you need for self-care to nurture, care for and nourish yourself?
Who supports you, or could support you to give energy to your dreams, desires and goals?
After the painting is complete we'll walk through the Palace of the Soul's bejeweled Door of Possibilties as you journey of life continues.
INCLUDED
All art supplies, a light snack and fruited spa water. Feel free to bring an apron, smock or old shirt to protect your clothes.
CASH PAYMENT
If you prefer to pay cash without additional fees please contact Kerry@KerryLeeArt.com
DOORS OPEN at 1pm so you can enjoy the beatuiful property and get settled in. We'll start promptly at 1:30pm. Please leave plenty of time for traffic and parking.
LOCATION
The Palace of the Soul is located in a very central neighborhood near the University of San Francisco. Street parking is fairly easy and there is all day parking across the street. It is a 1 to 2 block walk to MUNI lines.
The Palace is located on a double plus size lot, is very large and spacious for a San Francisco home. It features owner and artist Elizabeth Gibbon's gorgeous, spiritual art that celebrates the Divine Feminine, has a mermaid themed bar and a spacious lush backyard for relaxing. This amazing home is more like an inspiration filled museum. Kerry Lee is the guest teacher at The Palace for the month of May (and again in early September). Both Elizabeth and Kerry Lee's art and gift items are for sale and you can find more of Kerry Lee's events HERE.
REAL RESULTS
In 2017, the Intentional Creativity Foundation conducted research within the teacher and student community and those of other intuitive artist circles. Here is what we found:
Practice and Compassion
93% - experience creativity as a mindfulness practice
89% - include creativity as a part of their spiritual practice
89% - feel a sense of connection with the Divine (as they define it)
86% - feel that their creative practice positively impacted those closest to them
92% - feel that creativity influences their compassion for themselves
90% - experience compassion for others near them through creativity
83% - experience compassion for others they did not know through stories they heard
80% - would suggest the creative process to others who experience depression
Self Expression and Well Being
87% - consider themselves self-expressed as compared to before they were creating
86% - experience breakthroughs and aha's during painting
77% - choose painting specifically to work through a chosen breakthrough
90% - experience a shift in their default thinking
88% - experience a shift in their personal story through creating with intention
89% - bring insights back into their life that they discovered while painting
85% - experience an expanded sense of self
79% - notice an ease of physical symptoms while creating
93% - experience creating as a relief/break that benefits their overall well being
90% - experience a shift in recurring emotional pain through creative process
90% - creativity helps them to maintain a healthy outlook on life
PRAISE
"I am grateful to see the results of my art-phobic entre into the world of intuitive Intentional Creativity guided by Kerry Lee! I so appreciate having created a work of art that I love and that is very personal. Even more than that, the process of creating this piece was multi layered – both literally and figuratively. While working with my hands, the subconscious is free to tell me things. It was free to express dreams and goals that my literal mind has been ignoring. As I followed Kerry Lee's guidance through the painting layers and their evolving symbolism, I discovered things I didn't acknowledge as my heart's desire. And as I finished this painting, I also found courage to make some big life changes that have freed me to have more space in my world and to be more grounded in who I am. My painting Muse was "quiet confidence". Confidence inside glows on the outside.
Painting – yes. Intuitive – yes. Transforming – yes. Thank you Kerry Lee.
Kim, Higher Education Professional
And now playfully creative
-----
"This was a terrific day which has turned into a great week of enjoying my "Queen" and contemplating her/our future! She speaks to me daily. My husband won't let me move her from the living room and she will be hung in a place of honor when she is "done".…My set intention was to have FUN and FREEDOM and I did it!! I am also Kerry Lee, you are a wonderful midwife of the process! Your genuine self came through and you were unselfish in sharing your love, your talents and, of course, the goodies! Brava!" Jenn, Licensed Marriage & Family Therapist
----
"My "Magical Muse" is kind of a strange one and she is very magical. She sits across from me in my meditation space. The funny thing about her is she completely transforms with the light. Because I used the copper/gold on her face, when certain light reflects on her she doesn't look too good. But, in the lighting of my meditation space she looks absolutely beautiful and perfect! She has brought me so many creative ideas. I thank you for opening up that space within me that I can access any time. Truly, the Universe is using you to teach others how to access their own creative paths that lie within. What an important work you're doing!" Jade – Professional Portrait Artist
----
"I loved this class – even though I had never painted before. I had fun, tapped into a deeper creativity, and created a piece of art I am proud of and somewhat in awe of. If you want to treat yourself to a heart and mind opening experience, check it out. The teacher Kerry Lee is a joy to work with." Mark, Business Coach
----