Description
How do you put a price on your passion? Is selling your art selling your soul? How do artists participate in and contribute to the economy? In this full day workshop we will begin to answer these questions as we tackle the dreaded "M" word...money and how to fund your art practice. We will add the fundementals of fundraising, including grants and crowdfunding, creating project budgets, bookkeeping, and taxes to your artist toolbox, putting you in charge of your finances and making them reflect your passions and priorities.
Facilitated by Chris Dahlquist along with Robin and Julie Cates
Topics will include:
Pricing
Fundraising
Project Budgets
Bookkeeping
Taxes
Tickets must be purchased in advance through Eventbrite. Enrollment ends at 5pm on October 31st, 2018. No refunds will be given after registration ends.
---
Workbooks are included in the cost of the workshop
*There will be a lunchbreak from 12pm-1:30pm. Lunch will be on your own and will resume promptly at 1:30pm. Several resurants are located within four blocks of the Chamber.
Recommended Reading "Arts & Numbers, Elaine Grogan Luttrull
---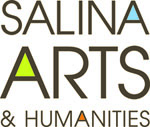 A.S.K Artist Sharing Knowledge is a professional development program for Salina are artists of all disciplines brought to you by Salina Arts & Humanities in partnership with Kansas Creative Industries.
For more information on this and other A.S.K. workshops please contact Grace Peterson at grace.peterson@salina.org