Event Information
Location
Rough Rider Center
2209 Wolves Den Parkway
Watford City, ND 58854
This annual event features keynotes, breakout sessions, and panel discussions to better inform the community about human trafficking in ND.
About this event
Human Trafficking exists in North Dakota. The agencies, service-providers, and individuals working to address this issue face many challenges: educating the public, apprehending offenders, supporting survivors, and working towards prevention.
The 2nd Annual Bakken Human Trafficking Summit will focus on identifying ways communities and agencies can communicate and collaborate, while offering applicable tools, methods, and insights to assist those affected by human trafficking.
This event, organized by North Dakota-based nonprofit 31:8 Project, features several keynotes, breakout sessions, and panel discussions to better inform the community about sex and labor trafficking in Western North Dakota.
Our event speakers will include: law enforcement, healthcare professionals, human service representatives, and survivors of human trafficking.
The event takes place from 8 AM to 5 PM. Breakfast and snacks will be provided. Attendees will have a mid-day break to get lunch on their own.
The tentative event schedule can be found below.
Continuing Education credit will be available for professionals attending the Bakken Human Trafficking Summit.
This event is open to the public. Due to the sensitive nature of the topic, discretion is advised. Scholarships are available. E-mail info@318project.org to learn more about scholarship tickets availability.
Our official host hotel is the Roosevelt Inn & Suites. Block rate for BHTS attendees is available until June 19! The Group Name is "Bakken Human Trafficking Summit" and the special rate covers the evening of June 22.
Ticket-holders are welcome to take part in the Community Social event on Wednesday, June 22nd from 5 PM to 7 PM. The Community Social portion of the summit is open to the public and free to attend.
Medical professionals, faith groups, law enforcement, human service providers, hospitality workers, business owners, parents/guardians, educators, service clubs, government officials, and other community groups are invited to attend as we work together to learn about the issues facing the region and the action steps we can take moving forward.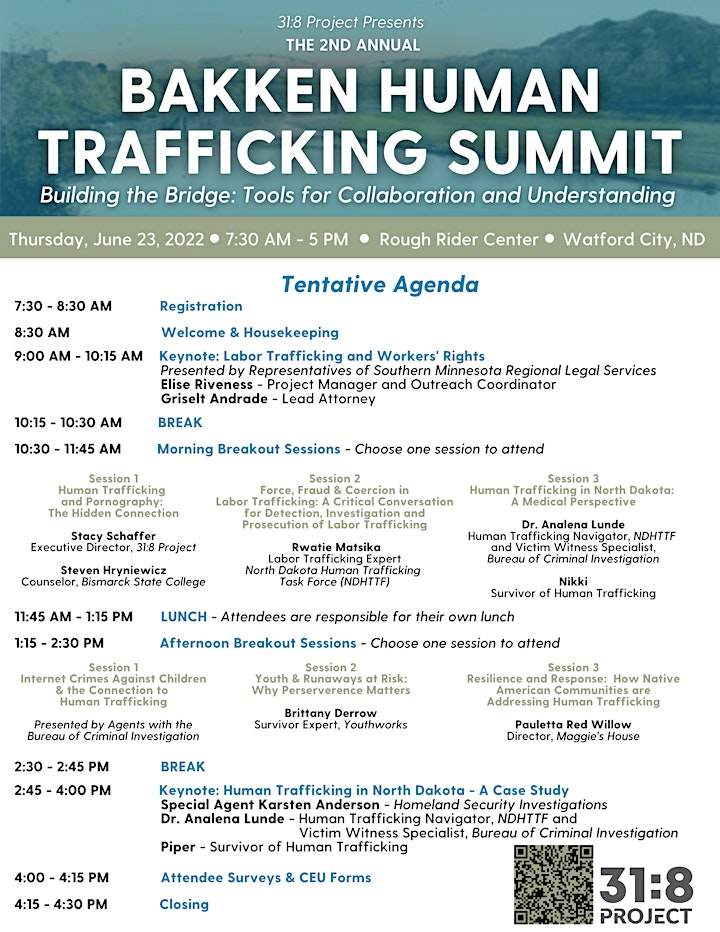 Date and time
Location
Rough Rider Center
2209 Wolves Den Parkway
Watford City, ND 58854
Refund policy