Join us for the opening reception for The Baggage Claim
About this event
How many AKA's can one person have? The answer is, as many as they want for every moment they tuned into freedom of expression, especially in the ARTS but more so Real Life. What if you actually had to carry your personality around like it was luggage and in this luggage you carried your personal baggage. All the items in one box which instantly shows everyone who you are and why you are. Well let's begin by visiting "The Baggage Claim" by Veteran Artist, (AP aka MAS) Bruja The Villain, on display at Worcester PopUp, 20 Franklin St, Worcester, MA.
In this exhibit we will be exploring the in and outs with an out of the box experience on what makes us human enough to carry someone else's baggage. Oftentimes we deal with a day to day struggle, every day we have to find balance on the spectrum of life. Work, family, friends, bills, the responsibility is enough to make any-one person or persons run away. How do we do this? Well one theory is we hide these things inside of us and fall into routine then when things seem right we plan a vacation. We want to run away from normal experiences to exhilarating ones. What if we did this all the time? Imagine every few weeks running away to a new space and upon our return we find ourselves waiting at "The Baggage Claim" only to bring back more possessions, more responsibility, more baggage.
Picture it! All of the normal black and tan Kenneth Cole, Michael Kors, Gucci bags sliding down a conveyor system only to smash into the carousels of more baggage. Except in this world we will bare witness not to the name brand but instead we will be seeing your achievements and your traumas. What makes you hate, angry, sad? What makes you love, happy and kicks in a wave of positive energy. What makes you weak, strong, cry, laugh. Imagine if you had baggage and it was carefully decorated on a 24X14, 9in box with every color, every shade, every image of your ID, Ego and Superego.
At some point you'll have to ask yourself; Who will help with all this baggage? Who are you willing to help carry their baggage as well as your own? Who is willing to carry yours and also share with you their burdens? Where do you stand on this art display in the spectrum between love and fear? Would you have the confidence to carry around with you a visual expression of what you were feeling yesterday, today or tomorrow?
The artistic expression of this display is based on decades of Love and Loss, Fears and Accomplishments. The confidence partaking in the acceptance of change and at times also struggling with it. An honest depiction of mental health, a phrenologist using baggage as a canvas.
Bruja The Villain, while using her previous aka's advertised her work with images often displaying a couples embrace, the emotion and pride of a single woman propped up on a throne or pedestal in acrylic paints weaved in together like the feathers of an exoctic bird stretched on a canvas. Then, it was what most fans expected, now it's what she wants to share with her community. A real life piece of artwork for the soul, one that speaks when you cannot, one you can carry. You can pick yours up at "The Baggage Claim" there will be someone here waiting for you.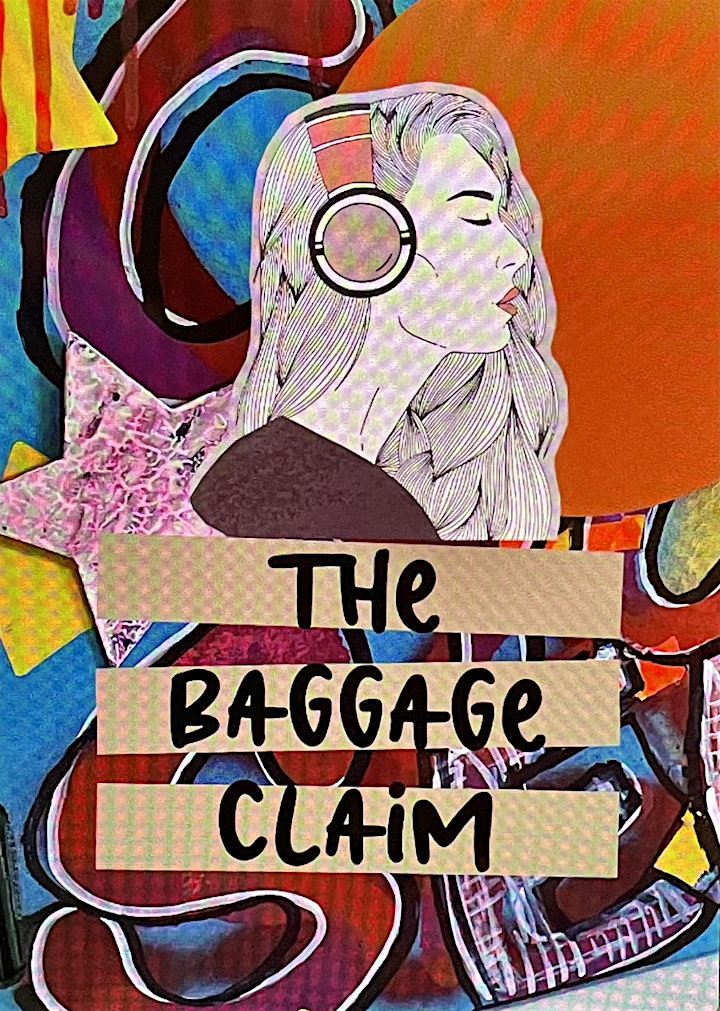 Organizer of The Baggage Claim Opening Reception
JEAN McDONOUGH ARTS CENTER
OUR HOUSE/ YOUR HOME/
Comprised of the intimate BrickBox Theater and dynamic, "permanent" PopUp, the Jean McDonough Arts Center is downtown Worcester, MA's home for arts, culture and creativity.  
Enjoy plays, concerts, independent films, cabarets, and other ticketed performances at the BrickBox. Check out gallery showings, open mics, yoga classes, video gaming expos, and other interactive events at the PopUp, which is free to use and attend.   
Both the PopUp and the BrickBox are programs of THE WORCESTER CULTURAL COALITION/, operated in partnership with THE HANOVER THEATRE FOR THE PERFORMING ARTS/.  Other key funders and partners include the Barr Foundation, the Worcester Building Development Corporation, and the City of Worcester.