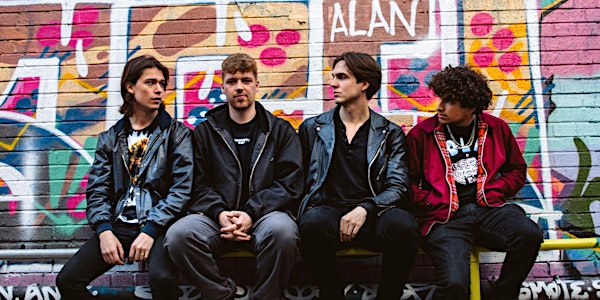 The Backfires, The Chain, DAZR at New Brookland Tavern
UNDER 18 WITH PARENT OR LEGAL GUARDIAN
Location
New Brookland Tavern
122 State Street
West Columbia, SC 29169
United States
Monday July 11th 7:30pm Doors $10 Advance
About this event
From both sides of the Atlantic by way of London and Washington DC, the Backfires are an independent rock band based in New York City. Combining Britpop relatability, New York indie rock moodiness, and Pop-Punk energy, the Backfires draw influence from acts like Catfish and the Bottlemen, Sam Fender, The Strokes, and Green Day with big anthemic choruses and infectious guitar lines. Aside from writing, the band spends five days a week rehearsing at The Music Building in New York, formerly home to Madonna, Joey Ramone, Metallica, The Strokes, and Interpol, while honing their sound for live shows. Composed of Alex Gomez (frontman), Harry Ruprecht (lead guitar), Matt Walter (bass), and Max Wanduragala (drums), the band formed in late 2018 in London and has since relocated to New York City.
The band released their first EP, Consider the Backfires, on February 19th, 2021 following the release of singles "Anything" and "The Man". Under The Radar put it best when they said, "When the band locks in together they instantly transport you back to packed venues and sold-out shows, capturing all of the brilliant escapism that nights out represent."
Their single, "Song 55", was released on October 19th, 2021, and has received coverage from Billboard, Ones To Watch, Earmilk, and Northern Transmissions. Also receiving radio play on KCRW, WFUV, WNYU, and BBC Music. In 2022, The Backfires sold out Mercury Lounge in February, played New Colossus Festival and SXSW in March, Knitting Factory in April, and Elsewhere Zone 1 in May respectively. They will also be supporting The Mysterines at The Middle East in Boston, MA. Their most recent single "Blindsided" is out now.