Description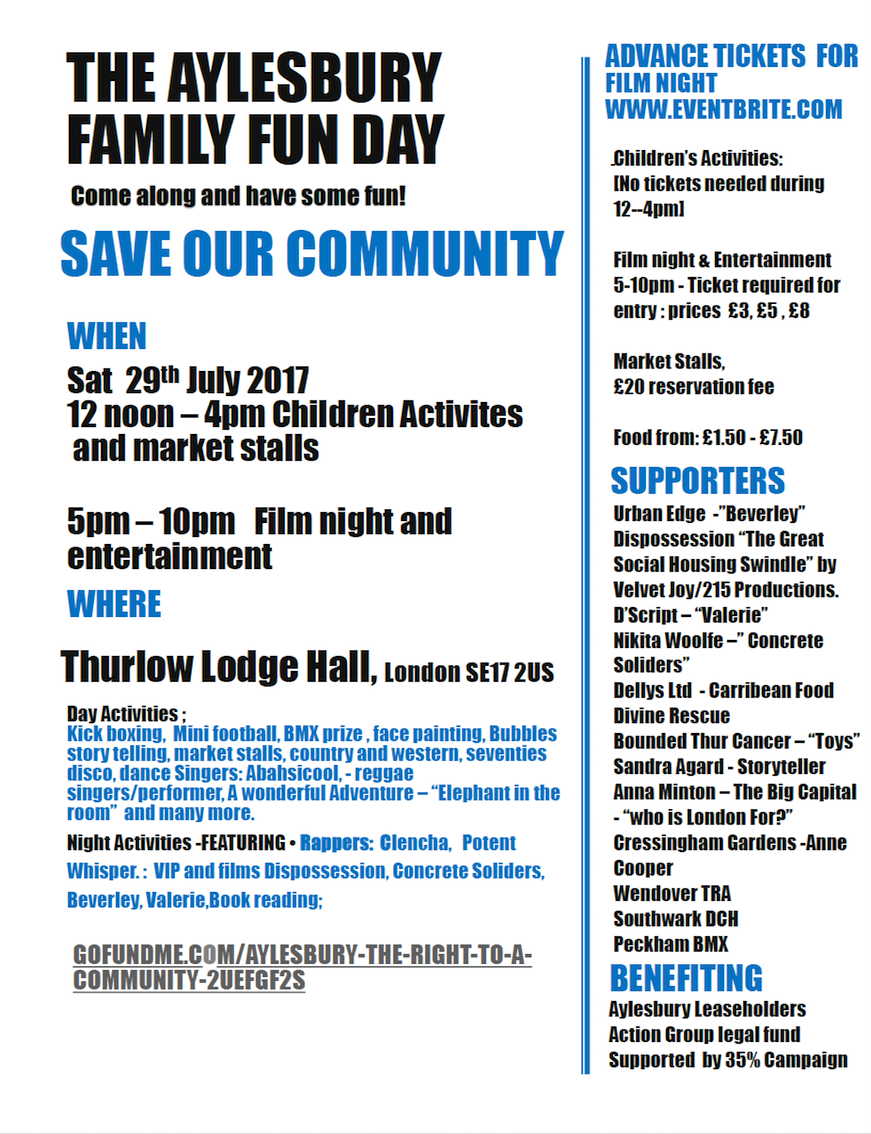 Dear Friends and Supporters

YOUR SUPPORT IS NEEDED FOR THE AYLESBURY ESTATE LEASEHOLDERS
The Aylesbury Leaseholder Group is organising a Screening of Social Issues Films and Documentaries around the theme 'Housing and Regeneration'.

AT the Thurlow Lodge, London SE17.
The theme for the evening is "Saving our Community" and the aim is to raise a target between £15k to £20k for the next major legal challenge. We can assure you that the proceeds from this event will be used to fund our legal case. No doubt a positive outcome from the case will change the way "Regeneration of estates" will be review all over England and Europe.
Films screening:
Dispossesion [doc] by Paul Sng and Luke Doonnan at Velvet Joy / 215 Productions
The Great Social Housing Swindle
For some people, a housing crisis means not getting planning permission for a loft conversion. For others it means, quite simply, losing their home. Dispossession: The Great Social Housing Swindle is a feature documentary directed by Paul Sng (Sleaford Mods – Invisible Britain) and narrated by Maxine Peake, exploring the catastrophic failures that have led to a chronic shortage of social housing in the UK.
These failures include government policy that prevents local councils and housing associations from building homes for the 1.4 million people on council housing waiting lists and the quarter of a million homeless people in Britain. Or the deliberate neglect of council estates by local authorities that's used to justify 'regeneration' projects with private developers, which often force those who cannot afford homes in the new properties to relocate to other parts of the country, far from their families and support networks.
With unprecedented access to residents, politicians and experts in the housing industry and media, Dispossession is the story of people fighting for their communities, of people who know the difference between a house and a home, and who believe that housing is a human right, not an expensive luxury.
Concrete Soldiers [doc] by Nikita Woolfe at Woolfe.Vision

After the horrific Grenfell Tower fire people are saying that tower blocks built in the 1960s and 70s should be demolished. Politicians and journalists are claiming they are 'criminally unsafe', unfit for purpose as housing, and that their maintenance swallows up public funds. But they are wrong.

This film goes beneath the tragedy of Grenfell Tower and exposes the hidden depths of the so-called 'housing crisis'. It uncovers how developers have found loopholes to avoid building affordable housing, and shows how councils are bullying residents and making decisions about their homes without proper consultation. The greed has become palpable, and yet it seems everyone stands by watching . . .

But not everyone. There are people fighting for our future social housing. Working tirelessly, these people are fighting the system because they believe that by sheer persistence they can make a difference. And they have. The answer for a fairer future is out there. This film will give you hope.


Beverley [drama] by Cass Pennant at Urban Edge Films
UK filmmakers Urban Edge Films unite a host of British talent in gritty, stylish coming-of-age story, BEVERLEY. Alexander Thomas (The UnDream, Entropy) directs this Cass Pennant production as Skins actress Laya Lewis makes an impressive performance as a troubled teenage girl of mixed-race identity seeking respect within a gang of male youths on a white suburban estate -1980 Leicester. But it's not just her own sense of self she needs to worry about – it's her brother and sister too. A familiar enemy is ever present - a threat that extends beyond her own safety.
Vicky McClure (This is England, Line of Duty, Broadchurch) Winston Ellis (Pirates of the Caribbean, The Dark Knight) and Kieran Hardcastle (This is England, Wish 143) also star along with newcomer Sennia Nanua (Girl with all the Gifts).
Valerie - Short Film [drama] by D-Script at Elicit Pictures
Valentines is fast approaching and Valerie's boyfriend matthew is determined to make it a night to remember. Valerie on the other hand, doesn't seem to keen with it all until that day occurs. Tune in and find out what happens on Valerie.

Background about the Aylesbury Estate Leaseholders

The Aylesbury Estate in South London is home to around 2,734 families including approximately 200
leaseholders, many of whom come from Black and Ethnic Minority backgrounds. The Aylesbury
was somewhere we could afford to live and, for some of us, eventually to afford to buy our homes.
The Aylesbury is not only one of the largest estates in London but it is also one of the largest in the
UK and we need your help to save it.

We now face the threat of Regeneration, as the Local Authority, Southwark Council, now wants our
homes, but refuse to give us full compensation for them. This seems to becoming a pattern all over
London estates earmarked for "Regeneration".

In a Landmark case, the second of its time and a win for The Aylesbury Estate, the Government has
stepped in and refused to grant Southwark Council a Compulsory Purchase Order (CPO) to take our
homes. However, this Decision was appealed by Southwark, and there is to be a new Public Inquiry
later in the year, to decide whether or not the CPO will be allowed and our homes will be taken.

We have received fantastic support from the local community, friends, family, tenants and
leaseholders on Council Estates across London. We would not be where we are today without that
support, for which we are immensely grateful.

Please will you help us in our continued fight - all contributions, big or small, will be gratefully received. Thank you for your support. Please give generously to the Leaseholders crowdfunding details as follows:

GoFundMeLink:https://www.gofundme.com/aylesbury-the-right-to-a-community-2uefgf2s

Kind regards
The Aylesbury Leaseholders Group supported by 35% Campaign

IMPORTANT LINKS:
Legal firm Shoosmith's note that the inquiry will be 'closely followed by all in the profession'
https://goo.gl/y4yf50.
https://www.youtube.com/watch?v=Z1j_UP39cn0
BBC London News CPO Decision Aylesbury are winners
http://insights.howardkennedy.com/post/102e86h/aylesbury-estate-cpo-to-proceed
http://www.shoosmiths.co.uk/client-resources/legal-updates/government-quashing-decisionaylesbury-
estate-cpo-12781.aspx
http://hsfnotes.com/realestatedevelopment/2016/09/28/a-new-right-to-a-community-decisionby-
the-secretary-of-state-not-to-confirm-the-cpo-for-Aylesbury-estate


Save
Save
Save
Date and Time
Location
Refund Policy